Camper Calling Festival, Ragley Hall, Warwickshire 25th - 27th August 2017
28/08/2017
Camper Calling Images and Review
Back for a second year, on the hottest bank holiday for 10 years,
Camper Calling Festival
returns to Ragley Hall in Warwickshire for three days of great music, good food, and lots of family fun.
On the Lakeside (Main) Stage, covering every genre of music, some of the brightest up and coming acts, and well established bands played to large crowds over the three day long festival. From Pop, Indie, Soul, R&B, Reggae, Funk to Acoustic, there was something for everyone.
Friday
opened with
Caution Horses
, a 7 piece band bringing big riffs, heavy beats and melodies to the stage,
The Elephant Trees
an acoustic-led (but loud) alt-rock band from Leeds,
Afro Cluster
playing some seriously funky stuff with a mix of Hip-Hop and a little afro-funk, MC Skunkadelic and the band played some sharp sounds
Caution Horses
The Elephant Trees
Afro Cluster
The Undercover Hippy
(back for a second year) with a few politically orientated songs by Billy Rowan, singer/songwriter. His music brings together acoustic guitar, soulful vocals, infectious reggae rhythms, and the lyrical delivery of a skilled mc (having spent time on the Drum & Bass circuit.
Backbeat Soundsystem
(also back for a second year) with some great reggae tunes also.
The Undercover Hippy
Backbeat Soundsystem
The evening closes with
The Artful Dodger
'Re-re-winding' the crowd with some classic old school R&B, bouncing around the stage and Ian Broudie's
The Lightning Seeds
finishing Day 1 with a Pop flourish.
Artful Dodger
The Lightning Seeds
Saturday
is the day of the Boat Race on the lake, with teams in fancy dress racing in canoes along the lake. With (Big) kids (read adults) and water, it descend into chaos with one boat sinking (as the heavyweight crew) came unstuck and a couple of teams leaping out of their boats and into the water. Not so bad an idea given the sweltering temperatures.
On stage Shropshire based band,
Jack in a Box
blend Indie, pop and rock with melodic tunes and catchy choruses, followed by
Smooth Ends
, with their psych pop band evoking the sound of the beaches of California in the summer sun.
Jack In A Box
Smooth Ends
Scott Matthews
comes to the stage next (having toured with Foo Fighters, Robert Plant and Rufus Wainwright) bringing a mix of folk, rock, blue and Eastern-inspired songs to the stage.
Grafton Ash
play with good vocal harmonies and fusion of electronic and acoustic styles.
King Lagoons Flying Swordfish Dance Band
bring an energetic touch of the South Americas and African rhythms, dressed in white with golden pointed hats and even a 'smell wizard' brewing up scents in the audience to accompany the songs.
Grafton Ash
King Lagoons Flying Swordfish Dance Band
Barbarella's Bang Bang
bring some Gypsy Magic to the stage taking the audience on a fantasy journey into a musical world about puppets, gypsies, clowns and lost children.
Lucy Spraggan
(who appeared on The X Factor back in 2012) delighted and engaged the audience with her original, clever and catchy songs, and a massive fanbase of youngsters.
Space
had some cracking, cheeky songs back in the late 1990's and since their reunion in 2011 have been touring and in the studio. Bottle of wine in hand, Tommy Scott takes to the stage and wows the audience with old and new Space tracks including classic 'Female Of the Species'
Saturday's closing act
Reef
, take us back to the 90's up to current date with a set of with huge hits and new work such as 'Good Feeling', 'Come Back Brighter' and the unforgettable party favourite 'Place Your Hands'
Sunday
kicks off with
Animal Noise
(as showcased on BBC Introducing and 6music) playing some Nick Cave, Pixies and Arcade Fire influenced moody songs open the stage for the final day, as we bask in some very high temperatures.
Will Varley
is up next, one man and a guitar, but very different. With some great guitar work, well crafted poetic songs and some Johnny cash influences too, the crowd enjoyed the set.
Ravellas
, a Manchester based indie act followed by
Thrill Collins
(not the tribute act you might think) buat a three piece acoustic skiffle party band playing a massive medley of songs from Michael Jackson, Craig david and too many to keep up with. Carried away with their own exuberance and and the audience recation, the band overran by ten minutes, much to the consternation of the stage manager.
Ravellas
Thrill Collins
The Atlantic Players
, Birmingham based, and a big band with a lotta soul playing some soul classics to the audience. These guys could have played all afternoon, with the audience begging for more at the end of their set.
CC Smugglers
, former buskers playing folk, swing and jazz mixed up with hip hop and house kept the vibe going during the afternoon.
Welsh vocalist
BETSY
with a sweet soulful, classic and distinct tone and adds some real glamour to the stage alongside her talented backing band.
Musical Youth
, Dennis Seaton and Michael Grant and band playing from their back catalogue and some classic reggae cuts, before John Power's
Cast
closes the festival with their 90's Britpop with 'Alright' 'Guiding Star and anthemic 'Walk Away'.
Musical Youth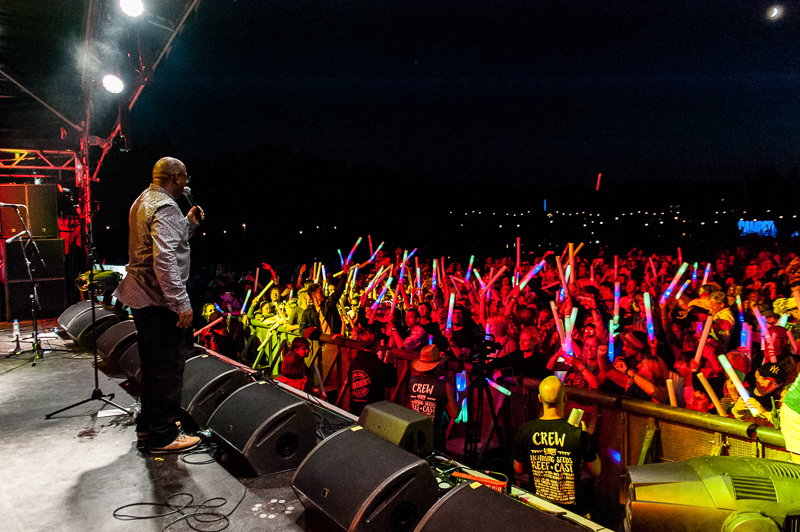 Cast
Summer returned for Camper Calling's weekend and most welcome it was too. A perfect accompaniment to three days of great music at a great small festival. Camper Calling will be back in 2018 for more great music and fun in the sun.