Various
27/08/2015
Gig Reviews
Rewind North: 80s Festival @ Capesthorne Hall, Cheshire, 7-9 August 2015
Gig review and photography by
Ken Harrison
Remember the days of the 80's. Well they are well and truly back with touring Rewind Festival. Ken Harrison popped along to
Rewind North
from the 7-9 August, to get involved with the festivities and take a few shots.
Back for a second year, Capesthorne Hall in Cheshire hosts Rewind North with a much larger crowd this year with a celebration of 80's music, well mostly, if you discount Chesney Hawkes and Heather Small's 1990's pop fame.
Saturday
First day: Saturday is bright and sunny and the colourful crowd are dressed up and warmed up from the get go with
Toyah Wilcox
in the MC position for the day. Between acts,
Rusty Egan
is on the wheels of steel spinning tracks to maintain the party spirit. Sets are short and target the hits - Saturday brings us the
Sugar Hill Gang
(Rappers Delight, The Message),
The South
(sans Paul Heaton) (Don't Marry Her, A Little Time, Song for Whoever),
Howard Jones
get's us bopping ( What is Love, Pearl in the Shell, New Song, Like To Get To Know You Well),
Wang Chung
(Dance Hall Days),
Katrina
(of Katrina and The Waves) (Walking on sunshine, Eurovision song Shine A Light),
Steve Augeri
(of Journey) (Don't Stop Believeing),
Chesney Hawkes
fresh from Celebrity Masterchef (One and Only),
Kim Wilde
(Kids in America, Chequered Love),
Belinda Carlisle
(Circle In The Sand, Heaven Is a Place on Earth, I Get Weak),
Jimmy Somerville
(Smalltown Boy, Why , Mighty Real, Dont Leave Me This Way),
Soul II Soul
( Back To Life, Keep on Movin') with the
Human League
headlining with an hour long set (Mirror Man, Sound of the Crowd, Heart like a Wheel, Dont You Want Me,Being Boiled, Forever In Electric Dreams).
Sugar Hill Gang
The South
Kim Wilde / Howard Jones
Wang Chung
Rusty Egan and friends
Katrina & the Waves
Steve Augeri (Journey)
Chesney Hawkes
Belinda Carlisle
Soul II Soul / Jimmy Somerville
Human League
Sunday
Sunday gives us Dr (of Dr & The Medics) takes over the MC role with great humour and stage presence. Rusty Egan DJ's between acts again. The weather is slightly cooler to start with, but the sun soon makes its appearance felt.
Hue and Cry start off the day (Looking for Linda, Labour of Love), Kid Kreole (sans Coconuts) (Stoolpidgeon, I'm a Wonderful Thing Baby, Annie I'm not your Daddy), The Selecter (Too Much Pressure, On My Radio, Three Minute Hero), Bob Geldolf is back with The Boomtown Rats (Rat Trap, Like Clockwork, Mary of The Fourth Form,I Dont Like Mondays), Dr & The Medics (You Spin Me Round (Like A Record), Spirit In The Sky) John Parr going all bratpack movie (St Elmo's Fire (Man In Motion)), Dave Edmunds (Queen of Hearts, I Knew the Bride, I Hear You Knocking), Imagination - though only Leeee John these days who comes off the stage into the pit to hand out posters during his set (Flashback, Body Talk, Just an Illusion), Heather Small (M People) (Search for the Hero, Proud, One Night in Heaven), ABC (Poison Arrow,Look of Love, All of My Heart, When Smokey Sings) the biggest selling female artists of the 80's - Bananarama (Really Saying Something, Robert De Niro's Waiting, Cruel Summer, It Ain't What You Do) the day completed by OMD with an hour long set (Enola Gay, Messages, Joan of Arc, Locomotion, Walking On The Milky Way, Pandoras Box, Sailing on the Seven Seas, Electricity.
Hue & Cry
Kid Creole
Dave Edmunds
John Parr
Doctor and the Medics / Boomtown Rats
The Selector
Bananarama
OMD
The retro 80's music scene is, by all accounts, still chugging along nicely - this is one of three festival weekend across the country under the Rewind banner. Most of these artists are currently out and about and you can catch them throughout the year at a venue near you. But this event was good fun and we sang out little hearts out.
Godiva Festival, War Memorial Park, Coventry, UK - 3rd - 5th July 2015
Gig review and photography by
Ken Harrison
and
Drew Kirkland
Now in its 17th year, the Council run free
Godiva Festival
played host at Coventry War Memorial Park this weekend to a record breaking audience of around 141,000 visitors for three days of live music, dance, street theatre, comedy and disco as well as a host of family activities including craft stalls, funfair and lots more besides. The music was a diverse range of rock, indie, pop, punk, ska, rap, including local talent from some of Coventry's finest talent and some from further afield.
Again, Godiva, brought a great mix of the old and new, and best of all it was all free, (yep, not a penny), given the financial pressures around local authorities these days, this is nothing short of a miracle.
On a very warm Friday night and compered by Free Radio DJ's JD and a heavily expectant Roisin (more on Roisin later!), Rooted and Booted opened the main stage, followed by King Phoenix (a play of the rising from the ashes of the 80's Coventry band King) and Birmingham Two-Toners The Beat, Ranking Roger and Ranking Junior warming the crowd up with a collection of Beat classics before Huey Morgan and his fellow New Yorkers -The Fun Lovin Criminals - playing a very chilled out, smooth set (aided and abetted by "the best weed grower in Coventry"), and the band passing the doobie.
Rooted and Booted
King Phoenix
The Beat
Fun Lovin' Criminals
Over in the Rhythm Tent, Friday night was a "Rock" night with Pelugion, Shot Down Zed, a psychedelic set from Charles Dexter Ward and the Imagineers (Think early Zeppelin and you'll be there!). Glaswegian's Baby Strange, playing edgy punk rock and Slaves finishing off the night. The Paradise tent hosted some Ceilidh dancing for the evening, so many folks got down with it.
Charles Dexter Ward
Baby Strange
Saturday, Day 2 and a hot sweltering day, brought the crowds out for The Deserts opened the main stage, followed by Quarry, and a return for The Prophets (who played last year), The Seadogs and The Broken Rebels were followed by Flygone, with an amazing bass player Nish Sidhu, playing some great bass and looking every inch the performer. Latvian quartet, Carnival Youth attracted a lot of female fans, all lined up at the front of the crowd for their set.
The Deserts
Quarry
The Seadogs
The Broken Rebels
Flygone
Carnival Youth
Spector
Pulled Apart By Horses
Spector followed by Pulled Apart by Horses played an energetic set, as did Don Broco and the crowd surfing kicked off in a big way. Some surfers came through at least four times. Closing Saturday night were Liverpool's The Wombats, with Free Radio presenters taking the opportunity for a stage selfie at the start of the set.
Don Broco
The Wombats
Ska and Dance had taken Saturday over in the Rhythm Tent, with The Kubricks, The Skints, The Stiff Joints, Orange Street, a great set from Dreadzone and rappers "The Society". Also on stage Afrojosh (also returning from last years Godiva) and Nineties Boy and more dance acts into the evening. Saturday for The Paradise Tent was Street Theatre day with a range of acts on stage.
The Kubricks
The Stiff Joints
Orange Street
Dreadzone
The Society
Nineties Boy
Day 3 of Godiva sees the final day of music on main stage opening gently, with Jake Melles and Harry Alexander, sharing harmonies, and switching between a guitar and a cajon (drum box) as the ground started to fill. They were followed by local singer-songwriter Danny Ansell and the multi-instrumentalist Calum Pickard and The Third Look, mellow and dreamy, followed by some tight, soul-influenced songs with The Kings Parade. Free Radio's Roisin and her expectant band of pregnant mums-to be "Roisin and the Contractions" delivered (ouch) a fun set of baby tweaked songs including "Baby Love" and "Single Ladies" turned into "Pregnant Ladies" and "Nice, Nice, Baby" (geddit?) joined by some young male dancers (The Daddies…perhaps?).
Jake Melles & Harry Alexander
Danny Ansel
Callum Pickard & The Third Look
< a title="gdva15_1814" href="https://www.flickr.com/photos/gigjunkies/19537268961/in/album-72157655589122601/">
The Kings Parade
Roisin & The Contractions
Back to some ska with Bodysnatchers and Special AKA's Rhoda Dakar (Coventry's ska muscles - never really in serious danger of atrophy) and then Bristol's Meadowlark, their innovative arrangements dovetailing with well-crafted songs, both perfectly complementing Kate McGill's haunting voice; ideal for a summer afternoon...
Rhoda Dakar
Meadowlark
We Are The Ocean turned up the volume for an energetic set of their driving rock. The skies were threatening thunder as we waited for headliners Embrace to take the stage, and 5 minutes before the schedule, the heavens opened. But as they played their opener - "Protection" - the skies cleared. "We've made the sun shine" announced singer Danny McNamara (with a big grin) before the band worked through their anthem-packed set, by the end of which, the skies were blue again.
We Are The Ocean
Embrace
Over in the Rhythm tent, Coventry Jubilee Rotary Club presents a fresh group of local young talent including UV Beats, whilst the Paradise Tent hosted a series of comedians for the family comedy day, with something to tickle most people's funny bones.
UV Beats
Over three mostly hot and sunny days at Godiva, over 150 acts to suit all tastes performed to a reasonably well behaved crowd (if you don't count the crowd surfers) in a well organised enjoyable festival put on by Coventry City Council. The big question is whether Godiva 18 will take place in 2016 given local authority constraints, and if so, will the festival will remain free?
I hope to see Godiva 18 back in 2016, as this is a great event for the people of Coventry (and further afield) with terrific music from established artists, a showcase for local up and coming talent and fun for the whole family. What better way of spending a weekend?
Check out the full set of images from the Festival at our
Flickr page
.
Best Kept Secret Festival 19th -21st June 2015, Beekse Bergen, Hilvarenbeek, Netherlands.
Gig review and photography by
Ken Harrison
Welcome to Beekse Bergen, Netherlands. Home of the Beekse Bergen, Safari and Camping Park, but also for the last three years home to the
Best Kept Secret Festival (BKS),
a great small and exceptionally friendly festival with a chilled out vibe.
This third BKS took place over the weekend of 19th to the 21st June 2015, with over 90 artists performing over five stages across the weekend. Stage one is the main open air stage, with stages two, three and five under canvas and stage four housing a series of DJ sets across the weekend.
The eclectic line up consisted of many UK acts plus many European and US acts and a big helping of home grown local talent spanning many genres; indie, folk, hip-hop, rap, rock, electronica, etc.
We got a friendly hug from a Dutch guy shortly after arrival at the Festival area, going out of his way to make as many people welcome. In fact, this is probably one of the friendliest festivals I've had the pleasure of working at. People are chatty and happy to share one of the many benches and tables in the festival areas, with plenty of conversations had with people who would sit down with us in between gigs.
The crowd, which were mostly European with a smattering of Brits abroad, were well behaved and surprisingly tidy… none of this dropping your food wrapper on the floor as you walk along. Everyone was using the bins and keeping the site tidy. The cleaning staff didn't have a lot to do...
Talking of food, this was probably the most diverse range of food I've seen anywhere: yes you could get fries, but there was so much more going on, and so many healthy choices, you were certainly spoilt for choice, and the smell of food coming from the food areas was something to savour.
The only niggle for me was the payment system. The festival was set up as a cashless system (as was Download over here a few weeks back), via a tag on your wristband, but if you wanted to top up your tag using cards, the only option available was Maestro, very popular in the Netherlands, but less so back home in the UK. There was no option to use Visa or MasterCard, so it was a run into the next town to raid a cash machine so we could eat.
Camping on site is well set up for a comfortable stay. There are none of the mud tracks like at Glasto that you have to tramp through to get to the festival stages. We have tarmac paths, as the site is a fully working campsite when not being adopted by BKS, the site is easy to get around, even for wheelchair=r users, of which we saw many enjoying the festival.
Day 1
After a twelve hour journey including a cross channel ferry, we arrived at Beekse Bergen. and checked in after breaking the internet in the press office. A few hours sleep and we were off the festival park for the coverage of the evenings gigs.
US band Fidlar were the first act we got to, having arrived just a moment too late to catch Drenge. The moment Fidlar got on stage; the crowd came alive with the obligatory bottle of beer coming into the pit from the crowd. We caught up with Yak then Earl Sweatshirt, Eagulls, Chet Faker, and The Jesus and Mary Chain in a very dark low lit set, with The Libertines closing Stage One on Friday evening.
Fidlar
Earl Sweatshirt
Eagulls
Chet Faker
The Jesus and Marychain
The Libertines
Day 2
Day Two kicks off with God Damn (the guitarist and drummer duo ), Matthew E White, Sue The Night and the wild and wonderful John Coffey. On a bright and sunny Stage One, Temples, Of Monsters and Men and Washington band, Death Cab for Cutie on stage Two. A recently reformed Ride are ably supported by an avid videographer replete with iPhone recording the set from the pit. I'd love to see the footage he got from THAT!
God Damn
Matthew E Wright
Sue The Night
John Coffey
Temples
Of Monsters and Men
Death Cab for Cutie
Ride
The Vaccines, then ASAP Rocky, the hooded rapper from Harlem entering stage to flames projected on the rear LED screen, and then running around stage so quickly you went entirely sure who was who. Saturday closer on Stage One was Noel Gallagher and his High Flying Birds.
The Vaccines
Noel Gallagher's High Flying Birds
Day 3
Day 3 and the final day of the Festival, opens with Pretty Vicious on Stage Two and Marmozets on Stage One giving a a spirited performance and plenty of attitude from lead vocalist Becca McIntyre.
Vicious Pink
Marmozets
Current media darlings Wolf Alice play a good set on Stage Two, with French outfit Sunset Sons on Stage One, Danish proggy pop sounding MEW, and First Aid Kit on Stage One. I caught up with Kate Tempest rapping on Stage Three, and then Baltimore's own Future Islands up on stage One Lead with singer Samuel Herring's signers theatrical performance and distinctive vocal.
Wolf Alice
Sunset Sons
Mew
First Aid Kit
Kate Tempest
Future Islands
Typhoon
Typhoon had me fooled... with a name like Typhoon I was expecting a metal band... I couldn't have been more wrong... A rapper comes on stage and chats to the audience in Dutch and then some English. Then he finishes his intro with a laugh reminiscent of Lenny Henry's "Katanga" character... so infectious. A brass section, a couple of rappers plus guitars, keyboards and drums. Clearly, a popular band as the crowd love the upbeat party time performance.
Royal Blood
Royal Blood then rock up Stage One, and Sohn, a minimal electro with elevated keyboards on the already high stage Two, with a robed keyboard player in a very dark lit minimal ice blue set. Festival closers are Alt-J closing the festival with some chilled out music, a rather apt end to a very chilled weekend.
Alt-J
Overall the festival was very enjoyable with a diverse range of UK, US and European acts. The chilled out vibe and the eclectic range of acts was reminiscent of a younger version of Festival No 6 and would certainly appeal to the mature crowd. Certainly one to go back to again.
Generally speaking, the crowd behaviour was impeccable with minimal work for security to do over the course of the weekend. And there lies the rub, clearly the festival would wish to attract more UK visitors, but one of the reasons the festival atmosphere was so good was that the typical lager swilling festival yobbo wasn't around. This Best Kept Secret of a Festival wont be a secret anymore and will quickly turn if the wrong crowd are attracted through the gates.
See the full set of images on our
Flickr Page
Elvis Costello + Brand New Zeros @ Symphony Hall, Birmingham - 31 May 2015
Gig review by
Zyllah Moranne-Brown
with photography by
Ken Harrison
Tonight's gig is all about this particular legendary figure. From when you walk into the auditorium until you leave. What can you say about a man who has had more classic hits than most of us have had hot dinners, with over 60 singles, thirty-odd albums in a career spanning well over thirty years. And that's before you event mention his lyrical prowess! Welcome to the delectable
Symphony Hall
-
Elvis Costello
.
Tonight this is his 'Detour' - his second date of a 21 date tour of these isles. And it's Costello, stripped back. None of the over-the-top vaudeville of his Revolver tour - just the man himself. The set is reasonably basic but set in the middle a large TV screen showing Costello in all his video hits.
And the Costello brethren is here tonight - support comes from his brother - Ronan MacManus with mate in tow as the
Brand New Zeros
. First track 'Nothing I Can Do' MacManus and his side kick are there with acoustic guitars - and my life - he SOUNDS so like his older bro. I would say mini Costello - but the pair of them are a tad old for that. The love song - 'Bullet To Your Heart' basically about slaughtering the one you love in multiple ways, then suffering the pain they inflict on you, then the same slaughtering they'd done to you, being done to them - to coin a Lydon tune - this is not a love song. Clearly younger MacManus has used the subject of spurned love for his group's soon to be released album - but still with the detailed perspective on life his brother so gainly absorbs into lyrics.
So, at 8.45pm, after an interval where the tele shows more Costello hits, the man himself takes to the stage - dapper in slick cut blue suit and white boater hat. He's gonna play all his hits - this could be a long show - Costello is renowned for long sets. The sign at the side of the stage is lit up - 'On Air" - indeed as he starts off his all acoustic set with '(The Angels Wanna Wear My) Red Shoes.'
"How you all doing? Thank for welcoming my brother Ronan…" as he goes on a mission with a series of tracks including 'Girls Talk' - fast in pace, straight into 'Watch Your Step.' This, is indeed, the second night of his tour - he has a choice from over 400 (!) songs to play. Chatty and engaging and white, he tell us he likes to be inspired by the place he's playing, make a story of his set. Birmingham the city of love (?), maybe songs of faith and fidelity. He quips it would be s short set as he takes us into 'Accidents Will Happen.' I'm not to sure what this song says about the city - but hey, it's a classic and we all repeat back the "I know" bit….
Apparently the way to get around stage-fright is to imagine the audience naked. Costello imagines we're all choristers. Apparently. As he takes us until his 'simplified' version of 'Ascension Day' and his film noir track "Church Underground' - possibly his best delivery of the night so far.
After '45', he put his guitar aside and his on the piano - with a far more melancholy version of an already melancholy 'Shipbuilding' - a track that's over thirty years old. And then to an acknowledgement of the Midlands - Roy Wood is emblazoned on the TV screen, and Costello gives us a great take of half of The Move's 'Blackberry Way' - and we be singing. "Isn't it a beautiful tune..." he acknowledges.
Rising from his perch at the piano he announces the special guest tonight is "Me!" and he takes a seat, guitar in hand. Tells us a tale of his family history - his father was was Ross McManus, who performed with Joe Loss and had hits in his own right (and yes you must have heard the R.Whites 'Secret Lemonade Drinker' advert). His dad was on the Royal Variety of Show in '63. Line up included a lesser known band - The Beatles. "So full of talented people - not the XFactor!" Costello quips. And when he's away from home he plays this for his family: 'Walkin' My Baby Back Home.' The next sing "he started when he was 17 and finished it tonight…" 'Ghost Train.' Before still seated, it's 'She.'
Big cheers, he back with guitar this time a deconstructed and rather rocked out rendition of 'Watching the Detectives.' Next up a dedication to Nick Lowe and "When I Write the Book / Everyday I Write the Book."
This gig could hold the work record for encores, but we'll go with 'interludes.' Following the first, he's back on stage with bro in tow and 'What A Good Year For The Roses.' To hear how close vocally brother Ronan is, is really quite striking; before they crack on with 'Oliver's Army.'
Interlude. He's on in his own TV - as he stands literally inside his large tellybox - for a deconstructed version of 'Alison', before 'Pump It Up.' Interlude. And then he's back. On the piano and get's us singing
"We aint got a barrel of moooooney, maybe we're ragged and funny, But we'll travel along, singing a song, siiiiiddee by side."
It has a melancholy dark feel - but goes down well. Before indeed - another deconstructed track - 'I Can't Stand Up for Falling Down.' A song about his grandfather, who he loves to see as a 20's New York gangster " Jimmie Standing in the Rain.' Huge cheers and standing ovation.
Interlude! With a guitar called vagabond a song about a young woman corrupted by an evil man (not that he'd know anything about that!) - 'Mr. Feathers' which morphs into 'I Want You.' Once again deconstructed as Costello goes rock god. Interlude! Costello, his bro and his mate take to the stage and here we go on the final track: '(What's So Funny 'bout) Peace, Love and Understanding.'
Costello is out celebrating his hits, the old and the new, stripped back and bare and done his way. In ways, this was a set was for the fans, and to celebrate a massive back catalogue that is literally full of surprises. A night to absorb rather than party - but truly impressive - Costello's friendly and quirky and entertaining anecdotes, stripped bare and of course taking in his true lyrical prowess that is very much Costello's own. To give a set list would be wrong - every night is different, the potential song list way too long, and there's treats that pop up when you least expect it! So as per the way the entire night runs, I'll leave it a surprise. Cos we did indeed take in the experience. Singing along. Side by side.
Public Service Broadcasting + Smoke Fairies @ The Library, Birmingham Institute - Wednesday 6th May 2015
Gig review by
Zyllah Moranne-Brown
with photography by
Ken Harrison
"This is a public service announcement. We would like to welcome the people of Birmingham to Birmingham Institute. Tonight performing for your delectation and entertainment will be
Public Service Broadcasting
with support artists the
Smoke Fairies
. Thank you for coming along and enjoy tonight's performance. Yes."
So we eagerly totter along to the Birmingham Institute - as tonight we are told that tonight's gig is sold out. And we're quite excited to see PSB in all their glory, with all their gizmos and effects on display. So we're disappointed to find out that tonight's gig in in the Library, a small room holding about 600 people, and a teeny, tiny stage. Not much room for a full PSB display then.
PSB have just released their new album - 'The Race For Space' and are on their biggest UK tour to date. Wiggles worth and J. Willgoose Esq launched this new album at two unique shows at The National Space Centre sold out in under 24 hours - and we were disappointed that we couldn't sneak in to review said events. This tour we are told will be a "uniquely spell-binding live AV 'Transmissions'" and we will witness "the band weave samples from archive footage around live drums, guitar, banjo and electronics as they teach the lessons of the past through the music of the future – beaming our past back at us through vintage TV sets and state of the art modern video projection devices."
Pub's debut album 'Inform – Educate – Entertain' reached #21 in the charts and was nominated for 'Best Independent Album' at the AIM Awards 2013, as well as being The Guardian's Album of the Week and one of BBC 6Music's Top 10 albums of 2013. PSB are indeed rising stars and our expectations are high, and on the eve of the Election in which everyone is being told will take us to a hung parliament once again - their timing is apt.
First up however, to the support artists - the Smoke Fairies - who have attracted a keen following just for them tonight, after recent performance locally at the Hare and Hounds. kin in gold and sparkling gleam, Katherine Blamire and Jessica Davies, aka the Smoke Fairies are mesmerisingly folk / indie - the female duo's hamornised vocals take to the atmospheric side of hauntingly indie. Think folk, indie, rocking out at times, with a psychedelic vibes and the old bit of Jethro Tull. The Smoke Fairies, supported by one Jack White, through his Third Man Record label, release their latest outing 'Wild Winter' in December 2014. They have a growing following - ethereal music to chill out to check them out on their website. Peace, love and understanding man.
We already feel like sardines in this tiny room, and where I am the aircon is on full blast and I am officially freezing.
After 10 minutes of setting up the PSB stage so everything technically is in place, the set starts with appropriately, a Public Service Announcement. Cheeky graphic on the screens, this announcement is all about mobile phones. And to ANYONE who goes to gigs this will totally relate. Geoffrey uses a mobile phone at a gig. And annoys EVERYONE. And uploads his really bad quality footage to You Tube. He shares it everywhere. His friend disown him. His family disown him. His dog disowns him. And then he dies. And an addendum at the end. Talking loudly is also annoying. The end. A clever and witty take on every gig goers pet hate - which receives a huge cheer from the punters.
And then to the main event. PSB take us through songs from both their albums tonight - even though it is difficult to get the full effect of their set in the overcrowded room. They SOUND great. We start with 'Sputnik' a track that rolls and cranks up in sound. And the Sputnik rises from the stage.
"This is Public Service Broadcasting. Yes. That was a newer one. This is an Older One." The PSB set is laden with these announcements. and it's all clever. But don't think the PSB are a novelty act. Their music is a indie, Joy Division mix of electronica with retro take. 'Theme from PSB' rocks on down and gets us singing.
PSB mix retro and the modern. Hair Brylcreemed, they look like they have walked out of some postwar geek bunker, complete in corduroys, dickie bows and specs. Mr B - the set designer keeps things on track along with multi-instrumentalist JF Abraham adding to the live set - with additional bass, keyboards, percussion and other bizarre instruments.
"Thank you. It's great to be back - at … (takes time to find venue) ... the Institute. We've really been looking forward to coming back to the .... (takes more time to find venue) ... The Institute."
Older track 'Night Mail' literally about trains taking night mail, 'ROYGBIV' gives us their pick of primary colours. And for their newly space inspired take we get a little character - a smiley sputnik beamed onto the sputnik care of set designer Mr B. 'Valentina' brings us the Smoke Fairies back on stage to take on vocal duties.
When someone complains the bar is shut - we get the PSB response - "I'll have to get back to you on that." Encore brings us 'Gagarin' about space legend Yuri Gagarin (complete with dancing version) and 'Tomorrow' and 'Everest.'
Tonight's audience was an older one, surprising for two young bands. And let's be frank. The tiny venue of the Library is rammed, people bumping into each other as they try to access the bar and fight their way to the facilities. The stage in this room is left of centre, and the format of the room makes viewing interesting. With a tiny mezzanine and stairs leading from both side to the ground floor, punters are packed on the steps taking any vantage point they can.
With the visual effects of PSB lost in the crowd and on a tiny stage, this became an annoyance. However, PSB and indeed the Smoke Fairies wounded great. Next time better venue is a must.
However both bands are well worth a check out. And in the words of PSB: "Thank you for coming along tonight. God speed people of Birmingham."
****************
Setlist:
Sputnik
The Now Generation
Signal 30
Theme from PSB
E.V.A.
Night Mail
ROYGBIV
Valentina
If War Should Come
Spitfire
The Other Side
Go!
Encore:
Gagarin
Tomorrow
Everest
The Specials and The Special AKA - Remastered. Remixed. Remastered.
Review by
Ken Harrison
and
Zyllah Moranne-Brown
So The Specials have re-released a trio of albums, just to remind us all exactly how great they were. Their take on life, their political overview is indeed a musical historical sign of that specific moment in time. This trio of double CDs' featuring
'Specials', 'More Specials', 'Rarities By The Special AKA'
plus
'In The Studio (Special Edition)'
, is a set of remastered and expanded releases from the Specials and the Special AKA. In total, a massive 75 tracks by the 2-Tone heroes.
The Specials
formed way back in 1977, in a city just left of Brum, Coventry. Combining ska and rocksteady beat with punk attitude they took on mod-style clothing and rude boy outfits and gave us a series of legendary tracks that summed up the time and the place. Between 79 and 81 they had seven consecutive Top #10 singles, before morphing into The Special AKA as several left to form The Fun Boy Three. There's a long list of members that have been attributed to The Specials - but the current line up featuring original members Terry Hall, Horace Panter, Lyndal Golding, John Bradbury plus others continues to tour to this day. Check out
Gig Junkies review from November 2014.
So back to these CD releases. The Specials archives have been well and truly raided, ransacked and turned upside down and what has appeared is some truly golden material - including remasters of singles, 'B' sides (from the days of that black, circular vinyl thing played on a record player - second side up the 'B' side), EPs, live material and classic Radio 1 John Peel session tracks.
Their self-titled 1979 'Specials' album includes the original album gems such as 'Gangsters', 'A Message To You Rudy', 'Nite Klub', 'Concrete Jungle' and the 'Too Much Too Young ' and BBC's 'Live in Concert' from The Paris Theatre - originally broadcast in 1979 and a true gem for any Specials fan.
1980's 'More Specials' takes us on 12 months in time, to their classic tracks 'Do Nothing', 'Pearl's Cafe', 'Stereotype' (plus those B-sides) and the non-album singles 'Rat Race' and their parting shot, the haunting and creepily scary, menacing 'Ghost Town' - the soundtrack to the Toxteth riots of '81. Again, Peel session versions of 'Stereotypes', where Hall refers to himself as the 'Stereotype' and 'You're Wondering Now' are also included for good measure and a sublime version of 'Do Nothing' with Rico and the Ice Rink String Sounds.
With dark and often hard hitting lyrics this collection of Specials tracks is a must for any Specials fan! The track listing for the 'Specials' and 'More Specials' reads like the setlist from the recent tour at the tail end of 2014… crowd pleasers - every single track.
Following the split in 1981, with Hall, Staple and Golding departing to form Fun Boy Three, remaining members Jerry Dammers, Horace Panter and drummer John Bradbury continued as The Special AKA. Continuing with their penchant for difficult and painful subjects, released 'The Boiler' in '82 (a song about date rape) with Rhoda Dakar on vocals. Given the subject matter, unsurprisingly the single was not a massive seller, but the single still scraped into the lower reaches of the Top #40.
Conversely, political song 'Nelson Mandela' was a massive hit, and even some thirty-odd years later, (Mandela was released in 1990, Apartheid was broken down, he became president of South Africa, and even after his death in 2013) this track remains a true classic and is still widely played.
The Special AKA released their debut album 'In The Studio' in 1984. The original album is also remastered, and a second disc 'Rarities By The Special AKA'. containing more B-Sides, Peel session material and instrumental tracks.
As Mark Lamarr quotes on their website:
"If you were 12 in 1979, the Specials were easy peasy lemon squeezy the greatest band on the planet. If you're 42 in 2009, nothings changed."
And 6 years on - nowt has changed. So if you are a fan of 2-Tone this re-release, remastering and re-issuing of these albums is a must. Special is the word indeed. Take a journey back to the late 70's, early 80's and start singing along… you just know you want too....
"You've done too much, much too young, Now you're married with a kid when you could be having fun with meeeeeeeeee………."
Mike + The Mechanics + James Walsh at The Symphony Hall, Birmingham, UK - 27th April 2015
Gig review by
Zyllah Moranne-Brown
with photography by
Ken Harrison
Tonight the traffic into Birmingham is dire - clearly something has occurred to snare up the road system terribly as we make our way into town. But it's okay, we know the short cuts. We're making our way to the delectable
Symphony Hall
to see a 'side-project' that has done very well, thank you every much. This chap may have been in another band that did a tad better - but tonight we're here to see Mike Rutherford and his band of brothers that make up
Mike + the Mechanics.
This little off-shoot of his hasn't done too badly. Releasing 7 albums and selling more than 10 million records, tonight's gig is part of the 'The Hits Tour 2015', somewhat of an extension of the 2014 tour celebrating the 25 anniversary of the release of 'The Living Years'. Rutherford's other band didn't do too bad either, notching up over 130 million record sales, making Genesis one of the biggest selling bands ever...
As a side project it aint been an easy journey. The sudden death of one of the original singers, Paul Young, left Paul Carrack as the only vocalist in a band that featured two lead vocalists. After quite a break , Rutherford had a swap-around and setup a second incarnation recruiting two new singers. Mike and The Mechanics ala 2015 are: Mike Rutherford (Genesis), Andrew Roachford (solo performer, known in his own right, for 'Cuddly Toy'), Tim Howar (musical stage performer who's recently appeared in the West End rock musical 'Rock of Ages'), Anthony Drennan (guitarist with The Corrs, Genesis, Clannad and many more), keyboardist Luke Juby (Leona Lewis, Delta Goodrem, Olly Murs and as part of the band for both XFactor and Britain's Got Talent) and drummer Gary Wallis (Nik Kershaw, 10CC, Il Divo, Westlife and longest serving member of Mike and The Mechanics with well over 20 years by Rutherford's side).
Tonight's audience is once again, a tad older and refined and after battling the traffic chaos we arrive as support act, Starsailor frontsman
James Walsh
doing a solo acoustic set, is already on stage. As I walk in the venue is streaming Starsailor hit 'Alcoholic' and I catch it 'live' as he completes the song. Just him and his falsetto voice and guitar deliver well in the acoustically perfect Symphony Hall. Unfortunately, it's doubtful that most the audience would have heard of his Brit-Pop band, and while I'm singing away - not too many others are. Something he acknowledges himself before taking us into a song many people will know - a cover version of Rod Stewart's 'I Don't Want to Talk About It' which haunts through the hall in it's melancholy approach. He's a talented dude - just standing there singing, with voice that draws you in - as his final song of the night morphs into Starsailor's biggest hit that made #9 in the UK charts - 'Silence is Easy'. Again I'm one of the few people singing along. He has a new solo album out 'Training Point' and by the sound of tonight's performance it will be well worth checking out. Check out
Gig Junkies review of Starsailor was back in 2009.
Twenty minute break and then the main act takes to the stage. Tonight's set is effectively piles of rigging and touring boxes covered with stickers. The one that the drummer resides on cheekily has Phil Collins (Genesis drummer and vocalist) emblazoned on it. Crowd applaud as
Mike and the Mechanics
take to the stage - and the band scoot into first track of the night 'Silent Running (On Dangerous Ground).'
'Birmingham - How are you?" yowls cheeky chappie Howar, before next track 'A Beggar on a Beach of Gold' gives us Roachford on keyboards and taking over the vocal lead Howar.
Rutherford informs us he's delighted to be back, especially in this amazing venue. The set, he tells us, will be back-catalogue of hits and a couple of newbies. 'Another Cup of Coffee', with Roachford on vocal duties, harmonised on the chorus by Howar. Roachford plays keyboards with huge style and accomplishment and his vocals all to soulfully soar. 'Get Up' sees Roachford on his feet - chatty and engaging before the track, and bopping his way soulfully through it.
One from the last album, 2011's 'The Road' - 'Try to Save Me' written by Roachford and Rutherford - as the set goes all spooky with red lights streaming over the set. And now to one of the new ones; Rutherford asks us to let them know what we think, and it we like it they'll record it for us. Entitled ' Let Me Fly' this rising, soulful ballad features Roachford on vocals, Howar accompanying on the chorus, the track is probably the most polished of the night so far. 'Seeing is Believing', track about love not war, sees Howar take the vocal lead, before another new track, the second of the evening. This track 'Not Out of Love' sees Roachford on lead again, but as a newbie, has all the choral similarities of 'Another Cup of Coffee' and during the chorus I find myself singing the word to the later, in place of the new.
So go back in time. Rutherford's 'other' band. Genesis. As we're taken into 'Turn It On Again' Howar does his best Phil Collins impression. A reminder of what a great band Genesis in their prime were, Howar an awesome vocal replacement. It get's the seated crowd clapping and finishes to huge applause.
Now back the the last album with title track 'The Road' - it's soft and acoustic as opposed to full on band, and another track 'Everybody Gets a Second Chance.' Time to introduce the band, as Rutherford gives his thoughts on the talent in the band, multi-instrumentalist Juby; the pocket rocket whose batteries never run out Howar and acknowledgement to the others too. The set goes all sparkly as the mesmeric 'Nobody's Perfect' with the commercial chorus is delivered by the duo vocalists.
Roachford time with the Roachford classic 'Cuddly Toy' which features not just 5 (times) but 25, as the band go dadadadadadadadadadadadadadadadadadadadada - every band member bang on time, Roachford giving it his all.
And back to Genesis. Rutherford starts that riff, Howar taking on Collins, as we get 'I Can't Dance'. The track starts with just Howar and Rutherford facing off, as other members retake to the stage and Rutherford and Drennan start to do the classic band walk (check out the original video) across the stage. And we're singing loudly...
"No, I can't dance, I can't talk, Only thing about me is the way I walk... No, I can't dance, I can't sing,... I'm just standing here selling everything...."
Roachford takes us on the vocal journey for the tour titled 'The Living Years', an anthemic prayer and audience arms start to sway from side to side before Howar and 'All I Need is a Miracle'.
Quick break for an encore, and 'Over My Shoulder' is all acoustic guitars, whistle duties to the bass, sax playing keyboardist Juby. Final track 'Word of Mouth', starts with a drum solo - we're all now in full on party mode in the glorious hall, as Howar gives us semaphore arm gestures to copy far to more than just swaying side to side. And we're introduced to the band for a second time, guitarist Drennan gives us a solo, with amongst other the theme to the Birmingham-based soap 'Crossroads,' Roachford gives us a bit of Stevie Wonder's 'Superstition' on his keyboards, Rutherford receives a huge cheer and delivers us Hendrix's 'Purple Haze', and behind them the drum kit gets fixed as Wallis has managed to go through the skin of his bass drum. Fair play to the roadies, they get it fixed just in time for his solo.
Set over, the band members bow. Rutherford maybe one of the biggest selling artists ever, but as he departs the stage last, he bows down in acknowledgment to the crowd. Respect.
We got to see Mike and the Mechanics
a year ago in the same venue
. They were on fire. Tonight, they're a tad muted in comparison and we can't quite work out why ?I guess everyone has their off days, 'nobody's perfect' to coin the song of the same name - and the hyper-energetic Howar seemed muted, not quite as bouncy, his epic vocals not quite reaching the dizzy heights they did last year. However, that doesn't mean to say - with Howar on true form I'd love to see his take on Genesis's 'Mama.' Mike and The Mechanics, a bit like Genesis, weren't exactly my cup of tea. But their music, permeated the airwaves, and it's surprising just how many tracks you know. Rutherford has amassed a hugely talented group for his new Mechanics. New tracks are coming and they will undoubtedly return. And probably to great success - no miracle needed.
Mike and The Mechanics setlist:
A Beggar on a Beach of Gold
Another Cup of Coffee
Get Up
Try to Save Me
Let Me Fly (New)
Seeing is Believing
Not Out of Love (New)
Turn It On Again (Genesis)
The Road
Everybody Gets a Second Chance
Nobody's Perfect
Cuddly Toy (Roachford)
I Can't Dance (Genesis)
The Living Years
All I Need is a Miracle
Encore:
Over My Shoulder
Word of Mouth
The Stranglers + The Rezillos at The O2 Academy, Birmingham, UK - 14th March 2015
Gig review by
Zyllah Moranne-Brown
with photography by
Ken Harrison
Well it's that time of year again, it's the middle of March though with the freezing cold wind, spring seems to have left us. We can set our clock with this date, this time of year, this venue. Mid March. And here in Brum, at the
02 Academy
the Men in Black return, tonight we'll be a-waltzinblack, with
The Stranglers
.
Support tonight comes from
The Rezillos
. Formed nearly 40 years ago in Edinburgh this punk outfit took a light-hearted look at themselves and punk. Influenced by 50s rock 'n roll, the 60's English beat and garage rock and 70's glam rock, with a bit of sci-fi and B-movie thrown into the mix. Their biggest UK hit was in '78 when 'Top of the Pops' made the top 20, and their cover version of 'Somebody's Gonna Get Their Head Kicked In Tonight' featured on the soundtrack to 'Jackass: The Movie.' They have had a journey since but over the last decade regularly perform live and release singles. A cheer as they take to the stage tonight, this friend affable bunch of punks, take us to their "groovy rooms." They're good fun, and give us a half hour set of rock 'n roll punk - catch them after their set, they'll be signing merch and are up for having their pictures taken.
We get a forty minute break, and then the lights go down and a stomping march emits from the speakers. "Battalion halt!… Battalion commence!…" before morphing into the cheeky impish tune that is 'Waltzinblack.' THE intro to THE men in black; The Stranglers take to the stage. We start off with instrumental 'Longships'; guitarist Baz Warne and bass player J.J. Burnel stomp their stuff the band in complete time.
Burnel takes the vocal lead lead for 'The Raven', before starting the next with his iconic bass style, this time it's Warne on vocals duties - 'Straighten Out.' "Are you ready for us tonight?" asks the affable Warne. Warne is so much of an intricate part of The Stranglers now, it is difficult to think of anyone else ever having been in the role. "It's Saturday night, it's Birmingham, so let's grab the party by the back of the f***ing neck shall we?" And they indeed do as we sing: 'Get a Grip (On Yourself).'
Tonight is a set of unusual tracks, The Stranglers back catalogue is so extensive, they choose for us - 'I've Been Wild' and 'Four Horsemen.' And then give us the rolling and aptly named 'Relentless.' The Stranglers are warning up very nicely thank you.
And then a huge cheer. The legend that is Jet Black. He'll be 77 this year, but is still a key part of The Stranglers. Over the past few years his health hasn't been the best - and maybe age is catching up a tad. But where he can, as where the venue suits, like here at the Academy tonight where two drum kits will fit on stage, he'll make an appearance. Taking over drumming duties from touring Brummie drummer Jim MacAulay, his arrival on stage brings a huge cheer from the crowd and repeated chanting of his name. He'll be here for four songs: 'Baroque Bordello'; the beautiful rendition of 'Golden Brown' (hairs stand up on our arms); 'Always the Sun' (which blasts the cold winds back eastwards and takes us back to mid-summer, everyone singing) and 'Genetix.' Between each song the crowd chant: 'Jet Black, Jet Black, Jet Black.'
He takes his leave, the crowd chant his name in acknowledgement. "He's gone back to bed now" says Baz. Before taking the piss out of Villa - annoyingly he's a Sunderland fan. Well enough of the banter and we're back on the setlist - 'Freedom is Insane.' Bass beat starts up, with guitar riff. They've well and truly warmed up, The Stranglers are on fire, in perfect harmony, and are well into in their stride.
Warne tell us that they're taking us back to 1980s - when it was all pink and fluffy. "Do you remember the 80s. You all look like you f***in can? I was there too...This one's for you …." 'So Nice in Nice'. From pink and fluffy to punk baby. 'Norfolk Coast' followed by the politically incorrectly titled: 'I Feel Like a Wog!'
Their setlist shows the broach musical approach of The Stranglers: from the smoozy, and commercially slick 'Skin Deep', immediately back to punk with a snarl and sneer, starting up with Burnel, that awesome bass beat and to a huge cheer from the crowd - 'Peaches.'
"How the devil are ya?" Warne asks, before once again taking on the footie fans in more banter. And to a classic track - 'Duchess' and we sing and end the track as one... "God forbid."
Then the men in black turn it up a notch with a trio of epic proportions: 'Lost Control', 'Curfew' and 'Down in the Sewer'. The later commencing with a huge scream from Warne, and as the track goes on and on, the mosh pit send people surfing. Which sees not a young man appearing from the pit with a big grin on his face! The track rolls on and on and on and speeds up to an incredible gallop. A massive cheer from the crowd. Set over.
A quick break and to encore. Warne says he's lost for words. The Stranglers always go down so well in Brum, it's a sort of homecoming for them. And they be waiting for founding member and keyboard legend Dave Greenfield to come back from taking a piss. Dave does indeed return, and The Stranglers crank it up yet another notch: 'Walk on By' has a rocky bass beat and far more upbeat approach than usual - nothing laid back here as the track rolls and rolls.
'All the Day and All the Night' - we sing and The Stranglers make it seem so easy. As they take it down mid-track Warne states "What a fantastic lovely crowd you are?…. and not too many bald heads in the crowd either!" before they crank it up and up and up. Cheers ring out. But the chaps are not finished. Another break and Burnel takes to the front of the stage - spotlight on him, and a huge grin. He's slapping his bass. And starts off with a totally recognisable riff. 'No More Heroes'. And the place goes mad.
So, why does this band after 40 odd years keep doing this. It is entirely clear tonight.
They. Love. It.
As much as the fans do. They take their art seriously, they are exceptional performers, Burnel probably the best bass player you will ever see. And like a good wine, they just get better and better with age. And the fans, they are loyal. They are having an equally as good blast as the band. The Stranglers remain uncompromising, they they do it their way, and let us in on the ride. Warne tells us they'll be back in 12 months. Right here. In Birmingham. Probably the same date. It's in me diary already. No more heroes anymore? Pah. I've just seen THE Men In Black!
Setlist
Longships
The Raven
Straighten Out
Get a Grip (On Yourself)
I've Been Wild
Four Horsemen
Relentless
Baroque Bordello
Golden Brown
Always the Sun
Genetix
Freedom is Insane
Time to Die
Nice in Nice
Norfolk Coast
I Feel Like a Wog
Skin Deep
Peaches
Time was Once on My Side
Duchess
Lost Control
Curfew
Down in the Sewer
Encore1:
Walk on By
All the Day and All the Night
Encore 2:
No More Heroes
New Model Army + She Makes War at The Roadmender, Northampton, UK - 11th March 2015
Gig review by
Zyllah Moranne-Brown
with photography by
Ken Harrison
All come all ye faithful. From across Northampton and across the UK the fans are drawn in as the Army marches into town. Tonight at the
Roadmender
in Northampton, in this room, a young lass making war with music -
She Makes War
before we march on with the
New Model Army.
There's an eclectic group of people here, the old, the young, goth, punk, rocker, 'normal' - the family are here tonight. While some are taking a beverage in the bar, we are taking a peek at Laura Kidd. Or we should say
She Makes War
. Kidd is a Bristol based multi-instrumentalist. She takes a cocktail of inspiration and turns singer songwriter with a guitar to a different level, using vocal loops, reverb and a series of instruments to construct her songs live on stage. And she's chatty to - gabbering away in between songs. She goes down well. 'Delete' refers to the internet, and at times really not wanting to be out there in the websphere. 'Slow Down Sunshine' about an ex that sucked the life out of her. She's currently making her third album, crowd funding it she goes along and is out on an extensive tour of the UK. See her in Brum on the 24th at Ort Arts Cafe.
So the crowd take to the room - a smaller, more intimate venue tonight. Last time we saw
New Model Army
it was at their jaw-dropping
Notts Rocky City
festive bash that pulled in the family from across the UK and Europe. Tonight a smaller fair - the venue packed with 500 +.
To dry ice and thunder rolling through the speakers, NMA take to the stage. To a crack of guitar, Sullivan snarls his vocals, and the double drumbeat takes hold. Off their latest stunning album 'Between Dog and Wolf' it's 'Stormclouds.' NMA are brushing off the winter and are setting of in 2015 with the power that they mean to go on, not just all night, but all year. Receives a huge cheer from the crowd - 'Hey!' says Sullivan.
NMA's sets always give an eclectic mix of tracks from across their 3 decades of existence. From the recent: 'March in September' to back in time. Back to the miners strike in Yorkshire. All truth and justice NMA way. "Were half of you born then?" quips Sullivan A track written at that time and one three years later. Imagine yourself - it's cold and early in the morning, standing at the picket line - it's '1984.' Followed by a track from their classic 'Thunder and Consolation' - 'The Charge.'
"On on on cried the leaders at the back, we went galloping down the blackened hills and into the gaping trap, the bridge are burnt behind us and there's waiting guns ahead…. …. into the valley of death rode the brave hundreds…."
NMA - 2015 remain a stunning live band. And that's okay, it's more than a good day - as we celebrate ' Today is a Good Day.' The drums beat out, bash out, Sullivan paces the stage. But NMA are far more than just screaming and anger. They are passion, contemplation - 'Devil's Bargain' is mesmerisingly atmospheric. " The trouble with the past..." Sullivan relates, "...is that the longer you go on the more stuff you carry…" Though he thinks it's worse for the youth of today. The stuff they do is recorded and stored forever… - 'No Mirror, No Shadow.'
The crowd chants - requests for songs - "Vagabonds, Vagabonds, Vagabonds" come the chant. As Sullivan politely responds that they have over 225 songs to choose from. So 'Vagabonds' it isn't - another 'newbie' from 'Between Dog and Wolf' quite literally about a 70s motorcyclist stunt rider Evil 'Knievel.' And as the tracks rolls on we go from 'Modern Times' and switch - 'Get Me Out.'
Quick break and encore it is. Apparently we're in the heart of England. Sullivan asks if there is anyone here from Northampton - a big cheer goes up. And then there is all those who have traveled, some miles and miles. 'Stranger' is a time for standing on the shoulders of men, quite literally, as the family take their position. And then up, the title track 'Between Dog and Wolf', with it's double drum march beat. Before back in time, to a redemption song : 'Ballad of Bodmin Pill.'
Another encore and another rip-stomp with 'Christian Malicia.' Sullivan: "We'll see you somewhere - one day it'll turn out we won't and we'll all be surprised - you and us…" as they take us to the end. "What a Wonderful Place to Go…"
NMA attract a truly loyal following. Seriously, once you see them, you will track them down, seek out their nearest gig, and be there.NMA remain overtly political, never fearful of being confrontational, it's part of their DNA. They've never chosen the easy route, sticking to their guns and principals throughout. Resilient to the last - lineup changes, personal tragedies are all part of the band's history and are part of who they are. But they are family. We are family.
And the Army are on the March. You can catch them in Reading on this March tour, and across the summer in Newcastle-Upon-Tyne and the odd festival including in London as part of Camden Rocks and at Chagstock. And then we get festive with dates at Manchester Academy and Notts Rock City in December. And they're in the studio. The family are excited. And we're told to be patient. And wait…..
Setlist I:
Stormclouds
March in September
1984
The Charge
Today Is A Good Day
Devil's Bargain
Guessing
No Mirror, No Shadow
Knievel
Summer Moors
Angry Planet
No Greater Love
Modern Times
Get Me Out
Encore I:
Stranger
Between Dog and Wolf
Ballad of Bodmin Pill
Encore II:
Christian Militia
Wonderful Way to Go
Listening:
Thunder and Consolation [1989]
Between Dog and Wolf [2013]
The Trevor Horn Band + Will Heard at The O2 Empire, Shepherd's Bush, London, UK - 5th March 2015
Gig review by
Zyllah Moranne-Brown
with photography by
Ken Harrison
Tonight this little Gig Junkies team are on tour, as we travel to London to see a master svengali of pop and prog rock and a bunch of megastar pals take to the stage to celebrate a glittering career adored with hit after hit after hit. And on top that we are promises special guests including Seal and many more. Welcome! To the world of
The Trevor Horn Band
.
So we have huge expectation as we enter the theatre at
Shepherd's Bush
- the crowd a mixed bunch of ages - young through to those celebrating the 80s, through to those of prog-rock leaning, a wide age range, given the main protagonists of tonight's gig are now well into their sixties. And we lucky people at Gig Junkies gained
a sneak access to rehearsals the day before…
And with the Trevor Horn Band tonight we have his 'Producers' and old Buggles colleague and Yes / Asia keyboardist Geoff Downes, Lol Creme (of 10cc and Godley and Creme fame), Steve Lipson and
Ash Soan
. Between the lot of them they've had over 200 hits - some, without understatement, were massive.
First up and as support we have local lad Will Heard - singer-songwriter with electric guitar. A difficult set, the crowd be talking and chatting, but he gives us his best.
Then to a half hour wait as the venue fills. In the tiny pit in front of the stage, it's getting cosy as more than seven photographers gather (along with Gig Junkie photographer), and a couple of lads who roam the venue with large video camera. The venue is comfortably full, the bars are easily accessible, and for once, you can move, breathe and get your beverage of choice.
And at 8.45 the band take to the stage - it's split, divided by screens, inspired by a studio booth type set up - and it's cosy on stage too, there's at least 12 people as part of Trevor Horn's band tonight.
From the speakers come jungle bird song, chirping and cheeping, before a bass beat rhythm starts up - 'Welcome [indeed] to the Pleasuredome' - title track of the huge Frankie Goes to Hollywood album from '84. This album was huge, hyped up by single 'Relax' it smashed into the #1 chart spot with an advance order of over 1 million sales. Controversial too at the time, for how much of the album was produced by Horn and how much input from the band. Tonight's live version has limited vocals, we're bopping and singing karaoke-style, there's no Holly Johnson tonight.
Next up the Buggles make an appearance - Horn taking vocal duties with 'Living in the Plastic Age.' This band is like a rock pop symphony orchestra on stage. And then to a huge cheer, Seal takes to the stage. Our anticipation rises but we are left saddened as the speculation we heard at the rehearsal is confirmed; Seal has had flu for the past couple of weeks, and try as he will taking every (legal) drug possible, while he's recovered it's left him voiceless and he won't be performing tonight. But he wanted to be here to celebrate his great friend and mentor Trevor Horn, and he's hugely apologetic; it's only the second time in 26 years he's been unable to perform. But he personally wanted to come here tonight to apologise and to a hugely respectful cheer, the crowd acknowledge him. Fair play.
Next up 'Slave to the Rhythm' - a track originally written for Frankie, ended up with the legendary Grace Jones. She too is not here tonight, but is once again a reminder of the svengali's talent.
The setlist has changed many, many times for tonight's gig, Horn tells us (clearly in part through Seal's inability to sing) so this is a surprising "special one"; ' All The Things She Said' co-written by Horn, and recorded by Russian female duo Tatu. This song again was #1 in uk and allowed the duo to become the first Russian group to make the Billboard Top 100. Backing singers Kristen Joy and Kate Westall give a cracking rendition (No lesbian snogs feature).
And now for a smattering of 10cc as we turn back time to '73, as Lol Creme takes on vocal duties for 'Rubber Bullets' before the first of a series of guests as Gabrielle Aplin gives us her haunting and mesmerising version of Frankie's 'Power of Love' - noticeable for being used on the John Lewis Christmas advert. Aplin tells us she's honoured to be here and honoured to be singing the next track; Annie Lennox's 'Why?', a #5 hit produced for Lennox by Stephen Lipson. There's a palpable gasp from the audience at Aplin's bravery but she delivers the haunting track in her own unique style.
And back to Frankie and the track thumps up to a crescendo - it's an instrumental version of 'Two Tribes.' We be singing and bopping, as we have done all night, but Holly's vocals, that snarl and jeer and rising Liverpudlian tone, are sorely missed. Prog rock here we go as we're into Yes - ala- Horn time - with the prog rock's band's biggest hit 'Owner of a Lonely Heart'. For Yes this was their biggest hit; their first and only one to reach #1 in the Billboard Top 100 in '83. Let's go leftfield, as a another guest takes to the stage, Dutchman Mr Probz as he and the Trevor Horn band deliver us "his really cool song" 'Waves.' The guests keep coming - next up Ella Eyre with her take on DJ Fresh's 'Gravity.' She bounces around the stage singing her little heart out.
Timewarp time once again and we scoot back to the 70's with 10cc with their huge hit 'I'm Not In Love.' "Big boys don't cry" the girls surreptitiously sing, the main vocal duties being taken on by backing singer Jamie Squire - to much pleasure and chanting from friends in part of the crowd. Horn acknowledges they can't play loads of Seal songs now but they're gonna give it a stab - with Squire taking on vocal duties for 'Prayer for the Dying.'
And now to the first ever track to be aired on MTV - as we go back to the Buggles and 'Video Killed the Radio Star' Horn on vocal duties and we're back in time. How time has moved on - video is long gone, and didn't kill the radio star and digital downloads and streaming have overtaken the visual image of film once again. And now to completion of the set - the deep bass beat sounds up - stomping, stomping, stomping, Frankie once more, with Squire on vocal duties, the huge hit that is 'Relax'.
As the band clear the stage, Horn re-appears to say they'll be one more song - he's gonna discuss with the rest of the band and he totters off stage to find them. Returned and with Squire on vocals once again it's 'Leave Right Now.'
Tonight's gig was an odd one in lots of ways. On stage the 'Producers'; these massive pop svengali's who produced, written, performed on, sang on some of the BIGGEST hots of the past forty years. And the tunes and rhythms of the songs are a huge testament to their talents. But a great song is a sum of their parts; the musical tinkering may well have been done by Horn but that sparkle on these songs were the vocals of Grace Jones, Jon Anderson, Annie Lennox, Holly Johnson, Seal and a long list of others - and it is these frontspeople that made the hits what they are. Indeed Seal's unfortunate loss of voice tonight left a huge gap in the set. And recently we've reviewed the resurgent and truly on-form
Holly Johnson
giving us Frankie's best and over the past couple of weeks Graham Gouldman's
10cc
at the acoustically delectable
Symphony Hall
in Birmingham. So as a gig, because we have this recent comparison, in some ways it was lacking. But let's take the view of what tonight was about - tonight was a celebration of the producer, the men behind the scenes, that gave the songs the 'vision' to be huge. And their success is shown by those huge stars they've worked with and the immense success they've achieved. Without these 'Producers' the music world would indeed be a different place.
Setlist:
Welcome to the Pleasuredome (Frankie Goes to Hollywood)
Living in the Plastic Age (Buggles)
Slave to the Rhythm (Grace Jones)
All The Things She Said (Tatu)
Rubber Bullets (10cc)
Power of Love (Frankie Goes to Hollywood)
Why? (Annie Lennox)
Two Tribes (Frankie Goes to Hollywood)
Owner of a Lonely Heart (yes)
Waves (Mr Probz)
Gravity (DJ Fresh)
I'm Not In Love (10cc)
Prayer for the Dying (Seal)
Video Killed the Radio Star (Buggles)
Relax (Frankie Goes to Hollywood)
Encore
Leave Right Now (Will Young)
See the complete photoset (68 glorious shots)
here on our Flickr page
.
Special Access to Trevor Horn Band Rehearsals at SARM Studios, London
Review and photography by
Ken Harrison
Ahead of the
The Trevor Horn Band
show at
02 Empire Shepherds Bush
on 5th March, we lucky people at Gig Junkies were granted behind the scenes access to the final rehearsals in Studio 1 at the legendary
SARM Studios
in London.
SARM, based in Basing Street, Notting Hill, London, was founded by Trevor Horn in 1982. Prior to this, the original Basing Street Studios were established by Chris Blackwell, (Island Records founder) and were also called the Island Studios and built within an old disused church. During both Blackwell's and Horn's ownership, anyone who is anyone in the music business has recorded here. Band Aid's 'Do They Know It's Christmas' was recorded here, with famously the pictures of all the artists arriving to record being taken outside.
We are taken upstairs into Studio 1, a very crowded place, with the majority of the band, engineers and technicians in there as they finish their break. The room is filled with instruments, tech, and miles of cables trail around to each artist's gear. Mounted on Horn's microphone stand is a controller and a bunch of Sunflower heads, a small bit of nature in amongst all the technology.
We can't disturb the rehearsals so one of the managers (Matt) ushers us into a side room with a bank of keyboards and a pile of MacBooks sitting on top. Behind the keyboards is Geoff Downes, Asia keyboardist, and he's waiting for his lunch. We chat briefly before lunch arrives and then Downes joins in discussions with Horn and the band members about the setlist, (and the order of). The main topic of discussion is whether Seal, one of the guest artists, will be able to perform on the night, as he's not been well. Horn disappears into an office to rework the setlist, which is still in flux, but will be nailed down for the soundcheck at the venue on Thursday afternoon.
During the lull, everyone goes back to rest mode, Lol Creme (10cc), picks up his paperback and settles into his chair to read a few final pages, others pick up instruments and run through various pieces until Horn's return when they review a few tracks for the show, and discuss some of the mechanics of the set, and finally closing the session down with one last run-through of Frankie Goes To Hollywood track, 'Welcome To The Pleasuredome.'
The amount of musical talent that has passed through this place over the years, Marley, Led Zepp, Queen, Genesis, the ZTT acts, so many others, and also now home to Stiff Records. wow! This place has made musical history, and for a prelude to a gig featuring some one the biggest names in the music business we've just had a very small peek through the window to their world.
Gig Junkies would like to thank Mel Hoven, Stephen Flannery and Tim Regan for giving access to SARM Studios
Ocean Colour Scene + Samuel L Parkes at The Symphony Hall, Birmingham, UK - 21st February 2015
Gig review by
Zyllah Moranne-Brown
with photography by
Ken Harrison
In the late 80's a group of lads from the outskirts of Birmingham, formed a band morphing from the ashes of two: The Boys and Fanatics. First few years weren't easy, they got signed and company ownership changes meant then went into dispute with the label. Then one Paul Weller, picked up and mentored them and with support gigs with Oasis, they got their break, especially with second album 'Moseley Shoals'. The boys are back in town with a couple of homecoming gigs to celebrate a remarkable 25 year career. Ladies and gentlemen, welcome
Ocean Colour Scene
in the poshest venue in the city, going all acoustic as part of their celebration tour.
The Symphony Hall has pulled in the fans tonight, this is the first of two gigs for Ocean Colour Scene, and ticket sales have gone so well, they've opened up the choir seats behind the stage. First up tonight is singer songwriter
Samuel L Parkes
on a short set. Unfortunately most of tonight's punters prefer the bar, so the venue is less than a quarter full as he takes to the stage. Singer-songwriter, with a his take on life, and Britpop inspired, he goes down well with the punters that have made the effect to take a peek.
So as the auditorium fills, people are bringing in multiple beers, and we take to our seats, the lights dim and to a big cheer the boys take to the stage. The three of them take their seats and they deliver us an acoustic version of 'Better Day.' It's a simple set, no light rig, a carpeted centre stage, all MTV Unplugged. Craddock's vocals rise in this venue, built to be acoustically perfect. The crowd cheers, some stand and clap. This is a refined venue, it'll be interesting to see how refined the audience stay.
"Alright?" comes Cradock's Brummy welcome. 'So Low' comes next, the chaps, bar Cradock swap instruments, and yellow lights adorn the venue, showing it's full dizzying height. There's an expectant vibe from the crowd, although I don't think I've ever seen so many comings and goings from the crowd as they replenish their alcohol levels.
Cradock: "I never thought we'd play here - great place ey?" The crowd shout back. 'I Wanna Stay Alive With You' up next - stripped back, slower than the usual, like with many of the songs played tonight. As a string quartet join them on stage, 'This Day Should Last Forever' gets us clapping. "What type of people are in here tonight…" Cradock gazes out into the auditorium. " Yep okay. Do you like our choir?" as the band turn to acknowledge those in the seats behind the stage. "Ones who decided at the last minute to come…" he quips. As he mentions local town such as Coventry, Nuneaton, Rugeley - the partisan local Brum crowd jeer. 'Village Life' is moody and mesmeric, strings in full flow. OCS lived in Moseley (outskirts of Birmingham, for those from further afield), Cradock swapped The Stooges for Fairport Convention and this is a song about Sandy Denny (late vocalist of said band) - 'She's been Writing.'
Cradock isn't happy with the smoke machine, and insists it's switched off, before they're into the Beatlesque ' Have You Got The Right.' The songs are indeed beautifully delivered, Cradocks' vocals rising out, the strings accompanying the band's harmonised vocals, throughout the acoustic set. But the huge flow of people to and from the bar and those, having consumed so much liquid, leaving to relieve themselves of the volume, is truly noticeable in this seated venue. Cheers from the crowd as they recognise 'Profit In Peace' - which lifts and rises and brings some passion back into the gig, even though it is still a mellow version.
And as the band go through their set, Cradock acknowledges writing in his dad's garage in King's Heath, and thanks him for his support of the years. The audience is quite mixed, some just soaking it all in, some on their feet dancing away, some singing away, some shouting at their idols.
Tonight is (first) homecoming gig, and quite rightly, a celebration of local Brum lads who sought musical fame and actually achieved it. 'Moseley Shoals' went on to sell over 3 million copies worldwide, a success many yearn for, but few gain. But as with any band who do any unplugged set, this can be divisive - as a fan, you either love it or hate it. 'm sure MTV must be around here somewhere. Tonight's gig is one for the fans, and they are here tonight, local and from further afield. And as they roll through the songs, song with psychedelic vibe, some more poignant, the crowd sing along to last track of the set 'The Circle.' After which there's wolf-whistles, and a standing ovation.
And as we wait for the encore the crowd chant, and then Cradock returns with guitar in hand. "Thanks - you okay tonight? Ta for the last 25 years by the way." The conversation takes us to local Brum pubs, some long gone - The Barrel Organ, Jug of Ale. He's proud to represent this city, he tells us. 'Robin Hood' starts off the encore - morphing into a little bit of Oasis. 'Huckleberry Grove' gets sections of the crowd in their feet, all Beatles 'Strawberry Fields.' 'Alibis' slows the crowd down - it's moody and mesmeric. 'Families' dedicated to mothers, fathers and children. "Is there anyone left out?" he quips.
"Now it's time to say goodnight, good night now, sleep tight…" as the chords strike up and we get the song everyone has waited for - 'The Day We Caught the Train.' And everyone is singing LOUDLY. Birmingham is celebrating. This song, right here, right now, is Birmingham's anthem.
10cc at The Symphony Hall, Birmingham, UK - 16th February 2015
Gig review by
Zyllah Moranne-Brown
with photography by
Ken Harrison
1974. There was a hung parliament; Conservatives were ousted by Labour. ABBA won Eurovision with 'Waterloo'. West Germany won the World Cup. The Rubik's Cube was invented. Ceefax was started by the BBC. The "rumble in the jungle" as Muhammad Ali knocked out George Foreman. The Birmingham Pub Bombings, still painfully remembered today. And anything digital, internet, iThingy was years off.
10cc
released their vinyl album 'Sheet Listing' to play on a record player on their journey to huge success. And 40 odd years on, in the luxurious
Symphony Hall
we're here to take a peek into their hugely creative musical journey…
Formed in the early 70s - this art-rock band hailed from Stockport. Initially there was four - Grahan Gouldman, Eric Stewart, Kevin Godley and Lol Creme. 10cc had 'two sides' the commercial songwriting team of Stewart and Goldman and the more experimental Godley and Creme - but joining forces, these multi-talented, multi-instrumentalists went on to have some massive hits - eleven Top 10's, including three No 1s 'Rubber Bullets', 'Dreadlock Holiday', and 'I'm Not In Love', which has been played over five million times on US radio, it's no surprise the band has sold 15 million albums in the UK alone.
Godley and Creme left way back in '76, Stewart in the mid nineties - so it it is left to Graham Gouldman to take the 10cc mantle to where it is today. The current line up features founder Gouldman (bass, guitars, vocals), Rick Fenn (lead guitar, vocals, bass) and Paul Burgess (drums, percussion) - both who joined after the departure of Goldey and Creme, Mick Wilson (vocals, percussion, guitar, keyboards) and Mike Stevens (keyboards, guitar, bass, sax, vocals).
"The current band is as near as you're ever going to get to hearing the perfect 10cc"
says Gouldman.
"Hit after hit after hit. It's relentless. We show no mercy."
10cc haven't issues a new album in nearly twenty years but they remain regularly on the touring scene - and in 2012 to celebrate the band's formation the released the retrospective 'Tenology'.
So tonight, the first part of the set is: 'Sheet Music'; the second album by the band. Released in 1974 it yielded hits 'The Wall Street Shuffle' and "Silly Love" with the album reaching No.9 in the UK. Goldman thinks it is the best album 10cc ever produced - he writes
: "Our best album, epitomising what 10cc was all about. Unique songwriting and production."
So as peeps take to their seats, slight confusion by me (as the row starts from seat 5), local 70s legends ELO blast out from the speakers to get us into the mood. Tonight's gig is an early start - band due on stage from 7.30. To a track, the 'curtains' on the large 5 split screens at the back of the stage part and 10cc take to the stage. We're off - the first set is indeed their 1974 'Sheet Listing' album -played in track order; first up is 'Wall Street Shuffle' - with all the signature 10cc harmonised vocals. You can already see how 10cc inspired so many, (Squeeze come to mind) with their pop-art rock, leftfield, quirky yet commercial, quippy, prog-rock. A big cheer from the polite audience and Gouldman introduces the first part of the set, and as they go into track two - 'The Worst Band in the World' we can already hear that this venue is perfect for their entirely complex songs played in intricate detail.
'Hotel', with full light show and blazing green lasers, show us the eclectic mix of inspiration 10cc experimented with in their day - every music inspiration and the kitchen sink chucked into the lyrical and musical mix, then mashed through a blender and turned upside down. Way before anything remotely digital, it really shouldn't work - but it does. Goldman acknowledges the writers behind each track, regardless that members left the band decades ago. 'Old Wild Men' written by Godley and Creme in their twenties, about what it would be like to do this in their sixties; a quip from Gouldman who finds himself, now in his sixties doing precisely this. 'Clockwork Creep' written in a time when clocks went tic-to and way before 9/11 is about time and downing airplanes. To accompany the exceptional musical and vocal talent of every band member - the lighting is great - and quirky graphics fill the screens.
Now for pause - they have to as it's the end of side one - and when this album was released, it was vinyl, and time to turn it over. 'Silly Love' we're back with rock 'n roll. This album was written in a era of experimentation - you can see the inspiration of The Beatles and their psychedelic moments, see how Queen were pushing boundaries to symphonies, the harmonisation inspired by the Beach Boys. It must have been an exciting time for music, and something, that in some ways the music industry has lost over the years. 'Somewhere in Hollywood' appearing on the screens, in monotone footage, and with lead vocals, is Kevin Godley. He may have left 10cc nearly 40 years ago - but it's a really nice touch, an art-house video and song - wouldn't be far from a Queen (in their hey-day) song. And the end of the track Godley waves from the screen and walks off, acknowledged by the current 10cc line-up.
'Baron Samedi' written by Goldman and Stewart was inspired by a Bond villain (he thinks - it was a long time ago), is followed by a Godley and Creme track - 'Sacro-Iliac' - about the fact the writers couldn't dance - so they made a dance up. A country vibe, with that 70s Coca Cola advert song, intermixed the Beach Boys.
And now to the interlude - as at 8.15 we get a twenty minute break. The next set brings us hits a-plenty. Tonight's audience is indeed older, and we a decade younger but we know all the songs and all the lyrics - these tracks have become so classic. First up 'Thing's We Do For Love' - and we're singing. The band are now suited and booted as they take us into 'Good Morning Judge'; this is AOR rock 10cc. Both these tracks are written by the commercial side of 10cc - Goldman and Stewart.
Next up 'I'm Mandy Fly Me' - on the screens we float above the clouds, this is 10cc's 'Lucy in the Sky with Diamonds' and we float away with the atmosphere and admire the total complexity of the entire multi-layered song. Coming back from our trance - the next one was inspired by what a DJ said on a radio show - 'Life is a Minestrone.' We're singing; the crowd are loving it.
And as waves break on a beach, and a lone guitar sounds out, we're into 'Arts for Arts Sake' clearly an inspiration for a later edition of Genesis. We're tripping and floating. The title was taken from a saying that Gouldman's father used to say. 'Feel the Benefit' has a slight psychedelic take, rolls on and on, we're in prog-rock territory and we watch the band members with fascination. Each one is a multi-instrumentalist - no individual 'just' plays one instrument, Wilson during this track scoots between guitar, keyboards, multiple percussion instruments and and take lead vocals. Another inspiration from words said by Gouldman's father - 'The Dean and I' from their first 10cc album.
And then to the track that's been played over five million times on USA radio. 'I'm Not In Live'. Lit up with streams of lights from the floor, the track is delivered exquisitely beautifully - the hairs raise on our arms. Big boys don't cry. Gorgeous rendition. And to compete the set we have 'Dreadlock Holiday' and to go with the lyrics - we don't like cricket, we love it; we don't like reggae, we love it; we don't like Birmingham, we love it. To a big cheer.
And to an encore with a twist. They're going to be singing their first single from 1972 - 'Donna'. Acapella. As 10cc go all barber-shop - four of the protagonists deliver perfect harmonies in a perfect yet comedic manner,; 'Oh Dionna, Oh Donna, Donna I Love…" with drummer Burgess completing the end of the song in a deep, Brummie dialect 'Yow.'
And to complete the set - 'Rubber Bullets' crowd on their feet, band having a blast.
Tonight's set may end at 9.45 - but that's not it for the band. After the gig they're doing a meeting and greet, where they are quite happy to say hi, have their pictures taken, and sign pretty much anything (within reason).
10cc are a journey through time, space and motion - a total musical journey. In some ways this really shouldn't work - songs from four decades ago, only one remaining original band member. But no - this is no retro tour - the whole band thoroughly enjoy their musical journey, this band of brothers are immensely well tight; a masterful performance that complex symphony orchestra's would admire. 10cc were out of time, their tracks are not outdated - and the love and care they continue to perform them, gives a truly impressive show. And tonight we have the luxury of one of the best venues in the country to showcase their music sound.
In the words of just one of their hits: We didn't like 10cc tonight. We loved them.
Set I: Sheet Listing
Wall Street Shuffle
The Worst Band in the World
Hotel
Old Wild Men
Clockwork Creep
Silly Love
Somewhere in Hollywood
Baron Samedi
The Sacro-Iliac
Oh Effendi
Set 2: Greatest Hits
The Things We Do for lOve
Good Morning Judge
I'm Mandy Fly Me
Life is a Minestrone
Art for Art's Sake
Feel the Benefit
The Dean and I
I'm Not in Love
Dreadlock Holiday
Encore:
Donna (acapella version)
Rubber Bullets
Kaiser Chiefs + Public Service Broadcasting at The Civic Hall, Wolverhampton, UK - 6th February 2015
Gig review by
Zyllah Moranne-Brown
with photography by
Ken Harrison
"This is a public service announcement. Welcome the people of Wolverhampton to Wolverhampton Civic Halls. Tonight performing for your delectation and entertainment will be the
Kaiser Chiefs
supported by
Public Service Broadcasting
. Thank you for coming along and enjoy tonight's performance. Yes."
Indeed first up we announce
Public Service Broadcasting
. An eclectic mix of indie Joy Division inspiration mash-up with Kraftwerk and full on retro inspired by the public service broadcasts and archives of yesteryear, sampled and set to new music. They are a musical entity based in London. The band don't speak - they 'announce.' The classical posh voice from those broadcasts remixed to announce - "We are Public Service Broadcasting. We come in peace for all mankind."
PSB are uniquely different their rhythmic electronic indie beat rolls round the venue, on the screens retro footage. "It's great to be here to support the Kaiser Chiefs in Wolverhampton. Yes." Their new album is inspired by the space race 'The Race for Space' and they play us new single 'Gagarin'; their set completed with 'Everest.' As they state: "This is our last song. God speed people of Wolverhampton." PSB are out and about over the spring including a special and unique gig at the the National Space Centre in Leicester at the end of February. Well work checking out.
And so to the interlude as we take our refreshments and wait for the main men. Formed way back in '96, the
Kaiser Chiefs
released their classic debut album 'Employment' in '05 featuring indie pop hits 'I Predict a Riot', 'Every Day I Love You Less and Less', 'Oh My God' and 'Modern Way.' Hugely successful, it was one of the best selling albums of '06, and was followed by 'Yours Truly, Angry Mob', which yielded No.1 hit 'Ruby.' The Kaiser consist of Ricky Wilson (vocals), Andrew 'Whitey" White (guitar), Simon Rix (bass) and Nick 'Peanut' Baines (keyboards) and new drummer Vijay Mistry (of Club Smith who supported them last year) after Nick Hodgson recently moved on to pastures new. The Kaiser Chiefs have sold over a million albums so far - Ricky is now a familiar sight on our Saturday night TV as being on of the judges on 'The Voice', right in the middle of his second stint with the show. 2014 brought new album 'Education, Education, Education and War' voted by XFM as one of the top 50 albums of that year. New single 'Falling Awake' has just been released to accompany this tour. And later in the year they'll be mucking around and supporting the Foo Fighters on their World tour. The Kaiser Chief's have come en masse tonight - outside there's three luxury coaches and five huge road trucks bringing their show to Wolverhampton. The Kaiser Chiefs are on the march onwards and upwards.
And now we announce the main act. The stage is suddenly drenched in a massive blanket of dry ice as KC take to the stage. There is a huge cheer and somewhere through the fog drenched stage we're into first song 'Factory Gates.' And then they crank it up here come the hits 'Every Day I Love You Less and Less' (oh yes and yes) and 'Everything is Average Nowdays'. Ricky is his hugely energetic and frenetic self already - the showman - as he leaps onto the front barrier over the crowd, a bouncer clinging to his belt so he doesn't fall.
'Ruffians on Parade' from their 2014 album, he's all over the stage standing above the drummer - smashing the symbols with a drum stick he then hurls into the audience. Sing again 'Na Na Na Na Naa'. He tells us this is the finest city in the world and he's been to them all.... (shucks - we bet he says that to all the cities ) and he screams - just like Noddy Holder as we go into 'My Life.' Ricky's stripped off now - sleeveless T - and his on the move. 'Angry Mob' starts up and he's up walking around the edges of the mezzanine upstairs floor - 'til he takes to the corner leans over and pumps the air as we must chant ...
"We are the angry mob, we read the papers every day, we like who we like, we hate who we hate. But we're also easily swayed."
He stands in the middle or the mezzanine - over out heads - spotlighted - "They think they can relax cos they've got seats' he says to the crowd behind him and gets the seated and standing punters in a sing off before next track 'Cannons.' He maybe above our heads now but there's a Go Pro camera fixed to his mike, screened live to the stage we can see him. The atmosphere has certainly cranked up.
'The Occupation' from the 2014 album is on the screes and sees cartoon, words and music reflecting the stupidity of the oil wars which leads us into 'Roses' - a ballad. Next up we're in soppy bit. Time to hold hands with the one you love. Last track off first album 'Team Mate', as we scoot into psychedelia. Tripping man. Think 60s love baby. Ricky goes mad with dry ice machine. Literally.
Clap - insists the drummer. We do. Time to party again. All post 90's Brit-pop with 'Modern Way.' before their Chant No. 1 ' Never Miss a Beat.'
"What would you like us to play next?" he asks as the guitarist dabbles with chords from 'Smoke on the Water." It's to a random band member to decide. Band members' names roll on the screens - 'new' member drummer VJ wins. He's the he new Nick, Ricky tells us. Chants go up VJ, VJ,VJ. Stands for vagina jockey apparently. After some rambling 'Heat Dies Down' is chosen. Sam the fan at the front knows all the words just in case Ricky forgets.
And to follow up, he knows all the words to this one. So do the 3,000 people of Wolverhampton. 'Ruby' baby. And while we be singing. - how about a 'Riot'. Okay then. Here we go.... "Wooooooo woooooooo". One polite, full-on riot.
The band start up with The Who's 'Pinball Wizard'. EVERYONE sings from the word go. "Thank you very much Wolves - you been brill we really appreciate it - he's definitely coming back." He's 'Coming Home'. Audience arms sway side to side. We're singing again. And it's snowing paper.
And now to their interlude - and on screen be Dave Grohl - screaming at the band - as we see them back stage and him ripping them to shreds in a rip-roaring expletive-laden funny team building speech - before ordering the band back out on stage...
And clearly it rubs off on Ricky - he goes all rock and an expletive-laden intro to new single - 'Falling Awake'. "You can be the loudest venue. How loud can you go?" We respond relatively quietly. "I shall ask that question in not such a rhetorical question…" as he takes us into a loudness challenge. As we chant Kaiser Chiefs between the two sides as they take us into the dark mesmeric, rhythmic 'Misery Company.'
Bless the Lord it's 'Oh My God'.
"Oh my God I can't believe it, never been this far away from home...."
the words are on screen but we do not need them and the chant cranks up to a scream. The Go Pro is back so we can see the intensity on Ricky's face. Then camera dropped. Streamers in the air, another gig done.
The Kaisers put in full on energy and commitment into their live shows. As Ricky said on 'The Voice' - he's a showman, a frontman and they're jolly friendly, jolly nice, down to earth chaps. The Kaisers have a huge back catalogue of football' chant songs that 1. sold, 2. everyone knows and 3. are a huge win with the crowd at live shows. I've seen nostalgia bands with fewer hits re-appearing after twenty years absence. It really must be quite amazing to have written those songs with the lyrics that everyone knows and listen to the crowd sing them back to you. What a buzz. And they're off around the world and the impression one Mr. Dave Growl will have on them - who knows what the future will have for them. And we leave with the chants running through our heads, as we maybe a polite and friendly bunch but...
"We are the angry mob, we read the papers every day, we like who we like, we hate who we hate. But we're also easily swayed..…"
"This is a Public Service Announcement: Thank you for coming along tonight. God speed people of Wolverhampton."
Quick mention about the
Pilgrim Bandits.
Not a band but a charity, which the Kaiser Chiefs are taking around the country on their entire tour once again. Formed in 2007 by a small group of Special Forces veterans, this group have the sole aim of using their unique experience to help and inspire wounded soldiers to live life to the full, through pushing boundaries, working with youth and funding research into areas such as prosthetic limbs. Pilgrim Bandits raise monies, but don't ask for charity, they ask for your support. Check them out and see what you can do to support them at:
www.pilgrimbandits.org
Setlist
Factory Gates
Every Day I Love You Less and Less
Everything is Average Nowdays
Ruffians on Parade
Na Na Na Na Naa
My Life
Angry Mob
Cannons
The Occupation
Roses
Team Mate
Modern Way
Never Miss A Beat
Heat Dies Down
Take My Temperature
Ruby
I Predict A Riot
Pinball Wizard
Coming Home
Encore:
Falling Awake
Misery Company
Oh My God
Listening:
Employment (2005)
Yours Truly, Angry Mob (2007)
Off With Their Heads (2008)
The Future Is Medieval (2011)
Souvenir -The Singles 2004-2012 (2012)
Education, Education, Education and War (2014)
Julian Cope + Black Sheep Sound System (FidoX) at The Glee Club, Birmingham, UK - 25th January 2015
Gig review by
Zyllah Moranne-Brown
with photography by
Ken Harrison
Tonight we're in the delightful and friendly comedy venue that is
The Glee Birmingham
to see an artist with who own true unique style. This dude does it HIS way. Singer-songwriter, musician, author, antiquarian - his take on life is truly unique, his music and lyrics as eloquent as they are sartorial - his spoken word crazy, mad and bang on the money in the same sentence. Welcome to the world of the Archdruid himself -
Julian H. Cope
.
Tonight it's seated; we're told to snuggle up to the person nearest so everyone can get a seat, as it's pretty much sold out. A little before 8pm, the lights go down and the compere intrudes us to tonight's support artist "Welcome to the stage from Black Sheep Sound System ->> FidoX."
One of Mr Cope eclectic collaborators, this be a DJ set . One man, two house lamps, couple of laptops and mixer and the voice of Julian. The first 15 minute segment repeats and repeats in multiple variations "Leave yourself behind…Leave yourself behind…Leave yourself behind" …..Indeed. Remixed and smashed and re-mashed, from statemented to screaming; a churning beat. Druid-artism and the tune rolls on as the track morphs and rolls churned and mixed and blended. Before it changes "No Gods... " Shouting. Stompbeat. As recommended by the Arch-druid himself.
And then to a break and dash to the bar. Before the man himself appears. Introduction: "From Wessex - Julian H. Cope." Be-longhaired, be-capped; be-sunglassed, be-bearded, Cope appears at the front of the stage and salutes his audience. "How the devil are you?" He informs us he will be terribly professional with a bit of banter here and there. This is what Saint Julian does best.
So tonight it's Mr. Cope and his acoustic guitar. Oh and his spoken word. And the first track of tonight 'I'm Living in the Room They Found Saddam In.' As you do. Che Guevara is in there as is Bin Laden. Amongst others. And Saint Julian himself.
Mr. Cope, he knows, that in a career as long as he has had, well there is embarrassing periods, and he just has to get over them. He takes a poke at the 'reunion' culture' and to the days of Teardrop Explodes. And recounts the most unsaleable album, and the single most disaster his then record label ever had - 1981's 'Wilder' - as he takes to the next song from the album of said name 'The Culture Bunker.' Tonights songs cover his career, just not the commercial bit; from 'Peggy Suicide' we have 'Double Vegetation.'
Cope's musings and banter are as entertaining as any you may hear and the mental track of his thought waves are as fiercely logical as they are barmy. He confesses that there is evidence evidence that the rest of the world has wanted to live as out of it as as he has, that archaeologists researching cereal crops couldn't conclude whether back in the day, we made food or beer. So he wrote a song about the fact that everyone past, present and future want to live out of it. 'They Were On Hard Drugs.'
In the 80's he was an "intuitive none career mover." Although people liked this song, it was never released by the label on 12" which everyone was buying. The classic 'Sunspots'. Featuring the anecdote about the sound of a car going past in the lyrics - "meeeeyyyyyooooowwwwnnnnn" translated on a lyric sheet when released in Japan became "Indeed." When he discovered this he chose to replace said car sound with "Innnndeeeeeddd" for a while - just 'cos he could.
Change of guitar and now we're going all psychedelic with 'Psychedelic Revolution'; off an album from a couple of years ago - a political rant and view on social politics. All those people in Government needs to 'live out of it.' too.
So, while with Teardrop Explodes he was very much an off his head with drugs (check out his awesome autobiographies 'Head On' and 'Repossessed') , he tells us that he gave up the falling down water for 21 years; he was tee-total. Until he visited a cave in Armenia. Folklore said that there was an ancient village inside, so no-one would venture in. The Arch-druid did and they were so impressed that they insisted he partook of Mulberry Vodka. So now he's a born again drinker ; hence this song "As The Beer Flows Over Me." As it is within the Glee, when the act takes to the stage, the bar is closed. A couple of punters vocalise their complaint to Cope - "the bar is closed!" Tactful, Cope admits it maybe difficult to change the policy. He can't drink till after the show, so we should wait too. As we are Brummies , industrialized Danes, we will indeed be able to track down beer at a distance...
'Liver Big As Hartlepool' is a take on an anecdote on former Wah! member Pete Wylie's liver, before another song from his lost period (which one? he asks - let alone us asking him) 'The Greatness and Perfection of Love'. He quips, according to Paul Morley, he is the only person that can sing bah-bah-bah (like a sheep) and mean it.
His show is full of anecdotes and musings of his mind - too many to mention. He's writing another book but is currently on sabbatical for 12-18 months depending on whether it's his or his publishers point of view. As part of this tome about prophets he's been looking at tyrants, who may be prophets, but were tyrants and here's a folk song as they are in his head - 'Cromwell in Ireland.'
He thinks that arguably, as he gets older, his songs get more profane. He thinks he's become more gnarly and ingrown - his songs more evil. So this song takes the foulest of words, looks at their double meanings, the positive and offensive, pokes fun at Americans cos he really wants to annoy them. So to sweet music melody and a Christmas ending (maybe it'll be number #1 next year) - he we go - 'C*** Can F*** Off'. And if you can, ask him to tell the tale of the c*** belt.
'Pristeen' up next, rocked out with reverb.
He's recently released his first novel 'One Three One' to critical acclaim. It's based on really rum stories, stuff he heard. It's real. Experienced, he tells us - he's the first method actor novelist. Soundtrack not out yet - but we do get a poem referring back to his thoughts on the 'Reunion Culture.' "Reunited and it feels soooo good," he quips.
We he knows there a curfew in place and tells us he has 37 songs to select from. So, from 'Jehovahkill' it's 'Soul Desert' which morphs into a screaming and punked out edition.
He saw Fairport Convention when 15. God it was boring; the 70s were shit. He ended up walking home most of the way back to Tamworth, along the lanes of the Aston Expressway and a brief lift with the police, who took him and his mates off this multi-laned thoroughfare and ceremoniously dumped them to walk the rest of the way home. Another criticism of the America he detests and their seven-lanes motorways and we're into 'Autogedden Blues'.
Quick break for the encore and he's back. He's getting old. He can't play 'Up-wards at 45 degrees' anymore - problem with his hands; maybe a geriatric version 'Up-wards at 20 degrees' and maybe he'll be in a prog band called OAP. And then the set completed with 'Robert Mitchum.'
He bows before the whole of the West Midlands, nee Birmingham.
Julian H. Cope is barking. Mad. Crazy. But pure genius. He's done his music, his writing, everything creative HIS way. He's got a 'greatest hits' out - Trip Advisor' 16 visionary songs from 1999-2014. Travel differently it says. Indeed. And he'd probably like and loathe this is equal measure, he's kinda a national treasure - the eccentric archdrood, one of the best exponents of the spoken word, quick-witted comedian in his own right, ridiculously talented - the crowd tonight were mesmerised by his performance, his take on life and challenge to this hum-drum life we live. And that's before he sings and plays songs from his 30 year career. Any opportunity to see him do what he does best like tonight is a must. You can never be sure what you'll get - but we love, and sure as hell want to live in the crazy mad world of Julian H. Cope.
Setlist
I'm Living in the Room They Found Saddam In
The Culture Bunker
Double Vegetation
They Were On Hard Drugs
Sunspots
Psychedelic Revolution
As The Beer Flows Over Me
Liver Big As Hartlepool.
The Greatness and Perfection of Love
Cromwell in Ireland
C*** Can F*** Off
Pristeen
Soul Desert
Autogedden Blues
Encore
Robert Mitchum
Paul Carrack + Elliott Morris at The Symphony Hall, Birmingham, UK - 23rd January 2015
Gig review by
Zyllah Moranne-Brown
with photography by
Ken Harrison
Tonight to the delectable
Symphony Hall
to see a Sheffield-born singer, songwriter and former frontman of Ace, Squeeze and Mike & The Mechanics. The BBC dubbed him as 'The Man with the Golden Voice' and tonight's performance is pretty much sold out as we take our seats for
Paul Carrack
.
Support tonight comes from guitarist, singer songwriter and young talent that is
Elliott Morris
(as he says 2 Ls, 2 Ts, 2 Rs, one S - so he doesn't get confused with a goalkeeper who gets lots of grief on Twitter!). He receives a warm and friendly reception from the audience as he gives us songs and his guitar dabbling - which entails tapping, slapping, strumming and fretting and playing his guitar all at the same time. Inspired by the likes of guitar legends Michael Hedges, his performance is quite mesmerising to watch. He's entirely unsigned, Paul Carrack spotted him at a gig and asked his to support him on this tour. From his own stuff to covers, he completes his set with his take on the classic 'Billie Jean.'
So Paul Carrack returns to the road following his widely acclaimed recent album release 'Rain or Shine', which was a mix of new original songs and classic tracks. Besides being a member of Ace, Roxy Music, Squeeze and Mike & the Mechanics, his songs have been performed by the likes of The Eagles, Diana Ross and Tom Jones and he's recorded and toured with Elton John, Eric Clapton and BB King. The list of people he's worked with is endless.
Carrack appears on stage with full 7 piece band in tow and starts off with the rolling 'Good Feeling.' "How you doing?" as he emerges from behind the keyboard to the front of the stage - guitar in hand and we sing along to his rendition of 'Everytime You Walk In the Room.'
He reckons this be the poshest venue on the tour (The Symphony Hall is indeed impressive) and puts a plug out for local venue The Robin 2 - at which he will be once again playing later in the year. 'All That Matters' before a little bit of Squeeze and what goes down very well right now - a little bit of 'Another Cup of Coffee'; his dulcet tines ringing through the venue as we sing.
His set is stylish, professional and tight as you would expect of such an established musician - the audience sit and take it all in - next track, recorded by The Eagles, 'Love Will Keep Us Alive,' before a track from his most recent album 'Time Waits For No One' which jams on down.
Back to Squeeze and we're singing again 'Tempted'; his vocals soulful and professional. And as he starts off on a Brenda Lee Cover 'I'm Losing You' - he stops - he's quite literally lost his earpiece! A quip and joke and earpiece back in place - he's off again. Occasionally there's a man sneaking around the stage with a pole. And on then end of the pole is a tiny Go Pro Camera which he ventures into places other people with cameras would not dare to venture. It's quite entertaining to watch him as he sneaks between band members.
Carrcak's set continues the mix of covers, songs he's written for others, songs for him, 'Don't Dream Its Over', new single 'Stepping Stone', Springsteen's 'If I Should Fall Behind.' Then to Mike & The Mechanics with his take on 'The Living Years.' After taking in so much of the gig, the crowd are finally rising to their feet, to join in with 'How Long.'
Quick break and then the encore - 'Make Your Mind Up' followed by us all singing along to Mike & the Mechanics 'Over My Shoulder.'
Paul Carrack has a soulful voice and continues to have a varied career - as lead singer, sing writer, session musician and in his own right. With his soulful voice, him and his full band deliver a professional and stylish set. He went down well with his fans tonight- the venue was very close to being sold out. So if you be 'Tempted' check him out at The Robin when he returns.
Setlist
Good Feeling
Everytime You Walk In the Room
All That Matters
Another Cup of Coffee
Eyes of Blue
Love Will Keep Us Alive
Time Waits For No One
Tempted
Just For Tonight
One In A Million
I'm Losing You
You Don't Know Me
Don't Dream It's Over
Stepping Stone
If I Should Fall Behind
I Think It's Gonna Rain
The Living Years
When My Little Girl Is Smiling
How Long
Encore:
Make Your Mind Up
Over My Shoulder
New Model Army at Rock City, Nottingham, UK - 13th December 2014
Gig review by
Zyllah Moranne-Brown
with photography by
Ken Harrison
To a city filled with the legend of a man who robbed the rich to feed the poor, we're in Nottingham's iconic
Rock City
to see Cromwell's anti-establishment army, as the 'family' roll into town for a special and unique take of this particular band's 34 year career. With just two dates in the UK - welcome all ye faithful to 'Between Blood and Wine' - an evening with the
New Model Army
.
New Model Army formed way back in 1980 in Bradford, Yorkshire, releasing first album in 'Vengeance' in '84. Led by one 'Slade the Leveller' - Justin Sullivan, NMA attract a truly loyal following and as a band, are known for being overtly political, never fearful of being confrontational - it's part of their DNA. They've never chosen the easy route, sticking to their guns and principals throughout. The journey has never been easy for the band throughout their history either. Resilient to the last - lineup changes, personal tragedies are all part of the band's history and are now a part of who they are.
And everyone is here for an incredibly early start to a gig - the main band are due stage on at 6.45pm according to their website and Facebook feeds (curfew is 10 - club night after - a usual with such venues these days) and will deliver a two part, over 2 ½ hour one-off set - with additional musical guests and experimentation on the old. NMA are excited about the possibilities, as are the eager fans who turned on time and early tonight. NMA take to the stage around 7.15pm - the venue is already rammed to the hilt, with punters from all corners of the UK and beyond, the faithful, the devotees, the fans, the new, the old, punks, rockers, goths, people in suits and fancy dresses, little people - a whole eclectic mix to see these Bradford stalwarts.
The set is dripping with dry ice, spot lights give effect and the menace of Sullivan is already on show. 'Guessing' - he's ranting at the stars. To huge applause from the fans. 'Rumour & Rapture' and 'Christian Militia' set the tone. Sullivan thanks us and tells us every year is some kind of anniversary - this in particular - '1984'. And then to a drum-punching beat (there's double drummers on stage tonight) to add to the power A trio of such beckons. Sullivan's been to some interesting places and went to one and came back with this - 'Red Rain' - red set, crankingly powerful song, NMA are ramping it up. 'Stormclouds' from their latest, and up there with their best, album ' Between Dog and Wolf' is storming quite literally, followed by their 80's hit ' No Rest.
"By God - What is this evil we have done?"
we all chant as a question.
To a song "about lots of things", 'Knievel' , followed by a song from their other great album 'Thunder and Consolation' '- Family' and then to the title track of the new 'Between Dog and Wolf.'
Part one is over - and we all stop to take breath. NMA are on form tonight and the crowd buzz with anticipation for part 2. It's very warm inside the packed Rock City and they return, catch your breath - here we go. First up 'Ballad' starts quietly. Sullivan stops after the first attempt - the crowd is noisy, some tell others to shut up. Again he starts, and again he stops. "Com'on give us a break..." requests Sullivan. "We'll ask you very rudely to shut the f** up..." [to cheers from the fans] "… or we'll f*** off. If you didn't want to come you shouldn't have brought ticket." Shhhhhhh goes the crowd and third time lucky we're off, an expanded Army on stage, two violinists, cello-ist. The faithful are singing. Next up 'Someone Like Jesus' - truly haunting rendition.
Whether ballad on full on venomous angst - NMA are in the zone and the faithful be at one. 'Orange Tree Roads' about choices in life - the crowd are bopping, heads bouncing, arms the air. And everyone know the words and chants to all lyrics float through the venue. 'March in September' we "ooooooo" - 'Devil's Bargain' the stage drenched in red light - a drumbeaten chant.
This one's a young person's song. For the young look up to the adults. Sullivan ponders that our own children may be doing the same to us. He hope's this is not want they are thinking as they give us 'A Liberal Education' - the 'towers' of fans in force again - a line of five plus people standing on literally the shoulders of others - punching out to the tune.
NMA are giving us everything from all their extensive catalogue tonight - 'No Mirror, No Shadow' from 2007's 'High.' "As you get older you carry more baggage with you?" ponders Sullivan. Tonight we are part of something. We are chosen. As we chant out way through 'One of the Chosen'. 'Family' starts off in a more acoustic stripped back manner - and then we sing.
"Give me some place that I can go, Where I don't have to justify myself, Swimming out alone against this tide. Looking for family, looking for tribe..."
Sullivan ponders that it is an unlikely song to sing along to and the crowd bizarrely spontaneously burst into Slade's 'Merry Christmas Everyone…'
"Innocent days…." Sullivan comments, and we're into the next epic. 'No Pain.' And the tracks power along; 'Angry Planet', 'Purity' and it's antidote accompaniment 'Poison Street'. And to complete, with the venom angst and everyone chanting
"What A Wonderful Way To Go…"
Set complete - the band soak it up - mutual appreciation from band and crowd. But it's not over. They're back - in full beautiful violin flow 'Vagabonds' - before a huge drum crank - it's vicious, and venomous and we sing
"We are old, we are young, we are in this together, Vagabonds and children, prisoners forever, With pulses a-raging and eyes full of wonder, Kicking out behind us again…"
Before a cover, their take on The Kinks. Sullivan tells us that Ray Davies wimped out when heard it. But hey, f*** it they thought, they'd do it anyway. A slight lull, before the totally frenetic '225' from 'Thunder and Consolation'. Rampant.
And another encore - 'Vengeance' and we chant
"I believe in getting the b*****ds, getting the b*****ds, getting the b*****ds…."
. Thanks to all, their crew and their kinda Christmas musical take, dedicated to the late Tommy Tee, everyone is singing. We're in the valleys of the 'Green and Grey', where indeed we think most clearly.
Nottingham Rock City. As soon as we walked into the doors decision was made. In all the years, I've been gong to gigs, I've never made it here before. The dark environment, sticky floors, cavernous ceiling, mezzanine floor, atmosphere and awesome sound system. We'd like to swap Rock City with Brum's o2 Academy please? Thanks.
Back to NMA - I've seen them a few times over the years - invariably, whatever the line-up, however many fans are there they give EVERYTHING. They are tough. Rugged. Tonight, it was great to see them play probably one their largest solo gigs in the UK for years, to 2,500 punters. NMA and the family in full glorious, in your face, glory. Tracks were not outdated, this was no retro tour, this is current, this is now, an antidote to the depression - more in time now than bizarrely anytime in their entire career. With the incredibly talented group of musicians and these special guests tonight, this was indeed far more than special. Tonight, we're grinning - awesome gig - we all know this is what this particular band deserve and then some.
Look for family? Looking for tribe? Then join the Model Army. It's a Wonderful Way to Go….
Setlist I:
Guessing
Rumour & Rapture
Christian Militia
1984
Red Earth
Stormclouds
No Rest
Knievel
Waiting
Family
Between Dog and Wolf
Setlist II:
Ballad
Someone Like Jesus
Into the Wind
Orange Tree Roads
March in September
Devil's Bargain
A Liberal Education,
No Mirror, No Shadow
One of the Chosen
Family Life
No Pain
Angry Planet
Purity
Poison Street
Wonderful Way to Go
Encore I:
Vagabonds
[The Kinks Cover]
225
Encore II:
Vengeance
Green and Grey
Listening:
Thunder and Consolation [1989]
Between Dog and Wolf [2013]
Jeff Wayne's Musical Version of The War of the Worlds, The Final Arena Tour at The LG Arena, Birmingham, UK - 5th December 2014
Review and Photography by
Ken Harrison
Photograph taken from Jeff Wayne's Musical Version of The War of the Worlds in December 2012 by Ken Harrison
For the last time, Jeff Wayne has brought his alien extravaganza,
"Musical Version of The War of the Worlds, Alive on Stage"
to Birmingham as part of the Final Arena Tour. Since 2006, Wayne has been taking the musical adaptation of H.G.Wells' 1898 classic text around the globe to sell out audiences.
In 1978, Jeff Wayne released his musical adaptation of the story as a concept album. A mixture of spoken word and song, alongside an iconic soundtrack, illustrated with beautiful examples of Geoff Taylor's Victorian styled artwork, which now seamlessly fits with the modern day phenomenon of "Steampunk", so much so, there is a "What is your Steampunk name?" chart within the tour programme. I am surprised that the audience does not dress up in the Steampunk gear in the way that other theatre goers dress up for "Rocky Horror" or "Forbidden Planet" that would be great fun.
For the album recording, Wayne surrounded himself with some of the leading artists of the day, Justin Hayward (Moody Blues), Phil Lynott (Thin Lizzy), David Essex, Julie Covington and many others. Richard Burton provided the narration that runs throughout the story as "The Journalist", whose deep powerful voice is long embedded in the memory of anyone who has ever heard album.
Over the various tours this show has made, Wayne has updated, modified and enhanced the experience by reworking the score, expanding the animation and screen effects, the lighting and pyrotechnics. New cast members are also brought in, whilst retaining some previous cast members.
Liam Neeson, reprises his holographic appearance as the Narrator on screen, with Brian McFadden (Westlife) taking the on-stage Journalist role, and X-Factor's Shayne Ward who appears as the Artilleryman. Will Stapleton has been replaced by Joseph Whelan (X-Factor contestant) for the part of "The Spirit of Man" and Jason Donovan returns as Parson Nathaniel and Carrie Hope Fletcher Wayne Beth, Parson Nathaniel's Wife. Again Wayne takes a podium at the centre of the stage to conduct the 36 -piece ULLAdubULLA Strings and 10-piece Black Smoke Band including renowned Bass player Herbie Flowers and Chris Spedding (who played on the original album) on guitar. These boys can make their guitars sing, fantastic stuff.
The score is changed (often subtly) in many areas, but particularly beefed up with many more big drum beats accompanying the explosions and movements of machines on screen. The light show has also been reworked with extensive use of strobes shooting into the arena, to show the Martian Heat ray in action.
This show sees the introduction of HG Wells (the author) played by Callum O'Neill (with the aid of prosthetics) at the start and various points through the performance showing him at various stages of his life (and as an old man in 1945, a few months before his passing in 1946) and trying to pass on lessons of the past for the future. The updated show continues to play out Wells' classic story of the invasion of Earth by Martians due to the impending death of their planet, from their initial arrival until their defeat by microscopic bacteria for which they had no immunity.
Whilst Neeson has a distinctive voice, and works well with the updated show, I still miss Richard Burton's rich, deep, booming voice. After 30 odd years of listening to the original album, his voice for me is synonymous with the role. However, with Burton long since departed and with Wayne unable to develop the character and script any further in that direction, there really isn't anyone with the vocal qualities that comes close except Neeson.
McFadden surprised me this evening, his vocals rival Justin Hayward's on "Forever Autumn" , who really was a tough act to follow. Shayne Ward plays the "Artilleryman" well, with a voice not as gritty as Ricky Wilson from the previous version.
Jason Donovan, returning to his role as Parson Nathaniel, has really nailed the tormented priest and has definitely made the role his own. Carrie Hope Fletcher's voice is sublime in her duet with Donovan for "The Spirit Of Man", high, sweet and beautifully clear, reminiscent of Dubstar's Sarah Blackwood. Whelan's "The Voice of Humanity" performing "Thunder Child" was good, but not as gutsy and powerful as others, and seemed almost muted against the rest of the performances. The final change made by Wayne is the addition of a new song, a development of a theme from the original album, "Life Begins Again" but now fully fleshed out into an ensemble vocal piece by the main cast members.
Wayne has taken the show further than before with the Score, Lighting, Special Effects, CGI, Animation and Pyrotechnics, not to mention the actors performances, and shows great development and exploration, and continuity with the link back to the original album release via Geoff Taylor's exquisite artwork rendered large on a 100 foot screen. There is no question that if Wayne continued to tour this show, the audience would still be there, ever eager to enjoy the spectacle. Such is the demand for the show. Each new tour has upped the ante in terms of the performance to bring something new each time out. However, I think Wayne has gone out (for now) on a highpoint with this version and like the old stage adage "always leave 'em wanting more".
Act 1 The Coming of the Martians:
1. Prequel
2. The Eve of the War
3. Horsell Common and the Heat Ray
4. The Artilleryman and The Fighting Machine
5. Forever Autumn
6. Thunder Child
Act II – The Earth Under the Martians:
1. Distant Shores
2. The Red Weed (Part I)
3. The Spirit of Man
4. The Red Weed (Part II)
5. The Artilleryman Returns
6. Brave New World
7. Dead London (Parts I & II)
8. Epilogue (Part I)
9. Epilogue (Part II)
The Cast:
Liam Neeson (George Herbert, The Journalist)
Brian McFadden (The Sung Thoughts of The Journalist)
Shayne Ward (The Artilleryman)
Joseph Whelan (The Voice of Humanity)
Carrie Hope Fletcher (Beth, Parson Nathaniel's Wife)
Jason Donovan (Parson Nathaniel)
Anna-Marie Wayne (Carrie, The Journalist's Fiancée)
Jonathan Vickers (William Rowland and others)
Lily Osborne (Vera May and other)
Callum O'Neill (HG Wells)
Lewis Macleod (Martian Voices)
Erasure + Shelter at The Civic Hall, Wolverhampton, UK - 29th November 2014
Gig review by
Zyllah Moranne-Brown
with photography by
Ken Harrison
It's the end of November and Christmas is approaching at a million miles an hour. Here at Gig Junkies, we think we've been good little guys and gals so we've busily been writing our little Christmas list for Santa Claus. We've asked for a barn-storming, sing-a-long poptastic full-on party! And Santa - he say yeah! Yippee! So tonight we're here at
Wolves Civic
for a full, over-the-top party with a electronic synth god and a guy with a voice to die for - courtesy of
Erasure.
So. Right at the turn of the eighties, people dreamed of being in bands and once upon a time there was a guy, who formed a band that went on to have stratospheric success - one of the biggest bands in the world (aka Depeche Mode). But this guy left after the first album. Then he formed a duet with a truly unique blues singer (Yazoo with one Alison Moyet) - more huge success. Two years, two albums later, that too was over was over. Then another act, with a former Undertone (Feargal Sharkey) and yet another hit. Moving on. He placed an advert in the Melody Maker and came across an unknown singer, a young lad called Andy Bell. With a pretty good voice. This time it's lasted, a music marriage made in heaven for nearly thirty years…
Tonight's support is duet
Shelter
- who give us synth-poptastic music to bop along to, to get us in the mood. They have a debut album out - 'Emerge' and play several songs for us including 'Diablo.' They had singles out earlier in the year 'iPop' and 'beautiful' with Andy Bell - check them out on the
Ministry of Pop
- the UK's newest independent label for great pop and dance music.
Tonight's gig is sold out. And the eclectic crowd are well up for the party. One lass is stuck outside - a ticket problem - and is kicking off and doesn't appear to make it into tonight's gig. She's not happy. Meanwhile back in the venue - lights down and here they come - Clarke suited and booted behind his techno gadgets, and the gregarious and charismatic Bell in top hat, sparkly jacket and shades. First track 'Oh L'Amour' is danced up, but that makes no difference - we're already singing and bopping away.
Bell: "Good evening everyone! Feels like I know everybody individually you come here so much - looks like we have a full house tonight!!" [Big cheer from the crowd].
And the light's are a-blazing, pink, white, purple and we be dancing and singing at the top of our voices. Bell is dancing, joined vocally by two backing singers - his voice floating. And we get a couple of tracks from new album 'The Violet Flame' - 'Reason' is. we're told, their take on Northern Soul...
As Bells strips off his jacket, the crowd cheer, and he's soon in Blonde t-shirt and spangly shorts. And the hits keep coming - ' You Surround Me',…
"We'll be together again…"
we're into 'Stop!','Victim of Love' - and we singing away -
"Just one psychological drama after another, You are guilty [GUILTY we shout as one] and how you ever entered into this life, God only knows, the infinite complexities of love…"
The beautiful 'Ship of Fools' is danced up - well hey, few bands have the genius of Clarke - and he's clearly been inspired to 'modernise' and dance up several tracks here tonight. And more and more, the hits - they keep on coming; Erasure and giving the fans exactly what Santa ordered 'Blue Savannah', 'Chains of Love', 'Love to Hate You' - their take on the classic spurned love song 'I Will Survive.' Hey hey indeed. 'Chorus' is morphed into a fun on rave, drum and bass - Clarke's gone all Ibiza. We blame Depeche Mode synth god Martin L. Gore - who Clarke teamed up with in 2011 for VCMG.
Encore and they give us 'Always' and 'Sometimes' and we're singing:
"Oooooooooooooooh sometimes…"
Erasure live are a great celebration of life! Clarke, the genius, has written phenomenal pop songs which I defy you not to sing along to. Bell's voice is a real delight and continues to have a phenomenal range. Erasure were here to gig us a party and indeed they did and then some - I've rarely seen a gig were everyone is dancing and singing at the top of their heads with big grins from the word start. You will dance, you will bounce, you will know pretty much ALL the songs to sing along to.
A total Christmas uplifting treat - thank you Santa! So - Don't Stop! Go and party! As Always - More than a little respect…
Setlist:
Oh L'Amour
Star
Reason
Breath of Life
You Surround Me
Elevation
Stop!
Drama!
Victim of Love
Ship of Fools
Sacred
Breathe
Dead of Night
Blue Savannah
Chorus
Love to Hate You
A Little Respect
Chains of Love
Encore:
Always
Sometimes
Listening:
The Circus (1987)
Total Pop! The First 40 Hits (2009)
The Violet Flame (2014)
Peter Gabriel + Jennie & Linnea at The LG Arena, Birmingham, UK - 28th November 2014
Gig review by
Zyllah Moranne-Brown
with photography by
Ken Harrison
Tonight to the last time for this particular Gig Junkies team at the
LG Arena
before it morphs into the Genting Arena. We're here to see a performer who founded one of the biggest bands in rock history way back in 1967, who became prog rock legends. Just seven years in he left, they went on to sell over 140 million records - but he didn't do too bad, businessman, singer-songwriter, record producer, humanitarian activist, and a solo performer in his own right - tonight he'll be performing his classic, most commercial and ridiculously successful 1986 album in it's entirety - welcome tonight Mr.
Peter Gabriel
, performing "Back to Front' including 'So' in it's entirety.
When Genesis started out in the late 60's early 70's they were different, prog rock, bizarre costumes and art. Internal frictions amongst other reasons meant in the mid 70's Gabriel walked - paving the way for drummer Phil Collins to take up the vocal mantel and the commercial success the other members went on to have as Genesis, solo artists and supergroups is legendary. Meanwhile Gabriel stuck to his creative roots issuing his own unique solo albums. Then came 'So'. To put in context just how successful this album went fivefold platinum in the states, triple platinum the UK, spawning five singles and a Grammy nomination. Single 'Sledgehammer' with the iconic plasticine animation, reached #1 in the US Billboard charts and won a record ten MTV awards. It is still the most played music video ever on MTV.
But commerciality isn't, and never has been, what Peter Gabriel is about. It's concept, music, journey, detail, art, performance. Tonight we will be treated to yes, 'So.' in it's entirety - but also other songs in an entirely different manner.
First up at 8pm we have two ladies on stage, who will both be part of Gabriel's band later in the evening,
Jennie Abrahamson
and
Linnea Olsson
; Abrahamson being accompanied by Olsson on cello. Abrahamson is from Sweden, a place known for breeding bands and artists in the line of "northern melancholy"; she's only kept a slight tint of that moodiness in her richly coloured and playful pop tunes. Critics have called her a "younger, more accessible Kate Bush".
And then - slightly earlier than planned - Gabriel takes to the stage. Tonight he'll be performing with his 'So.' live band - bass-wizard Tony Levin, guitarist David Rhodes, keyboardist David Sancious and drummer Manu Katche. The set appears clutter with equipment, blazing white light blast across the stage from the sides. Gabriel gives us a hint of tonight's performance. It will be a 'meal' of three courses - the starter is semi acoustic and experimental, the second, a savoury dish, is electronic, the third, "if you survive that far that is", the complete album of 'So.'
'What Lies Ahead' is a work in progress, with Levin on guitar and Olsson on cello, Gabriel sings from his piano - beautifully haunting. The arena house lights are still on as the other band members join him on stage. 'Come Talk to Me' has an acoustic drumbeat, and Celtish rising melody - the crowd give a big cheer upon completion. This entree is laid back, like a studio music session we're invited into. And then the next song starts up - stripped back - but we recognise it - 'Shock the Monkey' which rises to a funky beat. He get's up clapping - and we're singing. Class.
Next up 'Family Snapshot' - Gabriel on piano - just his voice - before the house light's drop, the lights shone in monotone, ballad, power, beauty, ballad. And the cluttered stage comes alive - there are five triple lighted mobile rigs - like triffids rising from the shadows.
We're into part 2. 'Digging in the Dirt' is dark electronic funk - the 'triffids' float around the stage, up and down, round and round, the two screens at the side of the stage take the feeds from many stage cameras, edited monotone, industrial effect - white circles on the floor - filmed from above, him in the centre. Gabriel takes to the front of the stage - he's walking around, becoming a character - tambourine in hand - to huge applause. 'The Family & the Fishing Net' is prog rock electronic darkness, one of the lighting 'triffids' travels to the front of the stage - the crew dressed in boilers suits and masks - the 'triffid' becomes part of the performance - a camera is in its lit 'head' - and we can see Gabriel interacting in detail on the screens. And next up - 'triffid' back to is place behind the set - the band 'fights' with all five of them in 'No Self Control' - almost a fight against industry. 'Solsbury Hill' written about the real spiritual place in Somerset, the set is finally sepia from monotone - Gabriel and the band are skipping - we're singing - an upbeat, joyful, smiley song.
Big Cheer - 'Why Don't You Show Yourself' - is the last track from part 2 - and then here we go. Part 3. 'So.'
The rising 'Red Rain' sets the stage bright red - heavier and far more powerful live than on album - beautifully performed. Then a cheeky little beat - before THAT melody - 'Slegehammer.' We're singing, Gabriel's doing the Pop'eye biceps move - a reminder of the video - before him and his band put their best feet forward and put the moves in.
'Don't Give Up' is quite beautiful - Abrahamson taking on Kate Bush's vocals and doing them more than justice as at the end of the song, Gabriel and Abrahamson embrace. The album rolls on and the band delivers - we're entranced. 'Mercy Street' starts off stripped back before the haunting dark melodies, the triffids are on the move, Gabriel lying on the floor in his circle, curling into a foetus position - the 'triffids' have surrounded him, and gaze down at him.
And then the set is garish and bright. The song is big, everything is big. It's 'Big time'. We're singing. It's bigger than big. 'We Do What We're Told (Milgram's 37)' is dark and menacing - very '1984' atmospheric chant.'In Your Eyes' an African rhythm, Abrahamson , joins with Arabesque vocals.
" … I am complete…. in your eyes, I see the doorway to a thousand churches…. in your eyes, the resolution of all the fruitless searches….in your eyes …I see the light and the heat…. in your eyes...."
'So.' maybe over - but what a treat - a standing ovation and total applause as Gabriel introduces the band. Band introduced, and he acknowledges the road crew - however, said crew have knicked another crew member's wombat - and we chant 'let the wombat go.' Needless to say a huge applause to the crew - who tonight have done an amazing job. The band bow, and back by poplar demand, turn their backs to the audience and bow again.
And to encore - 'The Tower that Ate People' electronic, industrial despair, that even Reznor couldn't compete with. The 'triffids' march to the front of the stage and line up in a barrier, the band and Gabriel immersed in red smoke. And Gabriel is indeed eaten by a tower. Wow.
"For all the liberties won by young people. For the 43 young Mexican students who recently handed themselves across to be assassinated - this is for all the young people who stand up for the freedom we take for granted. For all those young people who are risking their lives…."
This can only be one song. 'Biko'.
Stephen Biko was a black South African anti-apartheid activist, arrested in 1977, badly beaten and who later died of his injuries - fighting to stand up from freedom.
And we sing. Our fist in the air in Gabriel solidarity. The cameras focuses in on his face - even today, this track released in 1980, raises the hairs on your arms, and brings a tear to Gabriel's eye. We chant along as one by one the band members leaving the stage - leaving the drummer beating away, encased by the 'triffids'…
Peter Gabriel's 'Back to Front' is performance, art, beauty, power, fragility, the darkness and the light. It is an entirety - from semi acoustic, to full on, raging, electronic, enthralling visual and audio delight. Every element from sound through to rig, film on screen, instruments to vocals is considered in detail. Pure treat, stunning and a pure delight.
Towers may not have eaten the punters tonight, but the monkey was well and truly shocked.
Setlist:
What Lies Ahead
Come Talk to Me
Shock the Monkey
Family Snapshot
Digging in the Dirt
Secret World
The Family & the Fishing Net
No Self Control
Solsbury Hill
Why Don't You Show Yourself
So (in it's entirety)
Red Rain
Sledgehammer
Don't Give Up
That Voice Again
Mercy Street
Big Time
We Do What We're Told (Milgram's 37)
This is the Picture (Excellent Birds)
In Your Eyes
Encore:
The Tower that Ate People
Biko
Hugh Cornwell + Hazel O'Connor at The Robin 2, Bilston, UK - 25th November 2014
Gig review by
Zyllah Moranne-Brown
with photography by
Ken Harrison
Tonight, Gig Junkies friends, we are in Bilston, in the Black Country and the delectable little venue that is the
Robin 2
to see two blasts from the past - two icons of punk / new wave on a double headlining set -
Hazel O'Connor
and
Hugh Cornwell.
First up, and so a potted bit of history, is
Hazel O'Connor.
Ms O'Connor is best know for 'Breaking Glass.' 'Breaking Glass' was a 1980 British film featuring O'Connor, Phil Daniels and Jonathan Price but it was probably most notable for O'Connor's debut album and soundtrack to the film, which went platinum and made #5 in the UK Charts with a string of classic hits. This was O'Connor and her most commercially successful. She has continued to record, issuing a plethora of albums since and to coincide with her 2014 album 'Her She Comes' she here tonight, with the two legendary performers who feature on the album - saxophonist Clare Hirst (Bellestars, Communards, David Bowie) and Sarah Fisher (Eurythmics) on keyboards.
And indeed her set features an eclectic mix of much of 'Breaking Glass' and some new stuff. This trio of women perform well together, O'Connor's voice remains as powerful, and the interpretation of the old by the trio goes down well as the first track from that album is delivered - 'If Only.' "We are three women..." announces O'Connor. "Unless one of us is a transvestite."
'Don't Call Me Darling' is off the new album - and includes some French lyrics - a protest against sexism in the music industry. She's definitely NOT your baby. Back to 'Breaking Glass' we have the track inspired by the story of Blair Peach, who died as a result of injuries received in a fall at an anti-racism demonstration in Southall in 1979 - 'Who Calls the Tune.'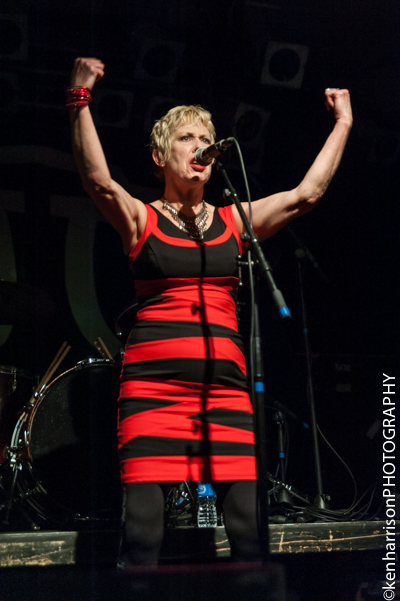 O'Connor is a local lass, originally from Coventry (though she now lives in Ireland). Chatty and engaging, she tells us she doesn't do planes - she does boats. Likes tea (which she can drink in peace on said boat) and bags (which will be in her car on said boat and which she won't loose!). The next song is written for her mother, who was in a hospice. During this difficult time, and to cheer her mom up, there had been a blizzard, so she built a snowman to make her smile and named him 'Harry.' This song is dedicated to her mom - 'I Give You My Sunshine.'
'Blackman' from THAT album, is a jazzier version, and somewhat faster; as is 'Shape of Things to Come.' And then the cup of tea - it must be THAT track. The last dance in the ballroom as they say. 'Will You?' and we sing, and Hirst gives the classic sax tune. Big cheer and thank you.
Encore gives us her rendition of Snow Patrol's 'Chasing Cars' - a laid back version and then the 'Eighth Day.' Forever and ever amen, amen, amen indeed. Great response from the 500 or so punters here tonight. And to complete a sing a-long - with the Bilston Robin 2 Choir (that's us lot then) - 'Hey ho I'm Still Breathing.'
And so to a quick break before set number 2.
Hugh Cornwell
. Cornwell was the original lead singer of iconic The Stranglers and the vocalist and guitarist on some of their classic hits. With them for 16 years, he was on 10 albums and 21 top 40 singing's before leaving the band in 1990. His latest outing 'Totem and Taboo' was released in 2013 to rave reviews and he'll be playing Strangler's hits and songs from this recent album for us tonight.
So him and his drummer and female bass player take to the stage and, without saying anything to the crowd, spend 5 minutes tuning, as the crowd wait expectantly before the title track from his latest album 'Totem & Taboo.' Then Stranglers track 'Skin Deep' and then another from 'Totem', the songs intermixed. Cornwell is not happy with the lighting, nor the sound, and it takes a few tracks before he settles in and is more comfortable and starts chatting.
'Duchess' is given in true Cornwell style, before an older track - requested - 'Hooverdam'. The crowd chant - "Hughie, Hughie, Hughie" the group of former punks keen to engage with their idol.
For classic 'Strange Little Girl' finally we get Cornwell - the voice - the track - he still has those classic vocals. 'God is a Woman', again from 'Totem' - "....and now we've established that - let's go down to the beach…" - 'Peaches' style, which receives the biggest cheer of the night so far. Whilst the 'Totem' tracks are delivered well - it is invariably those Strangler's tracks the punters want to here - 'Get a Grip (On Yourself)' from 1977's 'Rattus Norvegicus' (probabaly better known as 'The Stranglers IV)'get's those punks pogoing -Cornwell's version tonight is raw and stripped back.
Encore starts with a bass rhythm as we go into 'Totem''s - 'In the Dead of the Night' which rambles and stomps - you can hear the core origination from The Stranglers sound. And back to his former band with 'Nice n Sleazy' (which it is), 'Tank' and 'No More Heroes.' Cornwell's sound is rawer and punkier - it kinda takes some getting used to as his renditions of these classics exclude the keyboards, which you end up playing as a backing track in your mind.
And another encore, gives us 'Bad Vibrations' and then O'Connor and her females buddies are back as she gives us her take on 'Hanging Around' - a song O'Connor covered in 1981.
Tonight's show was a blast from the past. While there are new tracks there invariably the punters are there to see the classics. O'Connor gave us a good set - the old and the new - but the stand out was probably always likely to be 'Will You?' Cornwell was punkier and rawer. He's clearly still angry and snarly. It was great to hear his vocals and at times they really did take you to that place especially with 'Strange Little Girl'. It's a difficult challenge when his former band are out and about and delivering every year - better and better and you have to park aside The Stranglers version 2014 from Hugh Cornwell version 2014, and take's Cornwell's version of those tracks in the way he delivers them.
For the fans there tonight - a thoroughly enjoyable evening with their punk new wave idols. Punk aint dead - this variety of new wave punk is still very much alive and kicking. And is sure as hell isn't stuck in Daily Mail Land…
Hugh Cornwell Setlist:
Totem & Taboo
Skin Deep
Stuck in Daily Mail Land
DagDave
I Want One of Those
Duchess
Hooverdam
Strange Little Girl
God is a Woman
Peaches
Gods Guns and Gays
Get a Grip on Yourself
A Street Called Carroll
Straighten Out
Encore I
In the Dead of the Night
Nice n' Sleazy
Tank
No More Heroes
Encore II
Bad Vibrations
Hanging Around
John Foxx "Evidence of Time Travel" at BFI, Southbank, London, UK - 21st November 2014
Gig review and photography by
Ken Harrison
I'm in the Capital at the
British Film Institute (BFI)
on Southbank. The BFI is running a programme of Sci-Fi based events which started on 20
th
October and runs until 31
st
December. With three sci-fi based themes (Tomorrow's World, Altered States and Contact!) a range of film, art and live music events linking in are arranged as part of BFI Southbank's regular film/music event "Sonic Cinema". During the sci-fi season, artists such as DJ Yoda, and Radiophonic Workshop will be appearing a series of special Sci-Fi themed live performances. The programme for this evening brings a range of audio/visual and film performances from a range of artists. Stuart Brown of the BFI introduces each act in turn to the full theatre.
Paul Prudence
First up is
Paul Prudence
, an audio-visual artist whose site biog describes him as "a performer working with algorithmic and generative environments. His work focuses on the ways in which sound, space and form can be cross-wired to create live-cinematic visual-music experiences. Prudence performs "Cyclotone II" a mesmerizing and hypnotic, immersive audio-visual experience, with Prudence at the controls with powerful sounds booming out through the sound system driving an ever contorting, rotating and shifting set of circles projected on the theatre screen.
John Foxx
, founder member of Ultravox! in 1974, has, since his departure from the band in 1979, been a solo artist starting out with the release of Metamatic in 1980. Early 1980's chart success soon faded and after five albums (including a collaboration with Anne Clarke), Foxx stepped away from the limelight until his return to the fray in 1997, bouncing back with 2 albums "Cathedral Oceans" and "Shifting City" the latter, a collaboration with Louis Gordon. Since 1980 Foxx has released over 40 albums, not including the various compilations, live recordings and reissues. Since his return John Foxx has become a prolific artist, releasing over 20 albums of material, some solo and some in collaboration with artists such as Harold Budd, The Belbury Circle, Jori Hulkonnen, Steve Jansen (Japan), Robin Guthrie (Cocteau Twins) and many more besides.
The John Foxx element of tonight's proceedings is the world premiere of Foxx's latest album "Evidence Of Time Travel" produced with long-time collaborator Steve D'Agostino. John Leigh aka Karborn provides the visuals to accompany the performance. Foxx's website "
Metamatic.com
" describes the album as: "A unique investigation of the terrors and pleasures of temporal displacement, Evidence Of Time Travel combines the sinister sonic architecture of Foxx and D'Agostino with Karborn's haunting visuals.
With Foxx, D'Agostino and Karborn positioned in front of the stage, right under the noses of the front row (and no room to squeeze through for photographs) of the sold out crowd the lights go down and Foxx and D'Agostino perform the full album with Karborn's visuals projected on the screen. This is an instrumental album, and the performance reflects this: album, no vocals, no interaction with the audience, only the sound of the music and the accompanying lo-fi effect visuals. This is a piece to listen to and observe, rather than dance.
The three are in almost complete darkness, with only small LED lights mounted over the instruments to illuminate the various controls. At times D'Agostino appears to be struggling, using his hands to shape the light sufficiently to see his way around the instruments. The sound is instantly recognisable as classic Foxx; at times bassy, dark and fearful and sequenced with samples of earlier Foxx material (e.g. Film One). Karborn's visuals are as dark and scary as the music.
Charlotte Hatherley and Rhodri Marsden
Next is
Charlotte Hatherley
with "The Last Man", her debut film score for a short sci-fi written and directed by Gavin Rothery (who worked on the visuals on Duncan Jones' movie "Moon") which is being shown with the dramatic synth-based score being performed live by Hatherley and Rhodri Marsden. The movie is a "post-apocalyptic" film which follows a lone soldier waking up from hibernation and his journey through a desolate wasteland, searching for signs of life.
Hatherley came to prominence when she joined Ash on guitar and vocal duties, but following three albums and numerous collaborations and touring performances, Hatherley is now working on "
Sylver Tongue
" with a more keyboard oriented sound and with an album scheduled for release early in 2015.
Roly Porter
The final performance for the evening is another live score, this time for the world premiere of an animated feature length 1988 movie "Gandahar" directed by surrealist René Laloux.
Roly Porter
, originally part of the the post rave electronica duo, Vex'd has since 2010 moved into science fiction with his music.
Over the course of the evening the four artists have performed a great mix of audio and visual material, taking images, movie and animation and wrapping live music around it to make a set of full performances, which the audiences enjoyed, given the level of applause during the various shows. The BFI has another month of such events in this Sci-Fi season and I'll certainly be heading back down to Southbank to enjoy more sci-fi experiences before the end of the season. If you can't get down to London before Christmas and need a sci-fi fix, Stanley Kubrick's 2001: A Space Odyssey and Ridley Scott's, Bladerunner: The Final Cut are getting pre-Christmas screenings at The Electric Cinema in Birmingham.
John Foxx Setlist:
01. The Forbidden Experiment
02. Evidence Of Time Travel
03. Who Can Resist A Twisted Kiss
04. Rhapsody In Flames
05. A Blurred Line Of Fiction
06. Impenetrable Inevitable
07. Surgical Precision
08. The Tearing Sound Of Smiling
09. Momentary Miracles
10. Collision Architecture
11. Empty Clothing Blows Across A Beach
The Specials + The Tones + Sleaford Mods at The Civic Hall, Wolverhampton, UK - 20th November 2014
Gig review and photography by
Ken Harrison
Thursday night, Civic Hall, Wolverhampton, it must be
The Specials
. It's cold outside, but inside The Civic, the crowd are warming up nicely for an evening of classic Two-Tone from The Specials and some Dancing with The Rude Boys.
The Specials formed in Coventry in 1977, and blazed a trail through the charts between '79 and '81 as part of the Two-Tone movement (alongside Madness, The Beat and The Selecter et al) that brought Ska back to the forefront of pop culture and of course the fashion that went with it. The Specials split in 1981 with "Ghost Town" being their parting shot, a classic haunting song about decaying youth, unemployment, industrial decline and hit the streets at the same time as the infamous riots that plagued the country during that summer, which was awarded Single of the Year.
Following the members various solo activities, (i.e. Special AKA, Fun Boy Three, Colourfield, Special Beat etc) the band were reunited in 1999, but without Jerry Dammers. More recently Neville Staple and Roddy Radiation have left the band, leaving only four members of the 79-81 line-up. Ocean Colour Scene's Steve Cradock is fulfilling guitar and some vocal duties on the tour.
The Tones
are a young (all sweet sixteen), and very energetic Surrey based, four-piece band. Snappily and 'mod'ishly dressed these teens are talented musicians, and put on a spirited performance. Well worth checking out.
Next up is
Sleaford Mods
, a two piece Nottinghamshire band with Jason Williamson on vocals and Andrew Fearn covering the music. Fearn takes things easy during the show, kicking back with a bottle of beer and occasionally working the laptop, whilst Williamson runs through a manic foul mouthed rap complete with an almost obsessive compulsive behaviour repetitive rubbing of his head whilst a stream of profanity is launched into the audience.
Nothing is out of reach for Williamson's rants; His (effing) Manager, UKIP, Jobseekers and the like. 1970's show "Tiswas" is the next single (including references to OTT) and already gaining airplay on BBC 6 Music and other stations. The band are certainly an acquired taste, and not for the timid. Eminem wouldn't last five minutes with this guy.
A few minutes after 9.00.pm, we get "Egyptian Reggae" (Jonathan Richman and the Modern Lovers 1977 hit) pumping out of the speakers, before the band take to the stage. The Specials are not saving the best for last tonight, as they open up with "Ghost Town". The crowd are dancing from the first beat and keep going all night. "B" side to "Ghost Town", "Friday Night, Saturday Morning" follows; a tale of hitting on girls in nightclubs and lots of alcohol. "Do Nothing" follows, then "International Jet Set".
"Stereotype" opens with its Spanish style introduction and recounts the tale of a typical guy who gets drunk, drink drives, "has girls every night", and catches VD, so has to stay off the beer for a few weeks. On his first night off the medication, the beer goes to his head and he subsequently dies after getting drunk and being "wrapped round a lamppost on Saturday night". Dark and depressing lyrics, but a fantastic song. Hopefully, this 1970's stereotypical man no longer exists.
During "Man at C & A" Hall throws bottles of water into the overheating audience, as the dancing goes on... Panter stands at the front of the stage egging the crowd on during "Pearl's Café"... "It's all a load of boll****" and the audience oblige with gusto. Without breaking step it's on with "Hey Little Rich Girl" then "Rat Race", the cheery employment song. With the temperature rising, I see one red-faced perspiring girl dragged out of the audience to the lobby to cool down.
To chants of "Rude Boy!!!" Golding chats with the audience, then we're into "Blank Expression", then "It's Up to You" with Panter coming up to the front the stage again. Golding does most of the audience chat during the show, with Hall being his trademark reserved self. "Why" is followed with "Doesn't Make It Alright" and with Golding saying "It's Ladies Night" the band launch into "Nite Klub". "(Dawning of a) New Era" and "Do the Dog" are followed by "Gangsters", Monkey Man", "Concrete Jungle" and then "stop your messing around" with "A Message to You, Rudy". The final two songs of the set "Little Bitch" and closer "Too Much Too Young" and the hot sweaty crowd are chanting for more.
For the encore the band return to the stage for "Guns of Navarone" and crowd favourite "Enjoy Yourself (It's Later Than You Think)" everyone is dancing, and even out in the entrance lobby a couple of women are spinning themselves around, having the time of their life. Even some of the venue staff can be seen singing and moving in time. The set closes with "You're Wondering Now" and much clapping and cheering. As the crowd leaves the Civic, the singing continues out into the night.
The Specials are a class act. Great songs, well written and performed, and one of a few bands who can take a classic song and make it their own. The fact that 35 years on, the teenage fans of the late 70's now well into middle age, are coming out in their droves (and bringing their kids with them) to sing to dance and have a good time in the company of The Specials is testament to their enduring appeal. Whilst the number of original members has reduced somewhat, the performance is still great and the sell-out crowd tonight didn't seem to mind too much either.
The Specials are off to Europe for the next leg of the tour. If you can get a ticket, you'll get a good show. Who knows when the band will be on the road again, so take the opportunity to see 'em..." its later than you think".
Setlist:
1. Ghost Town
2. Friday Night, Saturday Morning
3. Do Nothing
4. International Jet Set
5. Stereotype
6. Man at C & A
7. Pearl's Cafe
8. Hey Little Rich Girl
9. Rat Race
10. Blank Expression
11. It's Up to You
12. Why?
13. Doesn't Make It Alright
14. Nite Klub
15. (Dawning of a) New Era
16. Do the Dog
17. Gangsters
18. Monkey Man
19. Concrete Jungle
20. A Message to You, Rudy
21. Little Bitch
22. Too Much Too Young
Encore:
1. Guns of Navarone
2. Enjoy Yourself (It's Later Than You Think)
3. You're Wondering Now
Difford & Tilbrook at The Town Hall, Birmingham, UK - 11th November 2014
Gig review by
Zyllah Moranne-Brown
with photography by
Ken Harrison
Tonight to the delectable
Town Hall
in Birmingham and a journey through the entertaining lives of two classic songsmiths. In the late 70s, early 80s the band that featured these guys turned out hit after hit - the lyrics such that these two individuals were deemed to be the Lennon and McCartney of their generation. The chap who played the keyboards tottered off on his own journey of 'The Tube' and 'Later..' and jazz, while the band became these core duo and a rotating shift of other musicians. So for something different tonight, part Q&A, part acoustic trip through their music journey - welcome 'The At Odds Couple' - welcome
Difford & Tilbrook
.
Difford & Tilbrook - aka the songwriting team of Chris Difford and Glenn Tilbrook, known for their work as the principal writers for Squeeze. Responsible for the group's many hits 'Cool for Cats', 'Up the Junction', 'Pulling Mussels (From the Shell)', 'Tempted', and many more, they have both written independently outside the band and together - and tonight features solo, collaboration and band.
Difford & Tilbrook was also the name under which the songwriters recorded and toured following the temporary break-up of Squeeze in '82. That band reunited in '85 after only one self-titled album had been released from the pair. Having been issued during this brief three-year hiatus, many fans consider Difford & Tilbrook to be the "lost" Squeeze album. By '93 Difford and Tilbrook were the only original members left in Squeeze, and the band continues to be whatever rotating band membership assembles around the two songwriters.
Tonight's gig is sold out and there's no support but we will be delivered two sets from the duo. The stage set, meanwhile, is set like a bedsit, tables, lampshades,chairs, beds, and in the centre a large screen. Cosy. This is a two man show - just acoustic - and as they start, they pretend to get out of bed before their journey starts…
Their lyrics are a take on life, what they see - the duo sing in perfect harmony- a insanely talented pair be these two. And they have THOUGHT about not only their songs, but the stage set up, the visuals and videos on the screen to accompany the songs. So many times, we see acts who just turn up on stage - this package, with Difford & Tilbrook's music and audience engagement, plus the cosy set and respect for the classic historic hall and acoustics, has been well planned and thought out - and is a more than a pleasure to see.
'Electric Trains' accompanied by sepia train line journey on the screen, 'Is That Love' gets a big cheer, newbie from new album for Squeeze (from a forthcoming TV show) 'A Beautiful Game' clearly related to 'the beautiful game' as we get football on the screen - and goes down well. A song they wrote for K.D. Lang - which she didn't like 'cos out was about boys - 'Cowboys are my Weakness' gives a video of plastic toy soldiers, doing things that plastic toy soldiers really shouldn't be doing...
Between every few songs we have 'the Man in the Golden Cape' - quite literally - as Miles appears in the audience with a mike for fans to ask questions.
"Are you cool for cats?" and the pair respond - chalk and cheese one likes dogs and the other cats. "What favourite lyric was inspired by real life?" "Let It Go" comes the answer. "Madison Square Gardens or Birmingham Town Hall?" - well that answer had got to be Birmingham Town Hall. Some questions are cheeky "How did Jools (Holland - former keyboards with Squeeze) become really rich and you didn't?" - and Difford & Tilbrook respond, as they do with all questions, with candor, whit and respect. Tilbrook's ditched is recent beard (he now carries it around in a bag!)
Being touted as the 'South London Lennon and McCartney' made them pretentious for a while, but then it became meaningless - although a compliment. A punter tells Tilbrook his last solo album was brilliant - and he takes the full opportunity to cheekily plug it - it's in the foyer - they'll be signing after the gig.
And we get the classics - 'Pulling Mussels (From the Shell)' (which a fan, when she was young, thought it was about snogging - the guys don't want to delude her innocent thoughts about what it was actually about!), the first set ends with 'Up the Junction.' Later 'Annie Get Your Gun' makes an appearance and the hits keep coming. 'Tempted' - and the video shows us fruit - cos hey we be "tempted by the fruit of another" and we sing.
Difford solo slot includes 'Fat as a Fiddle' (he eludes to his weight - up and down - out of cheesecake v gym - the cheesecake always wins…), 'Wrecked' about his youth when him and his housemate spent most the time, it appears, wrecked. Tilbrook gives us 'Persephone' - a song about a Victorian dressed burlesque dancer he met at a festival, who was , er, quite entertaining; 'Ice-cream' apparently written and performed in Birmingham in 1906 by his grand-dad - easy lyrics we sing it back and laugh. And as Difford rejoins him on stage - he's asked what he's been doing - "I've been been ironing. My shirt. For tomorrow."
And to conclude - we get an acoustic version of 'Coooooollllll for Caaaats' - we sing - and watch the video - made up newspaper cuttings for key word of the song and 'dodgy' archive footage of Squeeze. But it's not over - another newbie from the TV Series - apparent the title too - 'From the Cradle to the Grave' before the classic 'Labelled with Love.'
Difford and Tilbrook gave us a thoroughly enjoyable gig tonight - they may be ying and yang, chalk and cheese - but this 'At Odds Couple' made us laugh, made us smile, made us sing - and gave us a compete package on their potted piece of history in a thoroughly enjoyable way. There's a few dates left on this tour - though many have already sold out. If you get to see 'em you are lucky indeed as this gig was certainly labelled and bottled with love. Thank you chaps.
La Roux + Meanwhile at The Institute, Birmingham, UK - 8th November 2014
Gig review by
Zyllah Moranne-Brown
with photography by
Ken Harrison
Tonight we're borrowing the good Doctor's Tardis for time travel paradoxically back in time to the modern day. A retro- inspired synth-pop dance-athaon back to the future courtesy of 1983, but actually right here, and right now - as we take a trip to
The Institute
courtesy of Grammy-winning act,
La Roux.
La Roux formed in 2006, made up of singer Elly Jackson and record producer Ben Langmaid. Their debut self titled album was a commercial and critical success - winning a Grammy and spawning hit singles 'In for the Kill' and 'Bulletproof'. The album sold 2 million and spawned 6 million singles sales.The follow up proved a somewhat difficult feet, and Langmaid walked, leaving Jackson on her own, taking the bands name and finally releasing the second La Roux album 'Trouble in Paradise' in 2014. Following some low-key dates over the summer, she's here at the Institute tonight - part of a string of UK dates and then off to Europe.
Meanwhile…. we're still thinking. We'll maybe not - but we are transported back to precisely 1983 with support band
Meanwhile.
Think of electronic pop funk - tune that could merrily be the soundtrack to Miami Vice or The Breakfast Club. Lead singer and keyboardist has the blonde lock of Sylvian, with rock out vocals. They're newbies - and have their debut EP out 'The Element Yes' on the 1 December 2014. If commercial American retro-pop electronica is your scene take a look at em - and maybe give them a like on Facebook to get their likes over 970 and follow 'em on Twitter - they've just 355 followers...
And in between performers tonight, the lights been to the glitter ball in the center of the high ceiling venue - party is a-coming. And a little after 8.30 (we have a 10pm curfew on the venue tonight before Drum and Bass party night appears) dry ice permeates the stage, lights go down - we're in darkness. La Roux take to the stage; a panting chant starts up, repeating and repeating as the keyboards join in to screams and cheers from the crowd. This is recent single 'Let Me Down Gently' and as Jackson is illuminated from the darkness and the song starts to rise the crowd cheer.
"Hello Birmingham - tech problems as we started up - thanks for coming out... Cold outside innit…?" as Jackson takes us into the next track 'Fascination' a full on retro dance track, which get the crowd clapping before morphing into 'Kiss and Not Tell' an upbeat clippity-clappy track.
Jackson imparts that she forgot to say happy birthday to someone - Mr. Moses clearly isn't here - "well you try and do something nice…." she quips. For hit 'In for the Kill' many people in the audience get their cameras out - a sea of LED screens - as the spectacular light show gets the crowd bopping, while Jackson poses and dances.
And the cheers get bigger after each song - and the screams - people are partaking in falling down water - a young lad in front of us, full of muddy cider mixture, clearly things he's dancing is far cooler than his dads. 'Cruel Sexuality' rolls and extends into a bass beat driven dance track. 'I'm Not Your Toy' is clearly recognised by the crowd and the fans bop more and hands are in the air.
'Uptight Downtown' has a Bowiesque 'Let's Dance' rhythm and the track once again raves down as Jackson takes guitar in hand. "We'd play all night if we could….' Jackson rues the venue curfew - and we're in a Yazoo-inspired tap-tap-tap on the keyboards as we're delivered 'Colourless Colour' - Jackson's vocals are seeming getting higher and the crowd clap clap clap as it cranks up the rhythm.
And the dancing lad wobbles, his dad dancing days over for now, I fear his legs won't carry him much longer as he totters off….. 'Silent Partner' has a rave vibe - and I almost get to sing Donna Summer's 'I fell Love' though the track doesn't quite morph.
Encore - stomping drumbeat - 'Tigerlily' all atmosphere - and the wobbly lad is back slumping across his mate. The screaming and cheering is getting louder - and then the main hit 'Bulletproof' get's arms in the air and everyone jumping and singing. With an abrupt stop to the track and it's over to a huge response from the crowd and applause to their reaction from the band. And at just 9.45pm we make our way homeward (or party ward).
La Roux are upbeat - that sort of happy smiley synth-pop. It is difficult to know why the second album was quite so hard there didn't seem to be much of a departure (live) from the previous album and nowt particularly revolutionary going on here. But La Roux do what La Roux do best and the crowd do indeed love it. New stuff probably a better fit overseas rather than in the UK, is it bulletproof? Only time will tell.
Setlist:
Let Me Down Gently
Fascination
Kiss and Not Tell
In for the Kill
Quicksand
Sexotheque
Cruel Sexuality
I'm Not Your Toy
Tropical Chancer
Uptight Downtown
Colourless Colour
Silent Partner
Encore:
Tigerlily
Bulletproof
John Cooper Clarke + Mike Garry + Luke Wright at The Town Hall, Birmingham, UK - 23rd October 2014
Gig review by
Zyllah Moranne-Brown
with photography by
Ken Harrison
Tonight we're at the beautiful
Town Hall
in Birmingham, to see a full on punk-rock gig, with a twist. There is no music, no musicians, no instruments, it is the words that are the lyrics and the melody. Tonight we're here for rock with words, the punk god-father of the satirical, the political and the scathing courtesy of Doctor
John Cooper Clarke.
Q Magazine's Poet Laureate John Cooper Clarke remains as important these days, as he was when he first burst onto the scene in a blaze of vitriol in the '70s. Thanks to his biting, satirical, and overtly political verse, delivered in a unique rapid-fire performance style, he became firmly entrenched in the punk movement and toured with the likes of The Sex Pistols and The Clash, while Joy Division and subsequently New Order supported him.
Now armed with an honorary Doctorate of Arts, he brings his treasury of punk poetry and two 'up and coming' poets - Luke Wright and Mike Garry - for the holiest of punk poet trinities.
Up first
Luke Wright
takes to the stage - giving us manic, quick fire poetry. He claims he's "a stay at home dandy" - he's been out on his tour in the Autumn with 'Fat Dandy.' A poet and sometime broadcaster he writes a new shows each years and touts it round the country - not as some claim he says to "take poetry to the people" but because it pays his mortgage - and he loves it! He tells us he met Lenny Henry, asked him if he was stating in a Premiere Inn - response - "Of course not!" Henry didn't get the irony and quick witted comedy of Wright in that one. He's got books and CDs out - well worth checking out.
Next up -
Mike Garry
- he's from Manchester. His poetry is observational, ranting and a raving and social commentary. And he's fast - the poetry is the rhythm of his music - the ability to recant the lyrics of his poetry at speed with no reference is pretty incredible and mesmerising to watch. He loves Birmingham. And gives us a poem about a s**t club - the Embassy - and the characters that are there, their lives are maybe what they may seem to be. He's impressing himself here - and now for a sonnet - another look at societies throw away attitude - 'Pay As You Go.' He's here with books (a merchandising plug - he be there after his act) and as one falls off stage he tells us not to knick it. He's a good as stand up comedian as talented poet, next one to the local Manchester legend Tony Wilson - written after his death and performed with New Order. 'Antony H Wilson' another social look on life and Wilson's impact - and the words take on the alphabet letter by letter - clever and emotive. Birmingham is beautiful, although he's less complimentary about local councils, and at the end of his set he will jump off the stage - "un-risk-assessed". "Have you been involved in an accident…." a satirical take on the adverts we see on TV, before a poetry eulogy to his mother who died. Funny but sad too - and we feel.
And now to THE main man. The Godfather of punk poetry - Doctor John Cooper Clarke. "Evening. " He's the chairman of the board, dressed in top to tail in black, blackened hair spiked, darkened glasses.
He got here late, he tells us, he's gonna read 'the Guest List'. "Would it kill 'em to buy a ticket?" he quips and leaps into a fast paced rendition of everyone he knows, names rhyming. Apparently Birmingham is an 'Atomic City.'
And tells of 'generalisation' ( we all do it), which comes with two other important factors 'Prejudice' and 'Judgement' - a three pronged trilogy. And poetry to recant in full on observational vitriol as only Dr Clarke can do - "Get Back On The Drugs You Fat F**k" . He's funny and whitty and fast paced and flies off at tangents - continually challenging, asking questions, pointing out the bleeding obvious. "Dr. Clarke how did you get here?" on birth and life and how he got here rather than the car he travelled in, before he leaps into 'Hire Car.'
A punter's question to "Is there a God?" doesn't get the straight answer, but a tangent circle of responses. As he says "the public are in charge - the public is the governor" as he gives us the old and new in his poetry treasury - including his love story in reverse "T**t!" And his poetry can be two lines, limericks, sonnets, Hiaku or the long ones. He's the "peoples balladeer; the high court judge" in newbie "The People's Republic of Doktor Klarke."
From is back catalogue 'Beasley Street' - a real life place and it's social life, plus a an update to the way the place has changed 'Beasley Boulevard' - all 'Urban Splash!' Irony, and observation - on 'golf audiences' and age. "Age. The silent killer" - he's been around our entire lives, before "Bed Blocker Blues.
He's been experiments with Hiaku - poems of 17 syllables. he has a list and number 1 will be the final he reads to us. "Smarter than I have ever been, total idiots. I have met them all." And his number 1. "To freeze the moment in seventeen syllables is very diffic…"
And he completes with his personal favourite - the classic 'Chickentown' - used in the penultimate episode of the Sopranos. When played on the BBC in '78 the bleep operators got repetitive strain injury. Before thanks to the Arctic Monkeys, who closed their critically acclaimed album AM with a version of 'I Wanna Be Yours' which we receive the Doctor Clarke version - in it's full and scathing and dark glory.
This trilogy of social commentators were tonight, funny and witty, scathing with vitriol, yet caring and thought provoking. The good Doctor was mesmerising in his words the hour and a half set whizzed by, with that inherent knack of making people laugh. Doctor Clarke - part poet, part stand up. And still relevant.
Holly Johnson at The Library, The Institute, Birmingham, UK - 19th October 2014
Gig review by
Zyllah Moranne-Brown
with photography by
Ken Harrison
In 1984 a few people got very hot under the collar about a single. It got banned from airplay on Radio 1 at a time when most the world listened to the station. An outrage many people said. But the people behind this song grinned broadly and merrily wound them up even more. This single became the most controversial and most commercial single of the decade, selling over 2 million copies.There was even T-Shirts. We love a bit of anti-establishment at the best of times. So roll on 30 years to 2014, "Welcome" to a bit of "Frankie Says Relax" with former Frankie Goes to Hollywood frontman
Holly Johnson.
Wow. It's been 30 years since the release of Frankie Goes to Hollywood's debut album 'Welcome to the Pleasuredome.' Over 30 years since that "controversial single 'Relax'. Frankie literally took over the airwaves for a brief moment in time. 'Pleasuredome' had reported advanced album sales (in the days of the vinyl record) of over a million copies. Second album 'Liverpool' was a harder sell for a number of reasons, and Johnson walked releasing three solo albums including his platinum selling number 1 debut solo album 'Blast' in 1989, 'Dreams That Money Can't Buy' in 1991 and 'Soulstream' in 1999. And this year, 15 years on, he's back with new album 'Europa.' Whilst he's played the odd festival - this will be his first solo tour since 1987… so welcome to Holly Johnson: Unleashed from the Pleasuredome.
There's no support tonight, although a DJ, Dave Kendrick, gives some tunes including remixes featuring Kraftwerk, Kate Bush and Heaven 17 and a snippet of Frankie. I have to say, we're too busy chatting to take too much notice.
And just after 9, Johnson takes to the stage with full band in tow and starts off with 'Atomic City' and receives a big cheer from the audience - before here comes Frankie - 'Warriors of the Wasteland' and the rising epic 'Welcome to the Pleasuredome.' Johnson may have recorded these over 30 years ago but his voice remains spot on, the band tight, and we know all the words.
"I'm not allowed to talk… or we won't get many songs done…." he says in his quiet Liverpudlian accent. Another Frankie -'Rage Hard' - the crowd are dancing and clapping and the cheers getting bigger. And now to a solo hit 'Love Train' before…" we're gonna risk a new one on you now… Dare we?" and we're into a segment of newbies and solo stuff.
'Heavens Here' - "a festival treat" and 'Americanos' gets us dancing and a cheer on the closing line…
"In the land of the free, you can be who you want to be…"
"Life isn't always a bowl of cherries. There are moments when you're feeling all alone…." "Aaaahhhhh goes the crowd in sympathy. "Not tonight!" shouts a punter. And he delivers us 'Lonesome Town' before "scaring us with another new one" - title track from his new album - 'Europa.'
Another excuse to dance. "You are a bit like sardines aren't you?" he comments on the cosy crowd, "Not much room…..you can always rub up to the person in front of you…." as we're into 'Dancing With No Fear.' He was on 'Later….with Jools Holland' and played this one - a ballad and his favourite song on the album 'So Much it Hurts.'
And then we're back in time, to Frankie song he hasn't sung since '87, 'Watching the Wildlife.' Before a song he calls "the money shot." Asking if we are ready - hey we know what's coming - 'Relax' - in all it's beating glory. Johnson has a flashlight and shines it over the audience. We're a-dancing and singing. Timewarp baby. Awesome rendition - massive cheer.
A quick break and he's back - with a change of jacket. Apparently he stopped the cold war with this one (so a comedian told him). 'Two Tribes'. Class. And then to the special one. And it's not just for Christmas -
"I'll protect you from the hooded claw, keep the vampires from your door......"
- it's the epic 'Power of Love' The hairs stand up on our arms and we're singing away. It's amazing how many of us knew all the words. Spine-chingling.
Holly Johnson is affable and funny. And he likes his songs epic. And no doubt, those Frankie hits were special. It was great to hear them in full totally overblown and truly glorious colour. Johnson is out for a few dates - go check him out - it's well worth it. Hopefully, he'll be out and about far more than he has been for the last few years.
Holly makes you smile. And you can't ask for much more than that….. according to his website:
Holly Johnson Cosmos Mariner, destination unknown. The Odyssey Continues…
Setlist:
Atomic City
Warriors of the Wasteland
Welcome to the Pleasuredome
Rage Hard
Love Train
Follow Your Heart
In And Out Of Love
Heavens Here
Americanos
Lonesome Town
Europa
Disco Heaven
Dancing With No Fear
Penny Arcade
So Much It Hurts
Watching the Wildlife
Relax
Encore:
Two Tribes
Power of Love
An Audience with John Lydon at Adrian Boult Hall, Birmingham, UK - 14th October 2014
Gig review by
Zyllah Moranne-Brown
with photography by
Ken Harrison
In the 70's this chap and his fellow punks took on the music industry and gave it a swift kick in the b******s, whilst sticking their fingers up to the establishment. For a brief moment in time, him and his band scared the s**t out of everything the establishment held dear and shook up the world of 'popular' music forever. And once that trip was over, he set up a different band - creative, innovative, still doing their unique thing today. And that's just his musical side. With a new autobiography out - 'Anger is an Energy: My Life Uncensored' - we're here to see the irascible character that is
John Lydon
, aka
Johnny Rotten
.
The Sex Pistols shook up the world and then some. Probably the world's most notorious band ever, Lydon as their lead singer, became vilified by the press and scared politicians so much, he was even discussed in the Houses of Parliament, under the Traitors and Treasons Act, which still carries the death penalty.
PiL (Public Image Limited)
- his musical true love have been his outlet - on a truly personal basis on so many levels - a musical challenge and journey. Over the years PiL have had over 49 members ("a college of Further Education" Lydon quips tonight, some going onto more success than others) and to see them live is a joy in the true passion and professionalism that they deliver.
Meanwhile he's turned up on TV on adverts selling butter (for which monies earned brought PiL back to life after hiatus) and ITV's "I'm A Celebrity - Get Me Out of Here" which he would have won by a country mile, if he hadn't walked, full of integrity and for all the right reasons.
He's just released a new book 'Anger is an Energy: My Life Uncensored' -his autobiography of a fascinating life. Tonight's event is just one of three theatre dates - all total sold out. And he'll be interviewed by friend and BBC Radio 6 Music presenter Matt Everitt. His book goes from his childhood to present day and tonight, there's no reading, just Lydon's thoughts and questions from the audience. Why the book?
'This book is about the life of a risk taker. I make things safe for other people to follow in my wake' -
John Lydon
So two seats, a table and bottles of water adorn the stage as Everitt appears to introduce the 'icon' (a word he knows Lydon will just hate). Lydon stomps onto the stage, adorned in crumpled designer suit and bags like he's walk off the street - to rapturous applause. He's a "bit ill" (clearly flu-laden), the Boots bag contains medication and a box of tissues. Oh and a bottle of brandy. After relating he's ill, he says "Hello. I'm John. But at least I'm here….." with that menacing grin of his. Everitt asks him if he likes Birmingham - "Are you trying to ruin this interview?" he quips - he likes us here in Brum - we ignore those major newspapers; a conversation about Brum soap "Crossroads' and the "access" he'd like to get to Ms Diane… He's written about his life before; this book is about his life and is part of an extremely long end (he's 58 and intends to gone on 'til he's at least 100). His life is "half-done" and unlike the Stones song - he has no intention on dying before he gets old - he wants to be extremely old!
Scandal has been looking for him all his life - it's surrounded him - and clearly his book will be a fascinating read. Few will have challenged society so much that his home was regularly raided by the Police; he even knew the Police Officers by name - he'd see them in the pub and they'd say hi and reluctantly indicate they would raid his home later that week. He was notorious and continues to have that menace about him. But as we can relate, Lydon is harmless, he'd never hurt anyone, as he attests his political hero is Ghandi.
He's saddened by the death of Robin Williams - he could relate to Williams creative mind - that bounces all over the place all of the time. His does the same. All of the time. As a child he had meningitis which left his comatose for 4 months and left him with no memory, no movement, no voice. Parents he didn't know or recognise. It took him 4 years to recover. Doctor's told his parents not to mollycoddle him - to make him angry. And that anger still drives him today. And as he discusses the pain of life and of the death that has impacted on him - he's very honest. A tear. We feel for him. He doesn't want sympathy, but we are empathetic - we feel his pain - his honesty and the man behind the notorious image. A chap in the audience related he told his mother, suffering with dementia, he had told her he was seeing John Rotten tonight. "Do you still like him?" came the response. Lydon sends his love and to his mom - and agrees to and handshake and a hug that makes this guy's day - he's been a fan for 30 years…
"Do you think brandy goes with Night Nurse?" (Or Day Nurse - he has both in his bag).
There are those that come in for his ire - those in 'management' at the time of the Sex Pistols - " those clothes makers"; punk's 'new' look Green Day get a sneer; Simon Cowell get's a slating; former PiL members Kevin Levin and Jah Wobble also get the Lydon sneer; Town Council's he derides - we should go and call them to account - spend less time watching TV - go and party in the council chambers - stop these 'normal' people dictating how we should live; UKIP and Farage - "barrage - they're preying on the stupid"; The Clash - now don't ask Lydon about The Clash. That's not a good move.
A question on Jimmy Saville - a famous comment Lydon made in '78 - "We all knew way back in '78" and derision towards the BBC and other establishments that allowed this and other such similar atrocities to happen.
What's next for PiL? Once this book tour is over, he's off to the Cotswolds with his beloved band for a new album. There's no demos in advance, the creative process is organic; inspiration of the moment. While the Sex Pistols changed the world - punk could be copied (and in droves, and badly he thinks). PiL is his baby, it is unique and never copied. And he loves that idea.
The potential theatre opportunity of being in 'Jesus Christ Superstar' was a surprise to him. He loved the challenge and the family aspect of the team of the cast, even though the promoter eventually pulled it. As if he was a vegetarian after being in the jungle - his comment was that he wasn't "unless you mean vegetables like Jordan."
A couple of people dare to walk out (not because they are leaving) and have to pass in front of the stage. "They're not hiding their face from the 400 of you, they're hiding from one of me," he chortles. And after they take some time to return: "Are they doing drugs?"
Blowing his nose - the flu is not good even with the brandy and night nurse - and promptly lifts the tissue in the air and shout's "Ebay!" - we laugh.
Lydon is brutally honest. He tells it like it is. He is incapable of lying. Honesty in full and glorious Technicolor. And we love him for it. He trusts everyone. Until they lie. He surrounds himself with only those who are truthful. Nora, his wife, who he adores, get a mention. He says she's as unique as him - and while they should grow apart over the years they just get closer.
And after an hour and 15 he suddenly stands - he needs a "s**t" - and it's the end. And audience members rush to the stage to see if they can shake his hand and he's rushed off stage.
Lydon is fascinating; a true character - at times deep and introspective - fully aware of his own failings yet brutally honest in his own explicative worded manner. And he says exactly what everyone thinks anyway. Get the book - it'll be well worth the read. He's loveable, yet remains menacing, but totally approachable. There's no flies on Johnny. Just never piss him off.
Anger is an Energy: My Life Uncensore
d by John Lydon published October 9th 2014
Available in hardback & e-book, 540 pages including 3 picture sections.
Level 42 + Will Stapleton at The Symphony Hall, Birmingham, UK - 7th October 2014
Gig review by
Zyllah Moranne-Brown
with photography by
Ken Harrison
Okay so Birmingham City Centre is busy this evening. Kylie may be tripping the light fantastic at the NIA, but we're off to the delectable
Symphony Hall
to see stalwarts of 80's funk pop. With endless hits, word wide success and a recent EP full of newbies, we'll be funking out with
Level 42.
Taking their name from A Hitchhiker's Guide to the Galaxy, Level 42 formed way back in 1980 on the Isle of Wight. Lead singer and bass player, Mark King, became one of the stand-out musicians of the day, especially for popularising the 70's 'slap style' of playing his instrument. King's vocals along with keyboard player Mike Lindup's falsetto vocals gave L42 hit after hit after hit. It was their fourth and more commercial album 'Standing in the Light' that gave the band the first UK Top 10 'The Sun Goes Down (Living It Up)'; 87's 'Running the Family' album gave them worldwide success, making Top 10 in numerous countries. But by '94 they decided to call it a day permanently. Or maybe not. King carried on solo, increasingly playing L42 hits live and in the early nougties came to an agreement to continue with the name Level 42, before Mike Lindup re- joined the band once again a few years later. In 2013 Level 42 released a six track live studio EP 'Sirens' and tonight is part of a series of dates promoting it.
Support tonight comes from singer songwriter
Will Stapleton
, solo with guitar, inspired by Level 42. He's played around London for the past few years; a soulful sound with poetic lyrics. He has a single out 'I Understand'; he's engaging and goes down well - check out his website for further info.
Bang on 8.45, L42 take to a darkened stage - King slapping his bass like crazy - the neck of which is glowing in the dark, emblazoned with lights. And as the lights come up, the band are dressed retro, retro - in spangly, sequinned black shirts. Full band on stage tonight, with a trio on brass and rhythm cranking up the sound.
First part of the set tonight is lesser known - one for the fans: 'Love Games', 'Are You Hearing (What I Hear?)' - as the songs funk out and roll into each other, as the band groove down in true L42 style.
"Hello! How are you? Fantastic!" say King, as he quips that sequins are coming of his spangly shirt. And they're on on their musical journey again - track from 'Sirens' - 'Mind on You' before an old one, 'Kansas City Milkman.' The 'Sirens' EP is well played tonight - all tracks get featured over the set, keeping up with the L42 trademark sound. The crowd are taking it all in, mostly seated bar a few boogying on down on the balconies. A hit - 'Leaving me Now from 85', then to 'Tracie' from '87.
"W.T.F?" King is still having issues with his sequins. And the audience get to their feet, dancing and clapping away to 'Living It Up (Sun Goes Down)'. And take to their seats as we're back with a track from 'Sirens'. "Any stars kids out there?" and they deliver us 'Starchild', before UK #6 hit from '85 'Something About You.' and we're into a hit medley and dancing one again, with 'Lessons in Love' - go back in time to 12" vinyl inch record, mega mega remixes, which go on and on…. and you'd be on the money. 'Sirens' track 'Build Myself a Rocket', prog-funk-rock rolls on as one band member after another leaves the stage.
Encore - features 'Hot Water' and 'Chinese Way' where all individual band members get the chance to fun out under an individual spotlight of music, and the encore rolls on and on.
Level 42 are going strong on their funk-pop vibe - tonight's gig was one for the fans - the bands hits being the clear stand outs as the crowd danced the night away. Level 42 may have been going for 30 odd years - but they're certainly to out of sight or out of mind.
Meanwhile (and as a footnote to this review) as tunes continue roll through our little brains - we succumb to the traffic nightmare of Birmingham City Centre. As much as we like Brindley Square, over an hour and a half stuck in the car park after the gig really wasn't our cup of tea. Methinks someone should be in 'Hot Water' over it!
Listening:
Running in the Family [1987]
Staring at the Sun [1988]
Guaranteed [1991]
INALA: A Zulu ballet featuring Ladysmith Black Mambazo at The Symphony Hall, Birmingham, UK - 3rd October 2014
Gig review by
Zyllah Moranne-Brown
with photography by
Ken Harrison
Tonight at the delectable
Symphony Hall
we have a unique mix of the classical sound of South Africa complimented by contemporary modern Western ballet, as the legendary
Ladysmith Black Mambazo
bring
INALA - A Zulu Ballet
to Birmingham.
To celebrate 20 years of democracy in South Africa, Ladysmith Black Mambazo feature in a unique artistic collaboration with multi award-winning choreographer Mark Baldwin. Performing INALA's original score (by LBM's Joseph Shabalala and classical composer Ella Spira) as they blend the intricate rhythms and infectious harmonies of their native musical roots with live percussion, piano and strings. The performance features richly visceral choreography unites Zulu traditions with classical ballet and contemporary dance, performed by an exceptional company of eighteen dancers and singers.
LBM formed way back in the early sixties and have gone on to become one of South Africa's most prolific recording artists. Jospeh Shabalala took the isicathamiya harmonies of the Zulu people, formed a group and started singing at local weddings and other gatherings before entering competitions - becoming 'so good' they were effectively banned from entering. First album 'Amabutho' was released in 1973, and their collaboration on Paul Simon's 'Graceland' brought them to worldwide acclaim. LBM have recored over 50 studio albums and have won multiple awards, including this year - their fourth Grammy. While there have been over 30 members of LBM, the line up has remained consistent since '93, with only two members retiring.
With such an eclectic mix of art on stage tonight, it's difficult to know what we will see tonight as we take our seats. The band take to the rear of the stage - the main front area flat for the performers and the whole set incredibly simple. Tonight's set is in two parts and given the energy of the performers - we soon understand why. LBM deliver us their unique mbube vocal style, (mbube means' 'lion ' in Zulu) - as a male lead sings cappella and the others float and harmonise in accompaniment. Tonight's performance is sang in Zulu too - very little is spoken in English. The ballet dancers give us their interpretation of animals; of birds and others, stalking across the plains. The dancers performing are some of the best too - award-winning, individuals with roots the Royal Ballet and The Ballet Rambert.
But LBM don't just stand there and sing, they are part of the art, intermixing with the dancers, participating in the dance - the high kicks flying. The contemporary dancers contort, giving beautiful lines, beautiful and energetic, intermixed with Zulu dance. There is no story as I understand, this is an interpretation of the day and of the life in Africa inspired by LBM's songs - a village stirring at daybreak, travelling, in boats fishing, a thunderstorm of city. This is performance, just watch, just listen; become immersed in the sounds, and the visuals.
Part two starts with a ballad, beautifully simple hamornised vocals, two dancing interpreting in details and amazing moves. And the atmosphere builds, the audience are mesmerised aurally and visually. LBM are perennial world tourers - for six months of the year they are on road - their response has always been ; as long as the people of the world want to hear their music they will be putting on the shows. An English spoken section "There are many things that you may want…. but if you want to do this, you have to put your mind to it. Travel…. say I am going somewhere…."
LBM are in a line, intermixed by dancers and they each come to the front of the stage, one dancer, and one singer. Many dance in time together, a couple of LBM members chicken out this duel - to laughter from the crowd.
As as the show draws to a crescendo, the dancers amazing, the harmonies quiet spectacular - the second act completes to a standing ovation. And group and dancers bow to us all "Yeaaaaaaaahhhhhh goodbye…."
LBM are legendary world musicians and they do indeed bring the beauty of their tribal harmonies to the world. This accompaniment with contemporary ballet, taking traditional and mixing it with modern was something really quite mesmerising and well worth taking a peek. 'INALA' means abundance of goodwill; a show on the past, present and new hopes future, is an uplifting cultural experience, And as we leave, we leave with smiles on our faces and the tunes of the South African plains swirling round our heads.
Wrangler + Colossloth at The Flapper, Birmingham, UK - 2nd October 2014
Gig review and photography by
Ken Harrison
Tonight at The Flapper we have a journey into the heart of the machine with
Wrangler
(the group not the denim manufacturers) a modern day experimental electronic supergroup of the analog kind in its current form since in 2013 and formed by Stephen Mallinder (Cabaret Voltaire), Phil Winter (Tunng) and Ben Edwards aka Benge (Music Producer, Memetune Record label owner, Solo Artist, Synth collector and John Foxx collaborator et al) as part of a mini tour taking in four dates in Birmingham, Glasgow Sheffield and London.
Wrangler's name arose from having to "wrangle" the vintage analog equipment used during the various recording sessions. debut release "LA Spark" recorded with vintage analog synthesisers was released in early 2014 on Benge's own label "Memetune" to critical acclaim and with a few live shows to support the release.
Opening support for tonight's show is Birmingham based promoter and DJ Chris Wave, whose
"Seventh Wave"
is promoting a series of electronic and new wave events in Birmingham. Tonight Wave is in the DJ slot playing an electronic set as warm up for the show.
Colossloth
Next up is Leicester based electronic artist "Wooly" Woolaston aka "
Colossloth
", whose music and performance is somewhat surprising for the uninitiated. Colossloth creates his heavy industrial sound crouched down at the front of the stage and pressing the living daylights out of a tablet and effects pad.
Quoted as "defying categorisation, an amalgam, a hybrid of threatening Industrial sounds, surreal string interludes and elements of Musique concrète. At times hauntingly beautiful and at others distressingly portentous! Perhaps the soundtrack for the end of days, or an alien invasion..."
Wrangler
arrive on stage at 10.00p.m, to cheers from the audience (perhaps only at half of its usual capacity) and open up with the ambient "Peace and Love" from "LA Spark", a track recorded for the Tate Modern "Tweet-Me-Up" event in 2012, followed by "Mus IIC" with its vocal sampling and rolling synth line.
The band are lit only by a couple of spots and Winter is almost in darkness to the right of the stage as the minimal lighting seems to concentrate on Mallinder and Benge. A fine mesh curtain is hung at the back of the stage upon which the neon-green Wrangler logo is projected, and primitive neon-green images and shapes contort and shift during the show. "Lavaland", is an extremely catchy, pulsating number with early "Metamatic era Foxxian" sounding drum machines and growling distorted vocals. "Harder" with dancey rhythms, heavy beats and half whispered vocals, somewhat reminiscent of "The Cabs" and a few people are dancing along. "Modern World" is followed by the album title track "La Spark" and "Theme from Wrangler" is the closer for the set and bleeps us towards the end.
The band return to the stage for an encore with a couple of classic Cabaret Voltaire tracks "Crackdown" and "Sensoria" which are well received by the audience, some of whom have been waiting many years to see any kind of Cabaret Voltaire track played anywhere.
Over the course of an hour and fifteen minute set, Wrangler captivated the audience with their heavy electronic music with tracks from "LA Spark" and classic Cabaret Voltaire tracks to finish the show on a high.
The ticket price for tonight's show was a bargain at £10, which was exceedingly good value to see a performance by this group of electronic heavyweights. This was another showcase event by Birmingham based avant garde DIY (punk ethos) promoter Andy Hayes (aka Andy Black Forest) whose Radio Black Forest presents a series of musical (and film) events that bring the "esoteric, bizarre and challenging" to a wider public audience across Birmingham and the UK. And tonight we got that in industrial sized slabs of sound.
Setlist
Peace and Love
Mus IIC
Days
Lavaland
Harder
Space Ace
Modern World
La Spark
Theme from Wrangler
Encore
Crackdown
Sensoria
World Premiere: A Time and Place: Musical Meditations on the First World War at The Town Hall, Birmingham, UK - 17th September 2014
Gig review by
Zyllah Moranne-Brown
with photography by
Ken Harrison
This year marks the centenary of the start of the First Word War. 100 years ago in a totally different world, that it so many ways we can't relate to. The first mass produced cars (by Ford) only started in 1914, the telephone (as in landline) was still new technology, radio even newer and the first national broadcasting service - the BBC was 8 years away from formation. News was through newspapers or cinema screenings. But the very real human stories of the time still resonate today and tonight are shown through a powerful musical project: -
A Time and Place: Musical Meditations on the First World War.
British folk singer
Sam Lee
(whose 2012 album 'Ground Of Its Own' garnered a Mercury Music Prize nomination for Album Of The Year) undertook extensive research for A Time And Place earlier this year by discovering wartime songs and stories from rural communities in the south-west of England. Sam's joined on stage at by north-eastern singer-storytellers
Rachel and Becky Unthank
- who have set new music to First World War poetry and more - along with band-mate Adrian McNally who has arranged all of the above for an 11-piece ensemble including string quartet and brass. And all this takes place in Birmingham's 180-year old Grade I listed
Town Hall.
And if this wasn't enough - this performance will take place against the striking visuals from Birmingham video designer
Matthew J Watkins
(Gorillaz, Beat13, Live_Transmission: Joy Division Reworked).
As we take to our seats birdsong and country sounds play out over the speakers, dry ice wafting gently over a backdrop of three tombstone shapes, on which there is projected a beautiful sunset sky. You can even hear bees buzzing around. It eludes peace in the beautiful setting of the Town Hall. And as the lights go down, the 'camera' drops from the sky to the ground and a cave, and the musical cast take to the stage. Tonight's music is traditional folk inspired, and as the trio of singers chant cathedral windows rise across the screens. "We're here because we're here…" goes the chorus. And then a voice, an old woman relates the how boys from her town were taken to war. She asked one boy after the war which village he came from. He didn't like to say. He was the only one who returned. He couldn't face the others' mothers. A staunch and poignant thought - how could we relate today if only one of the men from our village returned from such a war?
The performance is already beautiful, perfect balance of imagery, vocals, musicians and the poetry and words from that moment in time. This song's theme is about enlisting, the naivety of what young men and boys were walking into - today - social media and 24/7 news would give us a damn good idea. But then? They really didn't have a clue of the horrors that would unfold. 'Bideford Bridge' relates the stale of enlisting and the journey to the trenches - with the chilling end of chorus line
"but all of them died in the May..."
And then a song with an occasional drumbeat as the men are sucked into the trenches.
And a mention of Empire. In 1914 the British Empire covered 1/5th of the World population at the time - over 450 million people. And those people too were sucked into the War - not only across Europe but across the World as the British and German Empires fought over territories. Another song - a mother's epilogue to a fallen son "rotting in No Man's Land…" as she remembers bathing him as a young child.
'Bold Privateer', a Devonian song, is sung beautifully. 'Wargirls', quite upbeat, about the women taking on the responsibility of tackling jobs once done by the men - a moment in time as the world began to change for women as a whole. And then a haunting song, as The Unthanks are joined by another woman from the ensemble to give us 'Socks' - a song of hope - as they pray that the men will survive.
The we have a two parter if you like. A soldier, Roland, writes to his sweetheart whilst in the trenches. He seems to know his fate and encourages a brighter future for her and that she should move on. And then his sweetheart, Vera, writes back, a poignant response for this brighter future. Within a month of writing his letter, Roland was dead. He died in 1915. And their words are projected onto the screens behind as this emotional song is recounted.
And a quick breather and a break as we take in the stories we have heard.
As we take our seats for the second part, the birdsong is ringing out once more. And then as the ensemble take to the sage Lee conducts the strings in a musical disarray of the meltdown of war. Another song: comments from a "simple soldier boy" on his experience in the trenches."Breakfast whilst shells scream overhead…." and then the bugle sounds. A call to go 'over the top'.
'Everyone Song' is about the Christmas Day cease fire…. the briefest of reliefs from the distraction of the trenches; birds are flying, the song is soaring, the hope, the escapism, before it all melts away…. 'They'll Never Come Back' is exactly what it means - a modern day song by Tim Darling (
New Rope String Band
) - is as dark as it is serious.
Lee tell's us when the time comes join in. We recognise the tune, sung beautifully, but in German. And now in English. And then we sing…
"Keep the Home Fires Burning, While your hearts are yearning. Though your lads are far away, They dream of home…."
And then to the final song of the night. It's Spring 1919. The war is over. The heroes return. They have memories to smother as they transfer from war to peace. And poppies appear on the screen. The flowers that remembers the generation of men and boys who died in the blood-soaked fields of the First World War.
The performance ends as we hear the old woman over the speakers once more.
"I hate war.
"I Hate war.
"But I admire the soldiers."
And we leave the screens are covered by little white crosses. In memorial to the millions who died needlessly in a terrible war.
A Time and Place presents new material inspired by personal stories and arrangements to First World War poetry alongside original repertoire from the time against striking This event is funded by Arts Council England and PRS For Music Foundation and is part of the Imperial War Museums First World War Centenary, co-produced by sounduk, Barbican and Opera North in partnership with Town Hall & Symphony Hall.
Festival No.6, Portmeirion, North Wales, UK - 5th - 7th September 2014
Festival Review and Photography by
Ken Harrison
Click here to see the
complete Festival No.6 photo set
on GJ's Flickr. (165 glorious images!)
As another Summer turns towards yet another Autumn, and with warm days soon to be replaced by shorter cooler days, I find myself in North Wales, (or more precisely) in Portmeirion, for my second visit to
Festival No.6
now in its third year of being.
Portmeirion, a rich and colourful Italianate village designed by the late Architect, William Clough Ellis and built overlooking the River Dwryryd estuary was home to the 1960's cult TV show "The Prisoner", the lead character played by Patrick McGoohan who was the "No.6" that the festival references.
The festival is spread over many stages across the "village" and the wider Portmeirion estate. A well as the usual festival style stages held in open fields, almost every nook and cranny in the village and the surrounding woodland was filled with something of interest going on over the weekend with some 300 acts taking part.
Everywhere you looked within the village, in and around the magnificent scenery were street performers of all kinds; singers, dancers, DJ's, ukelele bands, comedians, authors reading to gathered audiences, choirs, bubble makers, weird and wonderful bicycles with wind-up gramophones attached, or converted to submarines and aeroplanes and including some 'Prisoner" show re-enactments, film screenings, Q&A interviews, processions and carnivals and plenty more besides. And once you've taken all that in, the festival goers had dress up for the occasion and then of course, there were the bands.
There was only one problem with this coastal idyll and the events going on all around me… apart from the sensory overload that overwhelms festival goers here, I was spoilt for choice as to what to see and do and of course what I ultimately needed to photograph. Sadly I couldn't see and experience it all….even if I were to split myself into 6, never mind 2!
London Grammar
Paul Heaton & Jacqui Abbott
Tom Odell
Temples
Neneh Cherry
Cherry Ghost
Stage No.6 (The main stage) saw the likes of Rock, Pop, Indie, Motown, Punk from well established acts to the new including London Grammar, Bonobo, Neneh Cherry, Beck, Tom Odell, Temples, Peter Hook & The Light, Tom Hickox, The Undertones, Martha Reeves and The Vandellas, Paul Heaton & Jacqui Abbott, Kelis and Pet Shop Boys with a special appearance by Brythoniaid Male Voice Choir (Festival No.6 staples) for "Go West", the song to close the festival… who quite literally blew The Pet Shop Boys off stage.
Tom Hickox
Arthur Beatrice
Other stages included performance by Steve Mason, Spector, Jon Hopkins, Alexis Taylor, Tune-Yards and Tom Vek. DJ sets from Laurent Garnier, Bodhi, Todd Terje, Julio Bashmore and Danny Krivit. Local boys Dexys screened "Nowhere Is Home" at The Gatehouse followed by a Q&A with Kevin Rowland and Big Jim Patterson.
Undertones
Kelis
The Gatehouse also played host to an eloquent and emotional reading by Harry Leslie Smith, who at 91 has published a book entitled "Harry's Last Stand". Harry's book takes you through his life from the hunger and destitution of his childhood in Barnsley to his time in the RAF during World War Two through the rebuilding of Great Britain during the Post-War years right up to the current day, sharing his experiences, the lessons his life has shown him and his hopes and fears for the future as all that his generation built through their sacrifice is now being eroded by the way we live now.
Harry Leslie Smith
Julian Cope
Stephen Morris & Tim Burgess
Harry points his finger at successive governments, bankers and many others who by their greed or inaction have changed Britain into something more akin to the 1930's and his childhood years. There was not a dry eye in the house as Harry, faltering at times as his emotions were awoken again by reliving his childhood experiences and sharing them with the audience. For me, Harry's talk was one of the highlights of the festival.
To top off the rich diversity offered by No.6, almost three days of sunny weather gently warmed the crowds. If you've been to North Wales, a little (or a lot) of rain is no surprise, but this year the sun shone on the righteous.
"Festival No.6 (according to The Guardian) could rival Montreaux as the Most Sophisticated (festival) in Europe". Festival No.6 has impressed me again this year with the extent and depth of entertainment put on for us to enjoy, and to quote a fellow (seasoned festival) photographer visiting for the first time "It's official, Festival No. 6 is my favourite festival ever."
As you read this, I'll be planning my escape to "The Village" for Festival No.6 in 2015
"Be Seeing You"
Follow Festival No.6 on their
Facebook
+
Twitter
Roland Gift + John Simmitt at The Hare & Hounds, Birmingham, UK - 3rd September 2014
Gig review by
Zyllah Moranne-Brown
with photography by
Ken Harrison
So way back in the 80's, as one classic Brum band 'dissolved' another one was born. This new band did rather well, worldwide success, and a couple of platinum albums beckoned before they too went their separate ways. But no matter, as tonight, in an exclusively snug venue, their lead singer plays in his own right, playing the old and new - it is the immense vocal talent of
Roland Gift
, of Fine Young Cannibals fame.
Fine Young Cannibals were two former members of The Beat (David Steele and Andy Cox) and Gift on vocal duties. After appearing on the infamous Channel 4 music programme 'The Tube' performing 'Johnny Come Home' they got their break as labels battled to sign them. Said song appeared on their debut album along with a over of Elvis Presley's 'Suspicious Minds' - but it was their second album 'The Raw and the Cooked' that went multiple platinum and truly global, with Fine Young Cannibals winning two Brit Awards. After then the band drifted and went their separate ways.
Gift continued in solo vein, releasing 'It's Only Money' in 2002, and more recently performing with Jools Holland. Acting also beckoned - an appearance in the Hanif Kureishi penned British movie 'Sammy & Rosie Get Laid', acting with the Hull Truck Theatre Company and appearing in and writing music for the Barry Levinson US movie 'Tin Men.'
So to get an opportunity to see this reclusive singer in all his vocal glory in an snug venue like the
Hare & Hounds
, we are indeed lucky peoples tonight. This is part of a handful of selected dates around the country including Hull Freedom Festival, Gateshead Sage and Raindance Film Festival at London's Café De Paris. Why these particular locations?
"Each date on this outing has a particular significance. Birmingham is where I was born, Hull where I moved to and started playing music, Gateshead is across the river from where FYC got our break on Tyne Tees TV's The Tube, and London is where I now live. Playing the Hare and Hounds is like coming back to my roots."
So as we enter the tiny venue tonight, it's already warm, and will get warmer - tonight's gig is sold out! The room in the Hare & Hounds is small - a max of 250 and is well cosy! 'Support' is a different mixture. To get us in the mood we have a couple of DJ sets that are intended to get you bopping and in the mood - courtesy of
David Wright from Only After Dark
and
Maryanne Snape
. From 80s classics and I mean the class hits from Bowie, Talking Heads, New Order and Tears for Fears the crowd are bopping and enjoying the atmosphere...
Then we get a comedian.
John Simmitt.
And as he quite rightly explains he's a comedian not a singer. He feel's he should have an introduction - and as there's no one here to do it for him, he'll do it himself, as he hides behind a speaker and announces his prescence. And as he (re)takes to the stage - 'Here Comes the Hotstepper' pumps out of the speakers and we're are encouraged to deliver the "Nananannnannnaaa's".
Self effacing and observant in his comedy style, he quips about being asked to do this gig, and then finding out it was a music gig. And then takes the mick out of the crowd's age - we'll be pacing ourselves during the gig then? And he INSISTS he's edgy, honest. Until he was offered a gig by the BBC. Woohoo! he thought. And then it involved pre-school children (not in a bad way!) and fluffy suits and a long term contract. Simmit maybe edgy, but he be cuddly too - because ladies and gentlemen - his alter ego is….. Dipsy. From the Teletubbies. Ker. Ching. As he said. Simmit is great fun, entertaining - if you get a chance - check him out. "Eh-oh!"
And then here we go for the main man. The Hare & Hounds is so small that the band walk from the back of the room, to the front to make it to the stage - and they sneak through the crowd.
'What Do You Mean?' warms us up nicely, and get's cheers from the crowd. Gift asks us if we like punk rock… ? "Well here's some reggae.." which starts of with the bridal march before delivering us 'Ever Fallen In Love' - and we're singing. The 6 piece band are tight, Gift's vocals true to form and this reggaed out version has a beat and we love it.
Gift points out, as we all know, "It's terribly hot…" and requests a pint of lager from his manager. I'm by the bar - as the request is issued, the barmaid cheekily goes 'No!" before delivering said order. Up next 'Girl Like You' before the classic track that gave him and Fine Young Cannibals their break.
'Johnny Come Home' is a stomping rendition. Wowsers. 'It's Only Money' from his 2002 solo effort rolls and rolls - Gift and his band are slick and professional. Somebody shout's 'I love you…" - "I love you too baby." Fascinating fact of the day: Gift was one a cover star of Rolling Stone and voted one of People magazine's '50 Most Beautiful People'…
It's difficult to say what's the best - but the classics are delivered impeccably - Gift's voice remains truly unique and time hasn't aged his vocal ability. He's just pure talent. 'Good Thing' get's us bopping more and singing - 'Crushed' starts off as a ballad - 'beautiful' shouts an audience member. Close your eyes - hear his vocals - he is indeed 'crushed' as you can hear the emotion as his voice tells the story. The song rises and rises before be full stop. Elvis is not in the house (and probably not at the local chippy) - but Gift's version of 'Suspicious Minds' equals and delivers - one of the biggest cheers of the night. 'She Drives Me Crazy' straight back in time - but as fresh as the day it was recorded to tape. 'Broken Heart' has the beat of 'Should I Stay or Should I Go Now"…. but we're still here. No going anywhere. "I'm Not the Man' rolls on and we sing.
And a break and here we go again - a 'Beatles Encore' - and there's a grind as we go into baby it's you - all psychedelic man - he's a free man…. Indeed he is. Before a smattering of 'Blue.'
The dizzying heights of all that success in the mid eighties may have gone and maybe for Gift that's a 'good thing'. He seems somewhat shy, quite literally letting THAT voice do the talking. But for the 250 punters here tonight - a thoroughly enjoyable time - and a pleasure to close your eyes and take in the vocals as Gift took us on his journey. Is he the man he used to be? Hell yeah. Johnny came home tonight.
Setlist:
What Do You Mean?
Ever Fallen in Love
Girl Like You
Johnny Come Home
It's Only Money
Good Thing
Crushed
Suspicious Minds
Around the World
She's Not You Girlfriend
She Drives Me Crazy
Broken Heart
I'm Not The Man
24/7
Encore included Blue
Listening:
The Fine Young Cannibals [1985]
The Raw and the Cooked [1988]
Godiva Festival, War Memorial Park, Coventry, UK - 4th - 6th July 2014
Festival Review by
Ken Harrison
with Photography by
Ken Harrison
and
Drew Kirkland
Coventry War Memorial Park is the home of
Godiva Festival
. Now in its 16th year, Godiva played host this weekend to an audience of around 125,000 for three days of live music, street theatre, comedy and disco as well as a host of family and community activities. The music was a diverse range of rock, indie, pop, punk, ska, rap, including local talent aplenty, with a number of Godiva Calling competition winners performing on both of the main stages. With music coming from established and up and coming artists Godiva, brought a great mix of the old and new, and best of all it was all free. (Yes free!!)
Yes Sunshine
Stone Foundation
The Selecter
On a very damp Friday night the opening acts were Yes Sunshine and Stone Foundation followed by "Two-Tone" local legends The Selecter led by Pauline Black getting the audience bouncing with some classic "Two-Tone" hits including "On My Radio", "Three Minute Hero and "Missing Words".
The Buzzcocks
Original Punk Pioneers "The Buzzcocks" closed Friday night's proceedings on the main stage with an hour long set. Pete Shelley, replete with large beard, looks as far removed from an angry young man of his punk days, as you could possibly imagine, and is very unassuming on stage, but his guitar playing is note perfect and his vocal although on occasion lost within the very loud Buzzcocks sound, is still at his trademark higher pitch.
The Buzzcocks
Steve Diggle, on the other hand is still snarling and spitting at the world and jumps around the stage with the energy of a much younger bloke. The audience were treated to cavalcade of Buzzcocks tracks including "Boredom", "Breakdown", "You Say You Don't Love Me", "Promises", "What Do I Get?" "Harmony In My Head" and for an encore with Diggle on Vocal "Bring the F****** sky down!" for "Ever Fallen In Love?" and set closer "Orgasm Addict".
Spooky Wagons
The Prophets
Hula Girls
Swamp Donkey
Jimmy Weston
Young Aviators
Little Matador
Saturday's glorious summer sunshine brought thousands to the festival, and the packed out main stage area (sponsored by Kerrang) saw much eating drinking and other merriment whilst enjoying the diverse rang of acts including a number of Coventry based bands gracing the stage. Spooky Wagons, The Prophets (a Pop-Punk outfit and both Godiva Calling winners), Hula Girls, Swamp Donkey (whose lead singer left the stage with blood coming from his head due to heavy use of his microphone) with Jimmy Weston, Young Aviators and Little Matador all getting the crowd warmed up for the evening set.
Funeral For A Friend
Funeral For A Friend played an exuberant set, to a packed crowd of what seemed to be predominantly teenage girls. Full of energy, the bass player took a massive slip on stage and ended up on his back to much amusement from his bandmates, but he got back up, dusted himself off and carried on playing with as much gusto as before.
Dan Le Sac vs Scroobious
We Are Scientists
Happy Mondays
With Dan Le Sac vs Scroobious Pip (in their final set of shows before breaking up) and We Are Scientists following on, the Happy Mondays closed the main stage with some Madchester Melon Twisting Magic. Bez, wide-eyed and his dancing as freaky as ever, roamed around the stage with his maracas. Shaun Ryder, seemed to take a more laid back approach, preferring to stand a little way back from the front of stage. A great close to a great day.
King Hammond
Roddy Radiation
Neville Staple
Cream Ov Da Crop
Over in the Rhythm Tent, it had been a Ska kinda day, with new and established acts taking the stage. Barb'd Wire, King Hammond, Roddy Radiation and the Skabilly Rebels covering a couple of Specials tracks "Concrete Jungle" and "Rat Race". Fellow Special and Fun Boy Three's Neville Staple, followed on with his band coming on stage to chants of "Rude Boy" to perform a few Specials, Fun Boy Three (Lunatics Have Taken Over The Asylum) and classic tracks such as "Johnny Too Bad" and 'Monkey Man". Staple tells the audience of his appreciation for Coventry Hospital who have "pulled" him through two strokes, and dodgy knees, but he performs so well you'd never know it. The Rhythm Tent is then taken over for an evening of Rap and Funky House acts beginning with Cream ov da Crop and Afrojosh (who is filming a video as part of his set) and many others. The tent is packed to the rafters with a younger contingent of fans.
The Mariachis
The final day of Godiva starts off with Mariachis (yes the Dorito's guys) playing the first of two sets at the festival. With BIG Mexican sombreros, the band cover classic hits in a Mexican Stylee, which works surprisingly well. "Final Countdown" Status Quo's "Whatever You Want" and "Don't You Want Me" are all given the Mariachis treatment. The crowd enjoyed their performance, but this band would really set a crowd hotter than a Jalapeño if they played later in the evening, when everyone is well fed and tequila'd. What a great party band. Over in the Rhythm tent, a host of local young talent is on show from bands, solo singers, choirs to dance troupes on the intimate stage.
David Sanders
HE IS A PEGASUS
Nina Baker
Batsch
Uptown Ska Collective
Back to the Main Stage and another couple of Godiva Calling acts (David Sanders and HE IS A PEGASUS) follow on from the Dorito's guys. Nina Baker and then Batsch are up next before former Special (and artist) Horace Panter brings his Uptown Ska Collective to the stage for forty minutes of classic songs including "Son Of A Preacher Man" and "Will You Still Love Me Tomorrow". Asking if anyone is "in from Coventry" and getting a big cheer from the crowd "I'll be alright for a lift home then!"
The Ordinary Boys
Samuel Preston (aka Preston) has brought back The Ordinary Boys from a long hiatus for a few shows. During their short energetic set, Preston is running around the stage and getting the crowd going, but the biggest cheers being reserved for "Boys Will Be Boys".
Lightning Seeds
The final act of the festival is Lightning Seeds, formed by Ian Broudie, the one-time Echo and The Bunnymen producer brings his band to Godiva, and rather aptly brings some damp weather, including the odd flash of lightning and a few rumbles of thunder.
Lightning Seeds
The "Seeds' soon get everyone singing their upbeat poppy tunes, as the crowd hide under bin liners and umbrellas during the showers and joining in with "Sense" "Marvellous" "Life Of Reilly", "Lucky You", "Pure" and closing the set and the festival with 'Sugar Coated Iceberg". Note that "Three Lions" did not make an appearance… and given England's early World Cup exit, quite right too.
Over three days at Godiva over 150 acts to suit all tastes performed to a good natured crowd in a well organised festival, and even the weather was kind (mostly). If you want a weekend of fun (and you can bring the family), Godiva is certainly a good bet. Bring on Godiva No 17 in 2015, I'll be back to join in the fun.
Click here to see the
complete Godiva Festival photo set
on GJ's Flickr. (438 glorious images!)
Steve Harley & Cockney Rebel with the Orchestra of the Swan & Chamber Choir at Symphony Hall, Birmingham, UK - 29th June 2014
Gig review by
Zyllah Moranne-Brown
with photography by
Ken Harrison
Tonight it's to the exquisite Symphony Hall where 70's pop meets classical. To quote the artist this is
"the chance to make a dream come true."
Tonight, ladies and gentlemen
Steve Harley
and his
Cockney Rebel
bandits will be making you smile, with a classical make-over of his first two albums, with the accompaniment of the
Orchestra of the Swan & Chamber Choir
.
Cockney Rebel formed way back in 1971, recording 'The Human Menagerie' in 1973 (an album that didn't chart at the time and the tracks didn't break either) and followup 'The Psychomodo' in 1974 which made number 8 in the UK charts. They went onto become classic albums of the era - 'Sebastian', 'Mr. Soft' and 'Judy Teen' are still played on the radio worldwide. Then three members walked and the band split - but that didn't stop Harley - he renamed the band Steve Harley and Cockney Rebel and went on to have further hits including the million selling global hit 'Make Me Smile (Come Up and See Me)' and has been touring and performing ever since. He influenced a generation - bands such as Duran Duran, Spandau Ballet and Erasure all cite him as an influence, with even The Wedding Present covering 'Make Me Smile'. Tonight's venue is not far being sold out - he still remains popular and can pull in a good crowd.
Harley started this journey with a one off "exclusive" gig at The Symphony Hall about a year and 3 months ago. He in his own words,
"felt slightly fraudulent"
as he announced this trio of gigs - tonight is the third of the three which includes a previous night at The Royal Albert Hall in London.
So the lights dim, and the choir, then orchestra and band take their places - before Harley takes to the stage - cheers getting ever louder. First part of the set is 'The Human Menagerie' in track order listing - something he comments on - invariably he mixes and matches the sets certainly when it's acoustic - and doesn't necessarily
"...have a clue what's coming next…"
but tonight he does and we do.
'Hideaway' is performed with depth of sound with full orchestra and choir. 'What Ruthy Said' remains more true to its original roots - you can hear the lighter side of Cockney Rebel in their true colours. And as the sax solo rolls out - we recognise the player - this be Steve Norman, one time member of Spandau Ballet, tonight playing with the guy that inspired him, and acting not only as saxophonist but multi-instrument percussionist. 'Loretta's Tale' has an Italian vibe - with mandolin. For 'Crazy Raver' we bop along happily.
As Harley removes his jacket he quips it's
"...expensive… made for the occasion…. Not just made to measure…made to fit…"
He chuckles that a London journalist thought his career was on the skids - clearly not with his expensive jacket. He's quietly spoken, but self effacing and funny - and engages well with the crowd.
'Sebastian' is one of the highlight's of the night - beautifully haunting with full orchestral arrangement, the sound rises and rises, the ethereal accompaniment of a high female voice from the choir, lifts it more into an epic reworking. And quite rightly, the audience respond with a standing ovation.
"If you didn't think that was big and powerful - you should stand here and feel it!"
He's chatting again
" … if that wasn't bad enough, playing in track order - you feel we'll peak too early…"
And the tracks roll on - the orchestra performing perfectly with the accompaniment of the choir - at times coming over all Beatles-esque aka 'Sergeant Pepper' as they remix and juggle and spin the tracks round and around - still totally identifiable. And Cockney Rebel play deliciously well - Norman is partying - playing every single type of percussion instrument available in each song.
We chant back right at them for 'Judy Teen' as he tells us, he just doesn't hang out with musicians, he's unpretentious, some reviewers just don't get him and quote him word for word
[avoids doing such! - sic]
- as the orchestra, band and choir crank up for the epic 'Death Trip' and we are indeed tripping - think Beatles - 'A Day in The Life.'
Huge applause and standing ovation again - we're off for a 20 minute break…
Second album 'The Psychmodo' starts as it means to go on - energetic and frenetic - before Harley comments that
"..we know what's coming…"
and we're into the bouncy bouncy 'Mr. Soft' - far bassier and bam bam bam with this full orchestral package.
An introduction to the band and current Cockney Rebel line-up. He says he was on the radio plugging these gigs and he got a 'tweet.' (Harley is well know as a self-confessed technophobe). Which turns out was from @garykemp saying "Tell Harley we want him back…" as he introduces Spandau band mate Norman. 'Ritz' is spooky and mesmerising; 'Cavaliers' is all big and epic. Harley and Norman duet at the from of stage, Harley on accordion, Norman on sax - and another standing ovation. Harley offers his accordion up tell sell on E-bay for a tenner, and indeed chucks it to an audience member - along with the instructions. Someone shouts from the rear of the audience
"…. I can't deal with heckles…"
he jokes,
"… nor can I deal with requests!"
Before 'Sling It!' he relates how the three band members left him, right as they were making it big, just weeks before a big headline gig at Reading. He wrote 'Sling It!' -
"...this was a flop too…"
before they deliver the final track of the album 'Tumble Down' all big and epic -once again. During an interlude for the track he tells us of magical moments in a gig - even the biggest stars know of. And how important it is to be nice. Pete Townsend is nice. Others aren't. (No names mentioned - social media spies). He relates a tale of meeting one of his heroes - Bob Dylan. Who didn't speak. At all. Just cos Dylan doesn't do that. And ask we finish with the final ending and the crowd sing back on 'Tumble Down' that magic moment is there….
And they leave - but not for long. How could you not deliver another magical moment? And they do indeed 'Make Me Smile (Come Up and See Me).'
In Harley's words:
"Playing live is the biggest thrill there is. Every night is different. Every audience and every town have their own personality, and I am a relentless explorer."
And 40 odd years on he's still exploring. Tonight's gig isn't the cheapest - top tickets £45 each. But it was definitely worth it - the Orchestra of the Swan & Chamber Choir were an amazing accompaniment - Harley hadn't been precious - they remixed and played big and large - and developing the music to the next level. Cockney Rebel make 2014 clearly had blast and truly emotional - Norman had a grin from ear to ear. Harley's getting on a bit now. He's 63. And whilst clearly struggling physically, he delivered, engaged, made us laugh, entertained us, performed and then some musically and indeed made us smile. He clearly loved it too. A magical moment. What a nice bloke.
This two part set featured albums in their running order:
The Human Menagerie
Hideaway
What Ruthy Said
Loretta's Tale
Crazy Raver
Sebastian
Mirror Freak
My Only Vice (is the fantastic prices I charge for being eaten alive)
Muriel the Actor
Judy Teen
Death Trip
B side - Rock and Roll Parade
The Psychomodo
Sweet Dreams
The Psychomodo
Mr Soft
Singular Band
Ritz
Cavaliers
Bed in the Corner
Sling It!
Tumbling Down
Dexys at The Kasbah, Coventry, UK - 25th June 2014
Gig review by
Zyllah Moranne-Brown
with photography by
Ken Harrison
Tonight we're rocking the Kasbah, so to speak - as we've journeyed over to Coventry to hang out with local legends playing one of a trio of gigs before they take to the Glastonbury stage. Rain is predicted at the Festival - but here in the
Kasbah
it's increasingly warm as the flocks have come to see one of the true eccentrics of the music scene, Kevin Rowland and his band of merry lads and lasses -
Dexys.
Dexys Midnight Runners (now shortened to just Dexys), formed way back in 1978. It was hit 'Geno' (a tribute to soul singer Geno Washington) that brought them to the attention of the masses and an image that included donkey jackets, leather coats and woolly hats; 'Mean Streets' style. And then to commercial success in the early 80's and change of image as the band adorned dungarees and scarfs - an effective rag-taggle off-the-farm look and they went all Celtic folk rock with album 'Too-Rye-Ay' featuring the rip-roaring 'Come On Eileen'. You could say a lot has happened since then, Rowland has had, what could be called, an 'interesting' journey and it took over 25 years before Dexys recorded and released their fourth studio album 'One Day I'm Going to Soar' in 2012. They toured pretty extensively that year and tonight this album plays a key part as the first half of the set. Sadly Madeleine Hyland couldn't make this tour so in her place, we have former Banarama and Shakespear Sister Siobhan Fahey.
Scarily, it's been 30 years since Dexys placed in Coventry, a huge period of time by anyone's standards, so tonight's crowd are pretty expectant. And we have to say, that the crew at the Kasbah are a friendly, helpful bunch which is always a massive plus at any venue. And as we sip our drinks before the band are due to take the stage (there's no support and Dexys aren't due on 'til around 8.30pm), some choose to check out the BBQ that is merrily wafting delicious smells in the warm summers evening.
Taking our places in the venue, the lights go down and it's in darkness. Keyboard and violin mesmerisingly ring out, and we're already feeling pretty mellow in the dark, as the band take their places. A single spot light picks out Rowland, akin in hat and shades, red and yellow jacket, stripped shirt and brogue shoes in accompaniment. Parisian retro style starts here - clearly the incarnation of Dexys 2014.
"It was way beck in the forties…"
he starts off, as we've led sublimely into 'Now.'
Song completes to a huge cheer from the crowd, and now lit in the middle of the set is a white chair.. Rowland sits and takes us into 'Lost' - we're in the blues baby. Tonights set is Dexys art-house style, acting, miming, interpreting alongside the song; more performance than gig. Rowland's voice is still that distinctive nasal slur and he remains introvertly eccentric, far more comfortable in his persona when singing or acting with his band mates, less comfortable engaging directly with the audience. Band members appear on stage, this performance they are arguing over a girl, a mock fight, then sorry - acting, yet miming at the same time. And the band roll on and on with the blues inspired rhythm.
Rowland and Pete Williams now share vocal duties - part chat, partly sung as up on the balcony a Parisian styled, subtlety lit, Siobhan Fahey joins in - 'She's Got A Wiggle' - which indeed she undoubtably has.
'One Day I'm Going to Soar' is a different Dexys. It features subtle blues, 70's funk and at times its gets us bopping along and tracks roll on and on - the band are tight, vocal duties shared between Rowland, Williams and Fahey. Dexys 2014 are cool, they're the blues and as opposed to being in a sweaty club we are transformed to chilled-out green fields, the summer sun blazing down, grass wafting in the breeze, glass of wine in hand…
"Thank you so much…"
Rowland speaks directly to the audience. As the first part of set concludes we're building to the 'hits' section of the gig. A comic moment as Rowland can't control the mike stand and the mike slides down to it's shortest height. Williams quips that "...comedy is introduced into the show…." and promptly continues to take the mick, in a friendly and jovial way.
"Remember this?"
we're asked as Dexys take us into renditions of 'There, There My Dear' - versions from '82 and back to '80. Banter between Rowland and Williams -
"...Been searching…"; "What have you been searching for"; "…. Searching for different things…"'; "Just things…."
and as he sings Rowland paces from side to side of the stage like a caged tiger.
'Geno' 2014 edition is not as angsty as the original - indeed, we're bright and breezy and calypso. It's all funked up - indeed let's take a trip to the Caribbean…
The classic 'Come On Eileen' maybe isn't so frenetic these days (well Rowlands is hitting 60) and gone, as said are the dungarees and straw hats, but it is a full 16 minutes long, as the band chill in the middle, Williams and Rowland chant the chorus, before cranking it up to a grand finale.
The band line up to take a bow - all 9 of them excluding Fahey, before they're back on. Banter and chat commences - acting returns,
"You alright?". "I'm alright" Playing on ya mind…" "So what's she like?…"
come the dulcet Brummagen tones as indeed we get Dexys opus 'This is What She's Like….'
During a quieter moment a punter shouts
"Better than the World Cup!"
(which admittedly, especially where England are concerned, wouldn't be difficult!), an introduction to each band member gets a great response form the crowd, as the track rolls on and on an on… and we dance and bop until finally the band take their leave.
Dexys 2014 are not the Dexys that most people would recognize from their heyday. That's long ago - don't let that detract - they are deep and introspective, charismatic, arty, but also are a great band - tight and professional with Williams and Rowland great vocal sparring partners. I'm sure at the right time on the right stage they will go down well at Glastonbury. Check them out - they may not be what you may expect from Dexys Midnight Runners - they are indeed Dexys - the core talent and unique eccentricity remains. Indeed, I don't know about one day, but I am sure that they are indeed soaring...
Soul, Jazz, Street Poetry and Hip-Hop Artists Line up to Play the Sixth Bearwood Shuffle!
Legendary jazz band
The Blue Notes
, Southern soul party starters
The Atlantic Players
, hip hop beat bangers
Dantanna
, chilled out vibe master
Kouben
and spoken wordsmiths
Beatfreeks
are amongst the acts just announced to play the sixth
Bearwood Shuffle
in Lightwoods Park, Bearwood. Hosted by rising star
Tom Naylor
all in all it's a particularly 'sixy' line up.
There'll be craft stalls, uber-cool street food and refreshments too... all you need is a blanket to sit on and plenty of suntan lotion (nothing wrong with a little optimism eh?)
The event runs from
2pm to 6pm on SUNDAY JUNE 15th
at the
Lightwoods Park
bandstand and it's free to attend! Sunshine guaranteed... probably.
Follow
@BearwoodShuffle
on Twitter for the latest news.
Photography by
Ken Harrison
Midge Ure at Apres Bar, Birmingham, UK - 31st May 2014
Gig review and photography by
Ken Harrison
Saturday night at the Apres Bar in Birmingham, and its a special one. The bar downstairs is full, with more than a little excitement about the Carl Froch/George Groves Super-Middleweight Championship. Upstairs in the Club Room, we've gone back to the 1980's with a full house of "Darklings" (the collective noun for club members) who are excited about the appearance of a Musical Heavyweight for the
Only After Dark
(OAD) 5th Birthday Celebrations, some of which have come in from overseas to be here.
OAD is the monthly club night based on the Bowie nights and the Rum Runner/Blitz Club nights of the late '70s/early '80s. The club's playlist covers a wide range of electronica/glam/new wave/punk/new romantic/alternative with quite a bit of Bowie in there too. Organiser David Wright, (Switch Radio DJ) has run OAD events over the last five years in various venues in and around Birmingham and has played host to a number of guest DJ's and intimate shows from artists of the period including Rusty Egan (Visage) Heaven 17, Martin Degville (Sigue Sigue Sputnik) and recently, Blancmange.
Tonight's special Birthday guest is
Midge Ure
, who found fame in the 1970's with Slik, The Rich Kids, and in the 1980's and beyond with Ultravox, Visage, an instigator of Band Aid and the Live Aid events alongside Bob Geldof and a successful solo career to boot. With the reformed Ultravox currently on a hiatus following a recent tour with Simple Minds at the end of 2013, Ure is out on the road with tour dates across America, Europe and South Africa and new solo album "Fragile" due for release on 7th July in the UK.
The set tonight is an acoustic one, so its just Midge and his guitar, not a keyboard or macbook in sight. Taking to the stage in black shirt and jeans, whilst the colourful crowd clap and cheer, he picks up his guitar and opens up with "Dear God" and "Breathe"; two of his earlier solo songs. Visage's "Fade to Grey" comes next; one of his acoustic regulars. If you don't know, Ure is one of the founder members of this electronic supergroup (alongside Steve Strange on vocals, Dave Formula of Magazine, John McGeoch of Siouxsie and the Banshees, Rusty Egan, Billy Currie of Ultravox and Chris Payne of Tubeway Army) and also the songwriter.
Between songs Ure is chatty and recounts the tale of David Bowie's visit to the Blitz Club back in the day, where the Blitz kids found themselves to be not quite so cool as their "Hero". This is the same visit, where Steve Strange was chosen by Bowie for the "Ashes To Ashes" video. In tribute to Bowie and to the OAD crowd, Ure covers a Bowie track. Not an obvious one, but his version of "Lady Stardust" was performed well and loved by the crowd. "D'you reckon Bowie would be singing "If I Was" in a club somewhere?… I doubt it".
Time for some audience participation.. "If you know it, give it some stick" as 1981's "The Voice" is played with gusto, and the audience sing along. His 1982 cover of The Walker Brothers "No Regrets" is a treat to listen to and often a regular feature of his acoustic sets.
"Vienna" is next and referred to as "..a bit better than Forever and Ever" the No.1 Slik song from 1976. Ure gets a gentle reminder of these days during the set as one of the Darklings (Porl The Count) gets on stage with an issue of "Look-in" magazine (who remembers that??) dated 10th April 1976, featuring Slik on the cover and in a double page poster in the centre. Now that is a blast from the past! and Ure takes it all in good spirit.
Ure hits the big notes well as the crowd join in with the song. "One Small day" and "Hymn". The set closer, "This is supposed to be my last song", "Dancing With Tears In My Eyes". The stage is small and the venue is hot and cramped, so Ure cannot get away for a breather before an encore, and as he has often joked about before in some of the smaller venues, he'll stand in the corner and come back out again. For the encore, Ure finishes with "Loves Great Adventure" and his solo hit "If I Was".
Tonight, Ure was on form with his vocals and performance, and his good humoured banter engaged the crowd as he drew on an extensive back catalogue of songs from over the last thirty-odd years. The set was a short one, so the crowd could get on with their dancing until the wee small hours, but they clearly had a good time. The question is now what will OAD do for the next Birthday? You can catch up with Midge Ure at one of his many appearances over the summer. and look out for his new album when it hits the shops, previews of which are available to view on his website.
Setlist
Dear God
Breathe
Fade To Grey
Lady Stardust
The Voice
No Regrets
Vienna
One Small Day
Hymn
Dancing With Tears In My Eyes
Encore
Loves Great Adventure
If I Was
Paul Heaton and Jacqueline Abbott + Cherry Ghost at The Institute, Birmingham, UK - 30th May 2014
Gig review and photography by
Ken Harrison
On a very humid Friday evening, The Temple at Birmingham's Institute is packed to the rafters and getting very hot.
Paul Heaton and Jacqui Abbott
and band are in the house tonight, touring their new album "What Have We Become" fresh off the presses, only being released on 19th May.
Paul Heaton found fame during the 1980's with The Housemartins (1984-1987) and subsequently The Beautiful South with fellow Housemartin, Dave Hemingway (1988-2006) producing many huge chart smashing songs during that time. Abbott joined The Beautiful South as vocalist following departure of Briana Corrigan, and left the band in 2000. This period is considered to be the bands best, (and certainly most successful, particularly with the album "Blue Is The Colour") and several Top 10 singles during this time.
The reunion of Heaton and Abbott has been a long time coming, but in a statement on Heaton's website, "both are clearly delighted to be working together again as they explain:"
Paul Heaton: "Working with Jacqui again was like going into your garage and discovering a beautiful, covered up Rolls Royce that hadn't been started in years. Jacqui is one of the best singers I've worked with and is also part of my past. It was only a matter of time before I asked her. I always wrote songs with Jacqui in mind. Even before I met her I pictured a voice that could carry the songs into people's hearts in a particular way. When I first heard her sing I almost laughed because it was SO right for the songs."
Jacqui Abbott:
"It's just great to be singing again after such a long time, especially with Paul. We had such a good run together previously and it's just a real pleasure to be working with him again and singing these fantastic songs".
Supporting Heaton and Abbott this evening is Simon Aldred, aka
Cherry Ghost
, who also has a new album, (their third) entitled "Herd Runners" also released on 19th May (there must be something about that day!) and already receiving positive reviews from NME (8/10) and Q Magazine (4 Stars). Cherry Ghost is stripped back this evening with only acoustic guitar and keyboards present. They play a short set including "Sacramento" , their 2007 debut single "Mathematics" and finish with their "Elbow-like" Novello winning song, "People Help The People" from their 2007 album "Thirst For Romance." Their latest single "Clear Skies Ever Closer" is out now and they'll be playing in Birmingham soon, so go and check 'em out.
Taking some refuge outside from the increasing temperature in the Temple, I head out the back and chat to some fans. Out comes Jacqui for a smoke, standing around whilst fans come over for photos or autographs, or to hand over Phil Collins albums for Heaton (more on that later) and she happily obliges. A good ol' down to earth star with none of the prima donna stuff going on here.
Just before 9.00p.m the cheers start and the football stadium chants of "Heatuuun, Heatuuun" gain momentum, people are getting impatient for the show. At the front of the stage, two lever arch files, presumably the song lyrics (a very lo-fi approach) are placed on two music stands. Out comes the guitarist, shortly followed by the rest of the band to huge cheers from the audience. The band performing with Jacqui and Paul are; Jonny Lexus on Guitar, Chris Wise on Bass, Steven Large on Keyboards and Pete Marshall on Drums; Large having been "poached' from Squeeze following a recent tour. Heaton holds back from his music stand, clad in his anorak, looking embarrassed to be there receiving the cheers from the crowd, whilst Abbott beams at the audience. They've not even sung a note yet!
"We've got some dancing to do", and they launch into the song from the new album, and in the short space of time since release, fans have taken the new album well as most of the front row are singing along. There are no fancy projections or multimedia going on here, it's just the band and an "honest to goodness" performance. Heaton's voice introduces the next song.. "Its about getting old..mistaking the pub for the gym..and Weatherspoons for Waterstones" "Old Red Eyes Is Back" from the "Blue Is The Colour" followed by "Costa Del Sombre" from the new album. Heaton and Abbott's voices sound like they've always sung together; a great combination.
"Welcome to Birmingham" says Heaton, "The home of a thousand canals" followed by a bit of banter with a (Black Country) guy who thinks Birmingham is a S***hole. Heaton announces that he is delighted to be singing with Jacqui again and then play "Rotterdam (Or Anywhere)" followed by another Beautiful South track "Prettiest Eyes", the audience respond with loud whistles and cheers.'Thanks for buying the album, I noticed some not singing the words. Did you buy the Michael Jackson or the Oasis album instead?" Quips Heaton. "If you bought our album, that gets the booze for the band!"
"Moulding Of A Fool" the opening track from the new album and "The best track on the album" according to a booming Brummie voice from somewhere in the stalls, comes next: a catchy upbeat track with good drums and piano intro that belies the at times sombre lyrics "the revolution won't be televised and neither will your death". Heaton recounts the story how his first band won a Battle of the Bands competition and the first prize was a support slot for a "legendary pop star" and £200. The "legend" turned out to be Gary Glitter, and he wanted £200 from the band to be his support act.
The Housemartins "We're Not Deep" is followed by "The Snowman" with delicate Country-style acoustic guitar and poignant lyrics tugging sat the heart strings and then back to The Housemartins for "Build" with Heaton picking up his harmonica. Next up is "When It Was Ours" a beautiful track from the new album with Heaton's voice hitting the high notes. More between song chat with Heaton as he draws the audiences attention to a painting hanging up on the rear stage curtain. "I get the band members to paint their dreams every day..this is Chris' dream; Bannockburn 1314AD.. Chris you're brilliant!"
Abbott sings solo whilst Heaton steps back, and she holds the audience enthralled with "Dream a Little Dream", before upping the tempo with "Don't Marry Her" ( and not the clean radio version either!), Heaton picks up the harmonica again and the audience join in the final chorus. This song gets the loudest cheers (and a few screams from one rather loud girl) of the night so far and rightly so. "Thanks for all your loyal support… and all the bundles of letters telling me to get Jacqui back you useless Tw**!"
"The Right In Me" from the album is debuted tonight, and hasn't been played live anywhere before, another very catchy, rocky, upbeat track. The Phil Collins album then makes its appearance "another work of art..Phil Collins must die!" Heaton quotes from "When I Get Back To Blighty" and then offers the audience some World Cup stickers taken from a Special Needs unit (not by Heaton of course).. "it don't feel right".
"Heres a song we'll all know" introduces "Good as Gold (Stupid as Mud)" and more audience participation as they join in for some call and response. "D.I.Y" is announced as a new single, and is another upbeat countryfied break-up song. The final song of the set is "Happy Hour", "I'd like to thank the GMB (Union) for sponsoring this tour. I was bullied in an office, if I'd been in a union I'd never have written this song." They leave stage with a "Thank you and goodnight" to more shouts and screams.
For the encore, before they start singing Abbott get the audience hands (and the lights) up for a photo.. the result is on Twitter. Heaton straps on a guitar for "I'll Sail This Ship Alone" then compliments the crowd; "A brilliant audience.. like Leeds without the Knobheads!" before finishing with "Me and The Farmer".
Another encore, and a final brace of songs as the band (except the keyboards) abandon their instruments and line up while Jacqui announces "Loving Arms" as "the first song I sang in front of Paul when I was 17". The final song of the night is the classic Housemartins track; "Caravan of Love", a slightly speeded up acapella version which then turns into a happy, clappy, singalong gospel rendition.
Tonights performance has been a great show, clearly enjoyed by the crowd and drawing on Heaton's successful back catalogue, with a good mix of the old and new, (and judging by the response) the new material has already been embraced by fans. Heaton has always been able to turn the most downbeat and sad life experiences into fine songs, often hiding the lyrics behind the most upbeat and catchy tunes and the new album featuring this renewed partnership is no exception. Go and buy it, you'd be mad not to.
Setlist:
Some Dancing To Do
Old Red Eyes Is Back
Costa Del Sombre
Rotterdam
Prettiest Eyes
Moulding Of A Fool
We're Not Deep
The Snowman
Build
When It Was Ours
Dream a Little Dream
Don't Marry Her
The Right In Me
Good as Gold (Stupid as Mud)
D.I.Y
Happy Hour
Encore 1
I'll Sail This Ship Alone
Me and the Farmer
Encore 2
Loving Arms
Caravan of Love
Tangerine Dream at O2 Shepherd's Bush Empire, London, UK - 23rd May 2014
Gig review and photography by
Ken Harrison
6.30pm; London, after the rain, and long queues are trailing around the Shepherds Bush Empire to catch
Tangerine Dream
on their only UK date (a Sell Out) for their "Phaedra Farewell Tour", which has already taken in Miami, Mexico, Honduras and Paris (last night) and will take in Netherlands, Germany and Poland and finish in Italy on 9th June in Turin.
The show, according to the statement on their website is not a goodbye, but a move away from touring schedules in favour of more one-off performances:
"First of all, some words about the term "FAREWELL": True is that this tour, which will be extended to the US and other territories will be the last live concerts in a row in TD's history. But of course there will be single events the time after. All speculation about Edgar's retirement are totally wrong. It's more the business side and the experience the band had with their last touring activities in 2010 and 2012. More details will be given through the known networks."
Tangerine Dream (a seven time Grammy nominated band) formed in 1967 in Germany and was founded by Edgar Froese, who is the only member of the original line-up remaining with the band today. Over the years, many artists have joined or collaborated with the band who have gone on to have significant success in their own right.
The current line-up is;
Edgar Froese: Keyboards, Electronic and Acoustic Guitar (1967)
Thorsten Quaeschning: Keyboards & Rhythm Guitar (2005)
Linda Spa: Saxophone, Flute, Keyboards & Body Tambura (1992)
Iris Camaa: V-Drums & Percussion (2001)
Hoshiko Yamane: Acoustic & Electronic Violin Cello, c-voice (2011)
Previous members include:
Klaus Schulze: Drums, Percussion (1969–1970)
Christopher Franke: Keyboards, Drums (1970–1987)
Steve Schroyder: Keyboards, Vocals (1970-1971)
Peter Baumann: Keyboards (1971–1975, 1975-1977)
Michael Hoenig: Keyboards (1975)
Klaus Kruger: Drums, Percussion (1978–1979)
Tangerine Dream's musical output over the last 47 years is nothing short of incredible;
Over 65 single releases
Over 100 album releases, plus over 70 compilations
Over 30 Movie Soundtracks since 1977
Tangerine Dream have divided their releases into "Era's" dependant upon their record label at the time. Originally signed to the "Ohr" record label (their logo was a pink ear) hence this initial period of TD history labelled as the "Pink Years" and covered the period 1969-1973 releasing their first 4 albums (Electronic Meditation, Alpha Centauri, Zeit and Atem) during this time.
A fledgling Richard Branson label called Virgin who signed them in 1973 and released "Phaedra" (now celebrating just over 40 years since release) defined the next Era with a further dozen albums culminating with "Hyperborea" in 1983. Signing to Jive Records in 1983 (Jive's logo being blue) the Blue Years started with the release of "Poland" in 1983, and ended five years later with "Live Miles".
Former member Peter Baumann established his own "Private Music Label" on Melrose Avenue, in Los Angeles which put out 3 albums from 1988 until signing for Miramar in Seattle in 1991. In 1996, Froese set up his own label: "TDI" which released over 30 albums and was renamed "Eastgate" in 2005 and another 30 odd albums have been released to date.
This immense volume of work spans Prog, Electronic, Ambient, New Age, Krautrock and Dance; and must be a mixed blessing, how to choose what to play, what not to play, can you remember it? If you could play everything back to back you would have well over a week's listening to choose from. Tonights two-hour and 40 minute set will only offer a small insight into the wider catalogue. At a price of £42.50 for a ticket, its not priced too high, for a one-off event, but also a free album download is also given to each member of the audience (as long as you have collected the flyer from the merch stand) by way of an offer code on the Tangerine Dream website.. extremely generous.
Tonight's show is being recorded, presumably for a DVD release, so there are cameras capturing the pre-show action in and around the venue. This also impacts upon my photography, as I am restricted to the two main aisles and no nearer the stage than three rows back, to avoid getting in shot.
The show is a two-setter, with an hour from 8.00pm until 9.00pm, a twenty minute interlude and then on until around 11.00. The set comprises the old and the new in a rich mix of electronic music fleshed out with Guitars, Violin, Cello, Sax, Flute and a parley of Percussion, but there is no vocalist in Tangerine Dream.
Froese and Quaeschning are surrounded by keyboards and banks of equipment, with two large monitors left and right of stage showing digital reconstructions of vintage synths including the Prophet V (and running on Windows too??). The stage set is backed with a large net like fabric upon which graphics, fractals, cityscapes, skylines and universes are projected during the show. Each time Froese takes off his leather hat to strap on his guitar he gets a cheer from the audience.
The sound in the Empire is crisp and beautifully clear and none of the subtlety of the music is lost. There is no dialogue between tracks with the audience, whilst Spa and Camaa are clearly enjoying the show, Froese and Quaeschning occasionally smile and briefly acknowledge the audience.
Tangerine Dream's set takes us around the universe on Starship Tangerine Dream via "Hermaphrodite" (from Finnegan's Wake), "Hyper Sphinx" (from "Booster"), "Grind" (from the soundtrack to "The Sorcerer") and a band dedication to one of their long time fans who has passed away;
Projected on screen are the words "There is no death, there is just a change of a universal address. IN MEMORIAM TIM PULLEN" during which Camaa dons black feathered wings, a white mask and gracefully dances at the front of stage with Yamane accompanying on Cello as tribute.
For an encore the band return to stage to rapturous applause and shouts of "Stratosfear" and "You're our hero" to finish the set with a couple of tracks including "Phaedra". At the close the band line up on stage, Froese, microphone in hand, addresses the audience, but his voice is frail and weak and very difficult for me to hear over the crowd; and with a "Thank You for having us" the band leave stage.
Tonight's show has been a virtuoso performance by Tangerine Dream, but clearly the rigours of a major touring schedule must be a concern for Froese, given his age and apparent frailty on stage and perhaps one-off shows are the way forward. Whatever the band decide, if a return visit to the UK is made, Tangerine Dream are well worth every penny and I shall be there.
***********
Setlist
Set One
1.
Odd Welcome (Kafka - The Castle)
2.
Burning The Bad Seal (Gta 5)
3.
The Midnight Trail (Orange Odyssey, The Independant Years)
4.
Sorcerer Theme (Sorcerer 2014)
5.
Twilight In Abidjan (One Night In Africa)
6.
Hermaphrodite (Finnegans Wake, Lost In Strings)
7.
Sleeping Watches Snoring In Silence (Booster)
8.
Song Of The Whale (Zeitgeist Concert, Live At Admiralspalast Berlin)
9.
Horizon (Tangines Scales, Live At Admiralspalast Berlin)
10.
Hyper Sphinx (Booster, London Astoria Club Concert 2007)
Set Two
1.
Josephine The Mouse Singer (Josephine The Mouse Singer)
2.
Logos (Zeitgeist Concert, The Gate Of Saturn)
3.
Alchemy Of The Heart (Booster Iv, Live In Budapest)
4.
Grind (Sorcerer 2014)
5.
Warsaw In The Sun (Live At Admiralspalast Berlin, Zeitgeist Concert)
6.
Oriental Haze (Live At Admiralspalast Berlin)
7.
Three Bikes In The Sky (Cruise To Destiny, Lost In Strings)
8.
Girl On The Stairs (One Night In Space, Live At Admiralspalast Berlin)
9.
Marmontel Riding On A Clef (The Island Of The Fay, Starmus)
10.
Trauma (Autumn In Hiroshima, Starmus)
***********
Listening (with such a huge back catalogue, where do you start?)
Phaedra (1974)
Dream Sequence (Compilation) (2000)
The Gate of Saturn (Live at The Lowry) (2011)
Belinda Carlisle + Gabe Lopez at The Town Hall, Birmingham, UK - 13th May 2014
Gig review by
Zyllah Moranne-Brown
with photography by
Ken Harrison
One time member of one of the most successful American female bands of all time and pop icon in her own right; this singer is returning to the UK on a 7 date mini-tour which starts off tonight in Birmingham's Town Hall. Following the recent chart success of new single 'Sun', one time Go-Go and pop goddess
Belinda Carlisle
is here tonight to give us a clue as to whether Birmingham is indeed heaven.
Carlisle started out as a punk drummer before founding The Go-Go's with Jane Wiedlin. The Go-Go's went onto become one of the most successful American bands of the early 1980s, helping usher new wave music and becoming the first all-female band in rock history to ever achieve a number 1 album with their 1981 multi-platinum debut, 'Beauty and the Beat.' When the band split in '85 nothing was stopping Carlisle and she embarked on a solo career and a succession of successful hit albums beckoned. 'Heaven on Earth' made top 5 in the UK charts featuring international hit singles 'Heaven is a Place on Earth', 'I Get Weak' and 'Circle in the Sand.' Carlisle has subsequently released 7 solo albums and this year sees the release of her greatest hits, 'The Collection', featuring a couple of new tracks including 'Sun' her first single in nearly 17 years.
Tonight's audience is an eclectic mix of avid fans from a mixture of backgrounds - a few keen and enthusiastic individuals keen to catch up with her after the gig at the stage door.
But they will have to wait a little as first up on stage is American pop-rock singer/songwriter
Gabe Lopez.
"Who is this Californian Gabe Lopez and why is he in Brum?" He asks us, before telling us he's of Mexican and Irish descent and is here because he co-wrote and produced Carlisle's new single 'Sun' and she invited him on this mini-tour. It's his first time in the UK (he doesn't get out much!), the first time he's played live to a UK audience and he loves us.
Lopez is solo on stage, with backing track, electric guitar and a rising and unique voice - he starts off with 'Summertime' which is initially just vocals before turning all pop-rock dance. He has an album on pre-sale entitled 'It's Obvious It's Obvious'. Catch it now, while it's cheap, he tells us. This set is a mixture of pop-rock dance and ballads - including his take on U2's 'One.' He's a happy soul, engaging with true vocal talent - check him out online or catch him on this tour.
Quick break and we pop to the various bars in the Town Hall before taking our seats (it's a full house tonight) for pop icon
Belinda Carlisle
. Big cheer as she takes to the stage, the seated stalls crowd are already on their feet. She has a six piece full band with her and tonight's ride starts off as she's into 'Runaway Horses.'
"Hello Birmingham..." as the lyrics sing out to the next pop hit: "We dream the same dream, we want the same thing…. Oooohhhhh…" we sing. It's been around a decade since she played Brum and since then she's released a couple of singles she tells us. It was her son that found her recent song and she acknowledges her support act and talent Lopez that gave her recent hit 'Sun', which with support from Radio 2 made the top 40. Carlisle is mid-fifties, but looks a damn sight younger and fitter than her years, as we're into another hit: 'I Get Weak.' The crowd are here for the hits and that's exactly what she's here to give us: sing along to 'Circles in the Sand.' Some tracks she hasn't played live before or for a while - 'Valentine' was first aired during an Australian tour in 2013. We bop along to the hispanic inspired 'La Luna' - while 'Goodbye Just Go' is clearly Carlisle taking out her anger at her man.
Back to upbeat 'Summer Rain' and then we clap along with her for 'Big Scary Animal' - though neither of those appear to be in sight. And those hits keep coming - 'Leave the Light On' - everyone's dancing, going back to those 90s heydays. And then we all join in… 'Live Your Life Be Free.'
Just over an hour and we're into the encore 'A Woman and a Man' which gets our feet a-tapping and our heads a-bopping and for some in the audience, true over-exuberant dancing. And now for a mixture of Edith Piaf meets Grace Jones as we get her take on 'La Vie En Rose' all danced up.
"You might know this song.…" as it starts off acoustic..... And we sing along with the first verse before we're into the full live version. 'Heaven is a Place on Earth.'
There are many die-hard fans here tonight, who have travelled quite a way to see their beloved Belinda. They are gonna be waiting at the stage door for her. Carlisle is very professional and clearly enjoying the first date of this small tour; these days there's no need for big tours - she's been there and done that. Nicely sized venue to enjoy herself and showcase her long repertoire of songs to her loyal fans. So did Birmingham live up to their expectations? For them it clearly was indeed - Heaven on Earth.
Setlist:
Runaway Horses
(We Want) the Same Thing
Sun
I Get Weak
In Too Deep
California
Circle in the Sand
Valentine
La Luna
Vision of You
Goodbye Just Go
Summer Rain
Big Scary Animal
Leave a Light On
Live Your Life Be Free
Encore:
A Woman and a Man
La Vie En Rose
Heaven is a Place on Earth
Black + Sam Holmes at The Studio, Bromsgrove Artix, UK - 4th May 2014
Gig review by
Zyllah Moranne-Brown
with photography by
Ken Harrison
Tonight we're in Bromsgrove at the Artix for what can only be described as an truly intimate gig. This artist released a single that had a domino effect across the charts over most of the world and then found himself struggling with what exactly what the hell was going on. That beautifully melancholic track was 'Wonderful Life.' And tonight the elusive
Black
(aka Colin Vearncombe) is showcasing a range of his songs including the new.
Hailing from Liverpool, Vearncombe started out way back in '81.His journey wasn't an easy one from the start. His first signing with a label wasn't a fruitful one, and he ended up issuing the first release of 'Wonderful Life' on an indie label - it reached 72 in the charts, leading to a more productive deal with a second major label. His debut album 'Wonderful Life' made number 3 in the charts and went on to sell 1.5 million copies, featuring top ten singles 'Sweetest Smile' and indeed that song. But he was frustrated with the world he had been thrust into - it just wasn't his scene. Second album 'Comedy' was Black at his most lyrical, critically acclaimed, but failed to reach the dizzy commercial heights of the first and made 32 in the UK charts. Third album 'Black' was also critically acclaimed, but failed to sell and he departed ways with another major label.
But that didn't stop him - albums were issued under his own label, both as Black and under his own name - they continued to sell in Europe but less so in the fickle UK market. He's released 9 albums independently, and he's stripped back live - preferring to go solo and acoustic, where his voice was more clearly defined and truly appreciated by his fans. In 2013 the remastered digitized version of album 'Wonderful Life' was re-released and he's currently crowd-funding his new album - due later this year.
First up we have support act
Sam Holmes
plus her guitar. A singer songwriter, with lilt-like voice and her lyrical take on life, she's been inspired by the likes of Nick Drake, Joni Mitchell, Carole King and Amy McDonald. Her set includes 'Deep Water', 'Charlie' - about a sad lady she saw on a Paris weekend visit (although shed no idea if this woman was called by that name), Bob Dylan cover 'Make You Feel My Love' and her "angry song" 'Falling Down.' She's out and about playing the odd gig - you can find out more on her website.
The Studio is a tiny room and incredibly warm already as onto the tiny stage comes Black joined by guitarist Calum MacColl (the son of folk legends Ewan MacColl and Peggy Seeger) for their acoustic set. "You alright?" and a quip about toilet queues and that it would probably be a good time to go now, given the audience is all in their seats. First up is 'Alive' - it has a country music vibe, whilst 'Charmagne' is reminiscent of Fleetwood Mac's 'Dreams.' Black still has those deep vocals and is quite chatty (apparently you can't shut him up when he gets going). He suggest we don't mess up in front of him - being the observant one who put what he sees into his lyrics - you don't want to "go into the writer filter." Third track of the night and we're into hit 'Sweetest Smile' a sad introspective view -
"I think my heart must be made of clay, 'cause everyone said it would be broken someday…"
He's drinking water at the mo (avoiding Guinness) to keep up his energy levels. A suggestion that we visit the bar may not be a good one - it's 9.15pm at the venue and the bar already is closed. 'California' and his vocals fill the tiny room before he explains that his future plans are a new Black album and that we can become 'patrons' (it's all about crowdfunding - see below) and "...it's me not begging…" he says and explains he's showcasing some of the new tracks tonight for this forthcoming venture. 'Beautiful' has a Sinatra feel whilst 'Cold Chicken Skin' bops along in a mid-west American country style. Black confirms: "No chickens were harmed in the writing of this song….."
He's a Bond (as in James Bond) fan - especially of Fleming - and this one is his take on a Bond theme - all big and epic. 'Sun Flower' - completed and MacColl hopes Barbara Broccolli is in the audience. "Love Show' comes with a quip that they actually managed to complete the song at the same time. 'Quinns Old Flame' is his story song; 'Two Churches' a power driven epic - starting off with 'Paint It Black' melodies. 'Walk on Frozen Water' is followed by another chatty interlude where Black and MacColl discuss the timely question "Are you having a good time?" Black concludes with the type of songs that he writes, have you ever know him to ask that? And comments that THAT song of his appeared on a compilation entitles 'Songs for Miserable B*****ds'… we laugh.
'Walk on Snow' is deep and eerie which rises intro a crescendo before dropping whimsically back. Black: "You are a game audience and I respect you, we are about to enter the charade that is the encore, where I go and hide behind something…" before final track of the main set 'Fly Up to the Moon' takes us back to the country vibes.
So he's back from whatever he's been hiding behind with a glass of red wine in hand. And next up is THAT song. His views on this track are kinda interesting - as he says on his website:
"Once you've had a hit, if you can write another song without having that in the back of your mind, you're not crazy. It's taken some time to be able to do that. For a long time, I would find myself hearing 'I like it, but it's not Wonderful Life'…"
And he's just singing, with echo on the mike - no guitar. It remains a beautiful track. Then we have 'Where the River Bends', before a song he loves, dedicated to Hugh who's here tonight "….unless he got bored and left early…" It's Black's take on 'Blue Moon.'
Black is a deep and introspective character and his voice tells a million stories. Accompanied by MacColl on this acoustic set - they clearly have a great time and accompany each other perfectly. And so if you like Black you have the opportunity to become a 'patron' to help fund his new album - in return for exclusives and more. He's going to be working with legendary producer Calum Malcolm (Blue Nile) and with MacColl. Visit
www.pledgemusic.com/projects/black
and you can become a patron from everything from the new album download, to signed guitar, to a song written especially for you. By Black.
Setlist:
Alive
Tomorrow is Another…
Charlemange
Sweetest Smile
California
Beautiful
Cold Chicken Skin
Who You Are
Sunflower
Love Show
Quinns Old Flame
Two Churches
Good Liar
Walk on Frozen Water
Water on Snow
Fly Up to the Moon
Encore:
Wonderful Life
Where the River Bends
Blue Moon
Manic Street Preachers + Wolf Alice at the Civic Hall, Wolverhampton, UK - 6th April 2014
Gig review by
Zyllah Moranne-Brown
with photography by
Ken Harrison
Tonight we're back in Wolverhampton to see a band who took on the world, and then refused to go away. From the Gg Junkies team on our musical journey of the UK, we bring you the boys from the Welsh valleys; formed nearly 30 years ago, in Blackwood, Wales, these guys are here to show us their best - that this is their truth - and they'll be preaching
Manic Street Preachers
style.
Manic Street Preachers, like I need to say, are James Dean Bradfield, Nicky Wire and Sean Moore. Formed in '86 - they started out full of punk and indie angst - with a mentality of short-term take on the world, with critical intellectual social lyrics and a view of we're not going to be doing this beyond 30. Well life takes a curious course, if at times truly difficult course. The Manics rose out of indieness for their 'Everything Must Go' '96 album, using lyrics from recently disappeared Richie Edwards. Through their career had 11 top ten albums, 15 top ten singles and have been back recording recently, with so much stuff to say they're issuing it in two parts. 'Rewind the Film' came out in 2013 to critical acclaim, 'Futurology' is due to be released shortly. Tonight's gig we're promised songs from 'Rewind…' , a selection of their old back catalogue and a preview of the future.
Tonight's gig is sold out. 3,000 punters will be here tonight, and as the Hall fills, we expectantly wait as support
Wolf Alice
, take to the stage. Wolf Alice are a four-piece hailing from North London consisting of Ellie Rowsell, Joel Amey, Joff Oddie and Theo Ellis. Releasing a self titled EP and single 'Leaving You' they gained air play from BBC Radio 1 and plaudits from NME. In October they issued new EP 'Blush' and official single 'She', and in may they will release next EP 'Creature Songs.' With female lead Rowsell, they are indie at times, or full of angst, whilst others more heavy. Think Hole meets Cocteau Twins meets Naked and Famous. They get a good response from the crowd.
So at 9.10, on the huge screen that fills the backdrop behind the set - a video of a soldier girl walking through hills and street - and words…'Future is our only objective.' We watch and wait - the expectant crowd clapping as the Manics take to the stage.
First up 'La Tristessa' as we sing and join in - Wire in shades and black suit - Bradfield singing in grey suit. Big cheer from the crowd as they enjoyed listening, followed by another which we all sing loudly, every single word: 'You Stole the Sun from My Heart.'
"I love you all the same…."
we sing.
So let's make it a trio - as they deliver 'Mototorcycle Emptiness.' The Manics are cranking out the hits: the crowd sing ever louder as we watch the screen of old footage, video footage of the band from the time - including Richie. He's still here in spirit.
"Hello there," welcome Bradfield, "Thanks for coming out on a Sunday and making it feel like a Saturday - great to be back in such a rock and roll mega city…" as they roll into recent single '(It's Not War) Just the End of Love'. We clap along.
And so to the preview of the future - from the forthcoming album "raging against the dying of rights and all that bollocks…" this track features German singer - who isn't here tonight. As it's in German and Bradfield tells us his German skills are bollocks we should expect to hear her voice through the speakers and imagine that she was here. This is not the first time a guest vocalist who is on a track is not here - Bradfield tells us we'll have to put up with him instead. But as usual he delivers a great performance regardless. And so to this German Track 'Europa Geht Durch Mich' - English translation adorn the screen over her German words.
'Everything Must Go' we're in full voice agin - the packed crowd enjoying themselves. The screen shows 3D squares and houses and building and corridors.
"Give yourselves a break - and your heads a rest" as we're into title track of their previous album 'Rewind the Film'. As stated above Richard Hawley isn't here - so Bradfield is on vocal duties, as we watch a film of a man opening a social club, the locals laying bingo and then closing up. The Manics still remain in reflective social observational mood.
Bradfield asks us if they played here on 'The Holy Bible' tour - "harding f***ing core" and dedicates the next track to the "… superb f***ing intellect of Richie Edwards" as they take us into 'Die in Summertime'. Bit of a f*** up as Bradfield gets the setlist order wrong - apparently by this time in a tour he's usually done this five times by now - but this is the first. "Must be the suit.." quips Wire. And we're back on track with the correct track 'Your Love Alone is Not Enough.' And so the track Bradfield announced previously - written in a big Chateaux in France - 'Enola Alone.'
As the set turns red, we immediately recognise the next track - 'If You Tolerate This Your Children Will Be Next' - and we sing as the track rolls and rolls.
The band desert Bradfield he's left alone, mid stage with acoustic guitar. He's not taking requests. 'This is Yesterday' morphs into 'From Despair to Where' - we join his singing - before he delivers us 'This Sullen Welsh Heart' (which should actually feature Lucy Rose, who incredibly recorded it in just two takes, but as previously said is not here tonight). Bradfield vocals are the usual reliable sublime yet powerful.
Band back on and we're delivered 'Masses Against The Classes' - before the Manics go back to their angry against the world youth with 'You Love Us.' 'Tsumani' washes over us, before '30 year War', 'Motown Junk' completed by 'Design For Life.'
The Manics have had one hell of a journey since they started out in the mid 80's as angry young Welshmen preaching of culture, alienation, boredom and despair. Edwards may be long gone - but he's certainly not forgotten - he remains the core, the floating spirit of the band. So from anarchy to commerciality - they went on to have great success, critically acclaimed, but have never lost the need to say something. To use intellect in their lyric not mundanity. The Manics 'live' have never disappointed, solid, professional - a reliable performance to enjoy - from old to new and then the future.
There was no need to tolerate tonight's gig - the Manics gave us an insight into who they are and what they stand for in their own unique way. Looks like the future is 'Futurology' indeed.
Setlist:
La Tristessa
You Stole the Sun from My Heart
Motorcycle Emptiness
(It's Not War) Just the End of Love
Europa Geht Durch Mich
Stay Beautiful
Everything Must Go
Rewind the Film
Die in Summertime
Your Love Alone is Not Enough
Enola Alone
If You Tolerate This Your Children Will Be Next
This is Yesterday
From Despair to Where
This Sullen Welsh Heart
Archives of Pain
Futurology
The Masses Against the Classes
You Love Us
Tsunami
30-Year War
Motown Junk
A Design for Life
elbow + Jimi Goodwin at the LG Arena, Birmingham, UK - 5th April 2014
Gig review by
Zyllah Moranne-Brown
with photography by
Ken Harrison
Second gig of the weekend for this Gig Junkies team and to music from England: we're off to the LG Arena to a band with their own truly unique style. From kids that may be seldom seen - maybe they'll be off building rockets - who knows? Just think of how you handle everything, take off and land - raise your beer glasses and chill-out to the beautiful and unique tones of
elbow.
The guys in
elbow
were together long before they formed elbow in '97. Guy Garvey, Mark Potter, Craig Potter, Richard Jupp, Pete Turner have done things their own way - commercial success has followed them: all 6 of their studio albums have made the top 40, 'Seldom Seen Kid' winning the Mercury Music Prize. 2011's 'Build a Rocket Boys!' made 2 in the album charts, in 2012 we couldn't get away from them - 'One Day Like This' was the BBC theme for the London 2012 Olympics and their newbie 'The Take Off and Handling of Everything' has made Number 1. New single 'New York Morning' is out now.
Influences permeate their music, early Genesis, and the stuff we all grew up with and were inspired by - the legendary (if undervalued in their heyday) Talk Talk and prog-rock alternates Radiohead. elbow's music permeates our lives - I suggest there's not a day goes by when a soundtrack to a TV program doesn't contact an interlude of elbow.
To mark their return with a new album - why not do a release in the way that you love to? The pre-release of the album was available to hear across the UK in a brewery chain of pubs. Sit down. Listen and drink a pint of
Marston's Charge
(named after a track on the new album) - a golden pale ale that elbow created - in Garvey's words - "a perfect accompaniment to the album."
This Birmingham gig is the first date of their 7 date UK tour, before a trip to the States and returning for Festival season - which includes T in the Park and V'and the recently announced Glastonbury.
Sooo - supports tonight comes from Doves member (Doves on hiatus, they haven't split, they're just doing their own things) and Garvey friend,
Jimi Goodwin
- who's taking his own personal journey by going solo. He's just released his solo album 'Odludek' - a deeply personal effort. The title means loner or pilgrim in Polish and is where he's at at the moment. Goodwin can't wait: "I feel like I've been in hibernation, and now I'm emerging out in to the sunlight again, and it feels great." As he takes to the stage - one or two of tonight's punters shout "Com'on Jimi…" "How are we Birmingham?" - he explains he's nervous and will be waffling. Goodwin's new stuff is indie rising sounds, with a positive vibe that roll on and on. 'Live Like A River' pumps along full of indieness. The increasing crowd are enjoying his set. "Are you all well? Are you psyched up for elbow? It's going to be magical...it's gonna be beautiful…" as he leads us into 'Whiskey' an uplifting track, featuring acoustic guitars and harmonicas. 'The Panic Room' was written with buddy Garvey - Goodwin's set goes down well. Check his album out - well worth a listen.
So after an interlude we wait - The Cure and PJ Harvey (with her little fishes swimming in the river) plays out, and dry ice permeates the stage as the LG Arena fills to capacity.
Lights go down and here they come. Garvey waves to the audience - the set includes a ramp that goes into the middle of the crowd - dropping to floor level and then stepping up to a platform. Garvey is there waving to the crowd as the synth chug starts up with
"I am electric. With a bottle in me…."
beautifully delivered …
"Hey!"
- it's new track "Charge.' elbow are here tonight with a simple stage set; the band set up as if they were in a rehearsal studio, just like they're just jamming, huddled closely with strings and brass musicians in support. And hey, they've kinda invited 15,000 friends along.
"Good evening Birmingham - looking beautiful… let's see your hands everyone.." Garvey is engaging - just a 'normal' everyday bloke. We clap, clap, clap: from 'Seldom Seen Kid' - it's the beautifully delivered 'The Bones of You.'
"Some real talent on that side of the stage…" Garvey indicates to the ladies of the strings and brass section… "This is a new song about international air travel, my love of smoking, drinking and the back of women's necks….." as you do: 'Fly Boy Blue.'
There are no superfluous additions to elbow - they've just playing, beautifully. Floating HD screens as a backdrop - video cameras showing the band as they play - and you are mesmerized by the men dressed in black. The arena roof has a line of circular lights - we wonder if they are usually there? Inspired by being powerless to help someone after heartbreak, new track 'Real Life (Angel)' is once again beautifully delivered, floating round the stadia before Garvey is in the middle again - with the haunting and sublime and delectably beautiful 'The Night Will Always Win' - hairs prickle on 15,000 peoples' arms.
"It was good wasn't it?" as Garvey acknowledges the crowds reaction. He's gossiping with the audience - like we're a bunch of mates he's chatting with in the pub. And to a tale about moisturizer (!) There's no airs or graces. elbow just are. As we're taken on their journey into new single 'New York Morning.'
"Cheers." As we sway our arms from side to side; as atmosphere takes over the entire arena and a beautiful rising rendition of 'The Loneliness of a Tower Crane Driver.' Garvey is chatting again - he'd be a great comedian in his own right. elbow have been having children. Well a couple of them have, and even though it's the first night of the tour - they're already being missed - we're invited to say hi to Ted Turner and Nancy Potter - the crowd shout out the names - Garvey suggests they should be turned into ringtones on their father's phones…
So in the centre on the ramp, there's a piano and Turner, Potter and Garvey are playing a song about a secret wedding - where even the bride didn't know it had taken place 'Great Expectations'; followed by 'The Blanket of Night' - another beautiful track.
"Everyone okay? I feel like we're on a first date Birmingham?" Garvey enquires as to whether there is indeed, anyone here on a first date…"Ey - good one. Take her to an elbow gig - they're soft bastards..."
And as the guitar gently chimes in unison with keyboards - a huge mirrorball drops from the top of the main set, to accompany the track of the same name - Garvey encourages us all to raise our arms and wiggle our fingers at the bouncing light. Arms are swaying from side to side. "Look at you, you beautiful creatures." "Yeah I know", he encourages us to respond. "And who said not so bad yourself?"
And now - as we clap - elbow finally rock out, elbow style - with the immense 'The Birds'; the guitar crunch heavier live than on the album - it powers round the stadia - all 8 minutes plus of it. Awesome. And then another, jangly guitar, and then quietly
"Mondays is for drinking to the seldom seen kid…
" before we get the power grind and
"I've been working on a cocktail called "Grounds For Divorce", whoa…"
as we
"whoa"
- we're rocking and dancing - Garvey takes to drums to power the track out. Our jaws are on the floor.
"Last song…." Huge boo from the crowd. "Very last song… the very last…." as Garvey starts to quip: "….we're thinking of f***in' off the tour… this is the last song we're ever gonna play…" (Consults with band). "Nah... it's definitely our last song…" He considers us all old friends - encouraging those first-daters to have a snog. "Bloody 'ell it works!" as we wave our arms from side to side once again - and back to beautiful and sublime elbow with 'My Sad Captains.'
And so to the break for encore (we hope) - crowd are going crazy - desperate for the band to return - the cameras are turned on the audience - people make daft faces and are broadcast for all to see.
Well of curse they didn't mean it - they're back - our arms are once swaying from side to side "...like long grass in a Hawaiian breeze…" as we're presented with the beautiful 'Starlings.'
"Birmingham - is this love?" Big cheer. "Thanks everyone - talk about backing a house that's good for glue - did anyone else win?" - in reference to the Grand National. Elbow's manager did - but everyone refused to pay him! Next track and acknowledgement to support Jimi Goodwin - and a dedication to him - cos the next track is kinda about him 'Lippy Kids.' Garvey whistles and 15,000 people whistle back.
"...build a rocket boys…."
in unison we sing. Really quite beautiful.
"Cheers Birmingham - what an extraordinary evening…" (all 15,000 of us are in agreement). "You are absolutely f***ing lovely Birmingham - you joyous bunch…." "One last order of business…..Glasgow are pretty good at this…" (to which we all boo - after encouragement to get competitive.) "We are elbow from Manchester - goodnight…"
Music affects us in so many ways. And the music we love takes us to a point where we remember, where we feel, smell, touch a memory. And as the violins start up - the hair on our skins reacts - and stands on edge, emotional ties are made - civic pride appears from nowhere - us usually cynical bunch are as one…. "One Day Like This…" and we sing and we smile - it's delivered with immaculate power. And those lights that line the arena - suddenly drop in unison - they're inflatable lighted balls - they bounce round the crowd. And we end this song we're singing louder and louder…
"Throw those curtains wide... One day like this a year would see me right …...Throw those curtains wide...One day like this a year would see me right….."
and even when it ends and the band sign off and we're cheering - Garvey encourages us to sing the chorus again as they leave stage. And all 15,000 of us do.
I see lots of bands. I see good bands. I see great bands. I see really great bands. And very rarely, you see something beyond, even better - head and shoulders above really great. These self-effacing bunch of guys you would merrily hang out with and take a beer with in your local pub, were tonight, up there with the very, very best. Beautiful and sublime - funny - yet all encompassing. One of those gigs you will remember for years. I'm going leave you singing…over and over agin.. with a big broad grin on your face, and that personal pride of being part of something bigger:
"Throw those curtains wide...
One day like this a year would see me right…...
Throw those curtains wide...
One day like this a year would see me right…."
Setlist:
Intro: Slow Moving Water
Charge
The Bones of You
Fly Boy Blue
Real Life (Angel)
The Night Will Always Win
New York Morning
The Loneliness of a Tower Crane Driver
Great Expectations
The Blanket of Night
Mirrorball
The Birds
Grounds for Divorce
My Sad Captains
Encore:
Starlings
Lippy Kids
One Day Like This
Listening:
The Seldom Seen Kid [2010]
Build a Rocket Boys! [2011]
Take Off and Landing of Everything [2014]
Therapy? + Lonely the Brave at the Wulfrun Hall, Wolverhampton, UK - 4th April 2014
Gig review by
Zyllah Moranne-Brown
with photography by
Ken Harrison
Here at Gig Junkies we're busy, busy, busy and this weekend is the first of three over three days for this little team - as we cover bands from across the UK. First gig of the weekend comes from the Emerald Isles courtesy of a Northern Irish alternative metal band, who according to their website have been 'helping the afflicted since 1990.' They are here to bring us their most successful and very possibly legendary album, celebrating it's twentieth anniversary release - 'Troublegum' - we, the afflicted are here for a bit of
Therapy?
Therapy? hail from Larne in Northern Ireland. Formed in '89, line-up consists of guitarist and lead singer Andy Cairns, bass player Michael 'Evil Priest' McKeegan and thundergod Neil Cooper. While Therapy? may no longer touch the commercial world of the charts these days - they've continued to record and tour on a regular basis and throughout their career have sold over 2 million albums. Inspired by metal stalwarts Metallica - it was '93's 'Shortsharpshock' EP which brought Therapy? to our attention. The following year came 'Troublegum'. Award winning, it's 20 and to celebrate comes this UK mini tour along with the prerequisite reissues. As for the ? In their name. A design quirk - a space filler when Cairns was Letrasetting (back in the days when artwork was done by hand) the band's first record sleeve.
So for tonight's gig we're promised the album in full with additional smatterings of 'B' Sides and songs from their early Eps: 'Shortsharpshock', 'Face the Strange' and 'Opal Mantra'.
Support tonight comes from
Lonely The Brave.
Hailing from Cambridge, they are "...four men trying to be someone..." These four men being Gavin Edgeley (drums), Mark Trotter (guitar), Andrew Bushen (bass) and David Jakes (who sings). Rock Sound believe they could be the biggest band on the planet, the NME say their name will be up in lights, whether they like it or not. Kerrang! think they're phenomenal. No pressure then. The tour PR have told us to take a look they're so good. So here we are early and waiting with eager anticipation. LTB are polite, but musically are metal with rising, rhythmic melodies - there is indeed something fresh about them - something different. Energetic, powerful, indie metal, singer Jakes has an uncomfortable edge about him, singing sideways from the audience - hands clasped in front of him. For the audience who knew little to start of with buy the end of their set - they get a good response - there is definitely something addictive here - and worth checking out their album and seeing them live if you get the opportunity. These new upstarts have a new album 'The Days War' due out on 2
nd
June 2014 and are supporting Therapy? throughout this mini-tour.
Tonight's Wulfrun Hall is getting pretty full, a lot of metal-heads are here - T-shirts a-blazed with Judas Priest, Van Halen, Machine Head, NIN. The set is well lit - with a simple vinyl backdrop of the Therapy? logo - large and obvious and in your face. Big cheer as the lights go down, as a voice gives a long introduction…. "...this is Therapy?"
To violins as the guys take up their instrument, and we're off - loud and bangy - metal in full flow - it's 'Knives' which receives a huge cheer. Then get frenetic, run like a million miles an hour - shout: "I've got nothing to do but get screwed up on you…" - 'Screamager'.
"Hello Wolverhampton". This Northern Irish Men in Black make a HELL OF A LOT OF NOISE sound for just three of them. And they are clearing enjoying it - McKeegan spins in circles - as he delivers 'Hellbelly.' - "F***ing brilliant Wolverhampton - lovely to be back - we do appreciate it…." he tells the equally appreciative crowd. "Let's make some f***ing noise tonight…" as the punters are encouraged to clap - 'Stop It You're Killing Me' before the with the Pistol's 'Pretty Vacant' inspired intro - we're into 'Nowhere.'
A brief interlude to catch our breath, Cairns acknowledges Kurt Cobain (who killed himself 20 years ago today), legendary Thin Lizzie vocalist Phil Lynott, and the maverick statesman and MP Tony Benn - as we 'Die Laughing': "I think I'm going insane, I can't remember my own name…" and as the song completes the crowd chant back - "Can't remember…..can't remember…. Can't remember…"
An intro to the 'Evil Priest' (aka McKeegan) as we cross our arms in the air to acknowledge THE ONE, as we continue our journey through the album with 'Unbeliever'. Cairns asks if anyone was here in 1994 when the album was released. A few cheers go up and we're frenetic once again: "Trigger Inside" which indeed is "… one in the eye for the beautiful people…."
For the next one we only need to sing one word - "Christ!" - which indeed we do - (and probably the rest of the lyrics) but we're happy to should this one in particular, with venom and spleen - 'Lunancy Booth' - probably the best delivered track of the night.
'Isolation' we bounce: this is a great nostalgia trip for metal heads. It's heavy and frenetic - and makes you remember what a class album 'Troublegum' was. 'Turn' delivers, 'Femtex' gets a intro to outlaw domestic violence: "Time to f***ing stop it.." with a derogatory comment about the Police. This is thrash Metallica inspired - almost 'One'-like. This part of the set is completed with 'Unrequited' and 'Chainsaw' - what an album.
Quick break - the next part of the set gives us E.P.s and B-Sides - of 'Evil Elvis', 'Misery', 'Opal Mantra' and Priest's 'Breaking The Law….'
So what have we learnt from tonight's metal gig. Lonely The Brave live up to the plaudits - and will be interesting to watch out for. Whether the Metal Gods with shine their little ray of light and give them the break, or whether they will do it the hard way - gig after gig after gig after gig (see Twin Atlantic for this recent journey) - only time will tell. Listen out in June - check out their album.
As for Therapy? When 'Troublegum' was released indie music had tuned cool (or uncool) depending on your point of view and given us Britpop, Seattle music kicked back against the mainstream and went cool (or uncool) and few bands toured as there was no money in it. There also was few decent sized venues in the Midlands - around this time only the Civic was around. As grunge grew then faded, and Cobain sadly demised Therapy? issued 'Troublegum.' Angry, manic, 3 minute pop-twisted, metal inflicted classic. We've all brought albums (back in the day I guess) - and with most, there was always a couple of stand outs tracks - you got bored with the rest. 'Troublegum' gave us it all and then some from from start to finish - tonight everyone knew all the words, to EVERY song. Cheers Therapy? - you may not have conquered our affliction, maybe contributed to it - but you've certainly encouraged us to dig through the cobwebs and dust and find that album of your. Don't stop it - you've not killed us quite yet.
Lonely The Brave Setlist
Black Saucers
Victory Line
Trick of the Light
Bass Start
Deserter
Backroads
Call of Horses
Therapy? Setlist:
Troublegum:
Knives
Screamager
Hellbelly
Stop It You're Killing Me
Nowhere
Die Laughing
Unbeliever
Trigger Inside
Lunacy Booth
Isolation
Turn
Femtex
Unrequited
Brainsaw
[You Are By Sunshine]
B Sides, EPS and additional songs
Evil Elvis
Auto Surgery
Misery
Pantopon Rose
Totally Random Man
Speedball
Bloody Blue
Accelerator
Opal Mantra
Breaking The Law [Judas Priest]
Potato Junkie
Runrig at The Symphony Hall, Birmingham, UK - 29th March 2014
Gig review by
Zyllah Moranne-Brown
with photography by
Ken Harrison
Spring is nearly here and it's finally warming up - so tonight to the delectable Symphony Hall and to see a band who, to be honest, I don't know too much about. Off the back of several large open-air, events held across Europe during 2013 at venues such as Edinburgh Castle, and culminating last August at Party On The Moor,
Runrig
come to Birmingham to celebrate their 40
th
anniversary with us.
So to a quick potted history. Formed in '73 as the Run-Rig Dance Band they mooted their wears around the clubs and societies playing Gaelic folk. This early incarnation played fundraisers for various things like the "….shoot fish sheep shearers association..." and as a trade for playing, from the local ladies backstage, came piles of sandwiches and cakes. Up 'til '78 is was very much a part time / student venture before they took the plunge and issued their music through their own independent label. With line-up changes it was '87 before they gained their breakthrough 'moment': tours of Canada, a festival behind the Iron Curtain in East Berlin and support to the newly crowned heroes of rock - U2. The same year they finally signed to a major label. 'The Big Wheel' charted reached number 4 in the UK Charts, 'Amazing Things' did even better reaching number 2 - and open air concerts such as the one at Loch Lomond beckoned; such gigs have since become annual outing of the band. In 1997, original lead singer Donnie Munro departed for politics and was replaced with Canadian Bruce Guthro. After successfully continuing and gaining more success across Europe and the US and Canada, they took a hiatus, before in 2013 they performed at several large open-air, anniversary events held across Europe, culminating at 'Party on the Moor' - tonight's gig is inspired by this event to celebrate their 40
years in the music business.
One poignant fact about Runrig. Their song, 'Running to the Light 'was chosen as the wake up call on the final morning of the ill-fated Columbia Space Mission by astronaut fan, Laurel Clark. Very little survived the tragedy but amongst the wreckage, scattered across Southern America was Laurel Clark's Runrig CD. It was recovered intact from a field in Texas, and presented to the band by Laurel's husband and son at a memorable night in Glasgow City Chambers later the same year.
Runrig of 2014 are brothers and founding members Rory and Calum Macdonald, Malcolm Jones (34 years Runrig service), Iain Bayne (31), vocalist Brian Guthro (who joined in '97) and Brian Hurren on keyboards who came to play and stayed in 2001.
Tonight's gig at Symphony Hall is pretty much sold out. The instrument covered stage is being covered by a carpet of dry ice . We are promised that tonight's set is in two halves - an hour then 20 minute break and then around an hour an a half. Runrig are due on stage at 7.45pm. The crowd is a real mix tonight; including some little people have been brought along by parents. As the lights go down, people cheer. An old fashioned radio appears on the screen, broadcasting the shipping forecast; then differing tracks and the clapping starts as people recognise the tunes and melodies being issued. Runrig take to stage and bow to a huge cheer - people clapping in time to musical intro. The band haven't even haven't even started yet and they are getting a huge response!
Jones starts up the tune on his guitar and first track 'Road Trip'; folk with a guitar twist as the lyrics float across the screen to the chorus.
'Everything you need, is everything you see.'
Guthro wishes us hello and asks if we're up for a good night tonight. The answer is already yes - the audience are here to enjoy and party - as we're taken into 'City of Lights.' Guthro is chatty and funny as he explains it's Runrig's 40
th
anniversary and that he doesn't reckon there's any one here from '73 - they'll be way too long in the tooth... (although a few cheers do indeed go up). 'Big Sky' is more whimsical as it starts before rising into a Pink Floyd inspired prog-rock Gaelic epic that rolls on for at least 10 minutes - while 'Maymorning' is rock meets 'Tubular Bells' with folk vibes. And as the drumbeat rises the audience are on their feet and clapping away.
Guthro: "So here we are in Birmingham on Saturday night. You're famous for Black Sabbath….Duran Duran…..not because of your football team! You are a Birmingham Runrig whiskey drinking crowd…" We cheer and sing along as the band go into 'The Locomotion'. "Enjoying your spring weather - feels like the beginning of summer to me…" (Guthro is from Nova Scotia, Canada) "...30 cm of show on east coast - thank god I brought the wife a shovel before I left…" before we're back into the rock Gaelic vibes with 'Dance Called America.'
'Siol Ghoraidh' is a flag-bearing Gaelic anthem, with a core rhythm that beats out. 'The Engine Room' sees guitarist Jones playing what appears to be electronic bag-pipes ( a stick like instrument with no bag!) before drums and percussion come in: Runrig take traditional folk and crank up the volume.
"So 40 years - happy birthday to us!" A comment that the founding brothers only look 35 - "Memories are good ones - the songs are for you…" as 'Book of Golden Stories' features historic pictures, tickets and reviews from their career on the screen behind the band. Before the last song of their first set, clearly something they're not used to, this split set - "…. Two sets and a break …. no idea what we'll do back stage, maybe hook up to oxygen masks or adjust makeup…" before they embark on 'Every River' and the crowd sing back, the band quiet so they can hear us - with a kinda U2 'With or Without you' vibe.
What a great first set, we're buzzing as we pop out for a quick beverage.
And so for Set 2, onto a darkened stage, Guthro appears with acoustic guitar to play us 'In Search of Angels' before being joined partway through by guitarist brother MacDonald and Hurren on keyboards.
MacDonald explains, tongue in cheek, that the first half took so much out of them they're going to sit for the second set - as 5 of the 6 piece take to their seats, percussionist MacDonald and drummer Bayne sitting on boxes, which become beat boxes as Runrig take us into the Gaelic 'Tir a Mhurain' ; the other members joining in on zither, accordion and acoustic guitar. Guthro rejoins his band's little Kayleigh quipping about the Scottish referendum "… whole border lined up with tanks - guys with face half painted in blue…" and him, being Canadian, will play the U.N (United Nations) role. Runrig are, apparently, one big happy family, sound guy is from Denmark, the light man is English (as said light man promptly switches all the lights off!)
'Dust' is a traditional Gaelic jig, followed by the rhythm section of the band gaining individual drums of varying sizes and lining up at the front to beat their hearts out. A drum solo (quartet) with a difference - Runrig drummer Bayne get's a swig of beer, personally brought onto the stage courtesy of Guthro, during the middle of this drumming escapade, as they continue to drum out with rhythms of varying beats and power.
And then to another historic video. "In the beginning… 1973…" and we're on their journey once again, before "2001- ". The band are back in their places we're back to the full on Gaelic rock with 'Rocket to the Moon' - before the haunting romp that is 'Alba.''Pride of the Summer' gives us full Gaelic pride - quite literally; ' Skye' with Big Country vibes, lilts out into a prog-rock epic - guitarist Jones goes Floyd before cranking it up - I almost feel I'm at a Who gig. 'Going Home' is the culmination for the second set; a ballad crossed between country and folk.
But it's not over - encore now as Guthro, solo, takes us into 'Hearts of Olden Glory' - his powerful Canadian voice ranging throughout the auditorium. The words are on the screen and he encourages us to sing. Quite beautiful as the Hall carries our 3,000 voices and, as Guthro sings over our words to accompany us, is one of those moments when the hackles go up on the back of your neck...
'On the Edge' takes us back to Gaelic prog-rock as we go all Pink Floyd and The Who, before a-stomping country, folk mix that is 'Clash of The Ash' - as we dance and sing to the words on the screen ' Come On...Allright…" (two 'L's I know!)
'Loch Lomond' Runrig style, their charity single from 2007 for Children In Need - the drumbeat dictates we should clap - so we all do. Clap clap. Clap. Clap clap. Clap. This version is beefed up and powerful - wave your arms in the air and sway them from side to side before back to ... Clap. Clap clap. Before the audience sing 'solo'. I've never seen so much Scottish patriotism in Birmingham...
And to complete the night - 'And We'll Sing' is a new track and completes the set; the band members at the front of the stage akin with drums and accordions and acoustic guitars - right back to Runrig's basics…
Wow. I'd heard of Runrig but they hadn't quite ever hit my musical radar. And so an opportunity to see them was indeed something to take opportunity of. But even in the early part of the first set I wondered, how the hell did I miss these guys? Did they appear over the years in a different universe? Because Runrig are talented. Runrig live - I have to say, are pretty epic. Heavy at times, prog-rock, pure folk and more and yet beautifully celtic, clearly over the past 40 years they have taken a truly alternative musical journey. A total of two and a half hour set - we danced, we clapped, we sang our little hearts out. And we left with huge grins on our faces.
If you get they opportunity - Runrig are not to be missed. Tonight's 2 and a half hour epic was just £27.50 a ticket. If you get a chance - go literally party with Runrig. Their 'Party on The Moor' gig was defined as one of the best Runrig gigs ever. Thank you for bringing it to Birmingham tonight. What an epic blast.
First Set:
Road Trip
City of Lights
Big Sky
Maymorning
Dance Called America
Siol Ghoraidh
The Engine Room
Book of Golden Stories
Every River
Second Set:
In Search of Angels
Tir a Mhurain
Dust
An Sabhal Aig Neill
[Drums]
Rocket to the Moon
Alba
Pride of the Summer
Skye
Going Home
Encore:
Hearts of Olden Glory
On the Edge
Clash of the Ash
Loch Lomond
And We'll Sing
ABC Perform The Lexicon of Love at The Symphony Hall, Birmingham, UK - 28th March 2014
Gig Review by
Daron Billings
with Gig Photography by
Ken Harrison
Ahhhhh the 80s...was there ever a better era in pop? Nope, I don't think there was. Take 1982 for instance, the year that
ABC's
The Lexicon Of Love was originally issued. Number one singles included (deep breath) Don't You Want Me (The Human League), The Model (Kraftwerk), Town Called Malice (The Jam), House of Fun (Madness), Come On Eileen (Dexys Midnight Runners), Eye Of The Tiger (Survivor), Pass The Dutchie (Musical Youth) and Do You Really Want To Hurt Me (Culture Club). Seriously...now that's what I call (pop) music. Incidentally (and somewhat incredibly) ABC's The Look Of Love was only the 32nd highest selling single that year, sandwiched between OMD's Maid of Orleans and...er...Chas and Dave's Ain't No Pleasing You.
When The Lexicon Of Love album was first released one of the things that really made it stand out at the time was its lush string and brass arrangements (okay so maybe some of them were digitally generated/enhanced but they sounded good). Even 30 odd years later it still sounds great, one of the most perfect packages of 'grown up' pop ever produced regularly featuring in those 'best albums of all time' lists. Bear in mind that the band's lead singer and songwriter Martin Fry was barely older than Harry Styles when he wrote this stuff and it's even more remarkable. Of course properly recreating this sound on stage requires an orchestra, which ain't cheap, so it's hardly surprising that it wasn't attempted until 2009 (when presumably the older, wealthier fans could afford such luxuries). Fast forward a few years and ABC (only Martin Fry remains from the original line up) are taking the show on the road for three all too rare UK dates kicking off with
Birmingham's Symphony Hall
.
Anyone merely expecting a run through the album was in for a pleasant surprise though as the entire first half of the show was given over to some of the band's other songs and, pleasingly, a couple of new songs too. After the band and orchestra had taken to the stage Anne Dudley (the genius behind the album's original orchestration) entered stage right, took a bow and led the assembled throng (50 or so people) in a lush medley of classic ABC hits. 'OMG' as the kids might say (okay so there weren't many under 40s here tonight but I'm down with 'dem yoot'). There's something about an orchestra that gets to you, embracing you in a way that few other genres manage, especially in such a sonically perfect setting as Symphony Hall. Add the inevitable nostalgia that comes with hearing the music that soundtracked your childhood and it's a strangely emotional moment. Thankfully before I dissolved into a sobbing mass Martin Fry, looking remarkably dapper in a three piece suit (sadly not the gold lamé one), breezed onto the stage and launched into a silky smooth version of When Smokie Sings. It's perfection. The band (guitar, bass, drums, keyboards, bongos and two sublimely soulful backing singers) and orchestra combine to produce one of the richest sounds it's ever been my pleasure to hear, elevating the pop of my youth to heavenly new heights. Orchestral-gasmic. I could write a decent dissertation on the highlights of Act I but for the sake of brevity I'll limit it to one of the new tracks, 10 Below Zero, a mellow mix of Dusty Springfield soul and Barry White's Love Unlimited Orchestra, Ocean Blue, How To A Millionaire (so much better this evening than the recorded version) and a heartbreakingly beautiful Be Near Me. In between Fry managed to tread the fine line between getting the crowd going and straying into holiday camp territory (you know the kind of thing..."Let's see those hands in the air..."), reminiscing about his first Birmingham gig at a club called Holy City Zoo when he and the band played to 24 people (by a strange quirk of fate we were actually sat next to one of those 24!).
That was just the first half. After a 20 minute break it was on to the main event (although strangely I almost preferred the excitement of not knowing what was next during the first part of the show). From the lushly symphonic overture preceding the album's first track Show Me hundreds of 40-somethings were instantly propelled back a decade or three to their bedrooms, walls adorned with posters torn from Smash Hits and, if they were lucky, a Sony Walkman permanently glued to their ears. It's met with a huge whoop from the crowd who go three shades of mental with the next track Poison Arrow, a mass clap along threatening to almost drown out the orchestra at one point. It's classy, sophisticated, soulful pop that's stood the test of time so much better than some of its early 80s counterparts and Anne Dudley's subtle refinements add an extra fresh zing. Taking a breather Fry recounted a story about recording the album. Apparently Bowie popped in to the studios one day on his way to see Tony Visconti and had a natter with the band...except for Martin who'd popped out to get a sandwich. By the time he'd got back the Diamond Dog had gone. Gutted? Who wouldn't be? Appropriately enough the next track said it all...Tears Are Not Enough. Awww bless.
By the time we get to Look Of Love (sax, drums and pop 'n' soul) pretty much everyone's on their feet and singing/dancing along and who can blame them. Of all tonight's tracks it's the one that benefits the most from having a full orchestra on tap, conjuring up a sound that's a rich as a deep fried truffle and foie gras sandwich. If heaven has a nightclub this'll be on the playlist. It went down so well in fact they played it twice...no, make that three times. Unable the manage the traditional band off/band on again routine (50 people and their instruments can't really dash off easily) the orchestra remained seated. Dudley returned to the stage, theatrically shhhh-ing the crowd with a wink before leading an even lusher instrumental version before Fry joined them on a set closing third performance.
After Heaven 17's slightly slack showing at the Town Hall recently tonight was a masterclass in not only revisiting your past glories but topping 'em. It was, it has to said, some-string truly special…
The Stranglers + Nine Below Zero at the O2 Academy, Birmingham, UK - 22nd March 2014
Gig review by
Zyllah Moranne-Brown
with photography by
Ken Harrison
My calendar was set for this 12 months ago even before the dates were announced. Like clockwork this is a annual night out that's almost set in stone. And this time it's a tad special. With a glint of ruby, this band are celebrating 40 years in the business. There can be few as resilient and as enduring, with a back catalogue to die for, than what these icons of the alternative possess. With a true stubbornness to call it quits, we're here to see one of the UK's most enduring bands -
The Stranglers.
The fans tonight are keen and up for a party, quite rightly, as we wait for the support to come on.
Nine Below Zero
are an English blues band formed in '77. Dennis Greaves, Brendan O'Neil, Mark Feltham (also a member of Rory Gallagher's band) and Brian Bethel (part of the Blow Monkeys) were a popular alternative to the mainstream in the early 80s. And since they've achieved cult like status across Europe since. "Oy stop your nagging will ya!" as they go into a rimp-romping blues riff by the same name. With cover a cover from the legend that is Wilko Johnson, NBZ give us total rhythm and blues with harmonica in tow. 'Three times is enough' takes us back to ska / early Madness - NBZ are great fun and hugely slick. "We've only been in the business 35 years! Mark's mom asked him if we were on the tour with the Strangles! If they're the Strangles, we're Nine Below Under..." A cover of Canned Heat's 'On the Road Again' get's us boogying, before "Let's have a go at one we did as kids…" as they go into '11 + 11.' They tell us they'll be back in Brum later in the year - check them out - they're well worth a punt as they finish their set with a harmonica-blues, hornpipe-like, rip-roaring edition of 'Riding on the N+L.'
Academy is packed tonight; the lads still pull in a large crowd and we're here to party. While we wait in good spirits, the partisan Brum crowd sing along to ELO's 'Mr Blue Sky'...
Formed in '74 by founding members Jean Jaques (J.J.) Burnel, Jet Black and Hugh Cornwell, Dave Greenfield joined them within a year. A series of successful punk hits, then embracing a more commercial yet unique sound during the eighties, The Stranglers became a regular not only in the charts, but on the touring scene. Cornwell left in '90, they uncompromisingly replaced him with Paul Roberts. Then 14 years ago, Roberts left and still not in a mind for calling it a day, The Stranglers duly replaced him with vocalist and guitarist Baz Warne who fits in so well, that you'd think he'd been here for the full forty years. The incredible Jet Black, is still here, still drumming away at 75, but now sharing the role with touring drummer and 'youngster' Jim Macauly. On stage there be two drum kits, side by side.
The lights go down and we get THE classic Stranglers intro 'Waltzinblack' which morphs into chains clunking and doors slamming shut. To a huge cheer from the crowd, the original Men in Black set off as they mean to go on with 'London Lady'; J.J. taking vocal duties, before THAT bass riff and we're into 'No More Heroes.' Already we're all singing our hearts out; song completes to a huge cheer. As the reddened set fades to blue it's 'Coup de Grace…' which fades into the in your face 'Was It You?' - J.J. back on vocals.
Warne: "Good evening Birmingham how the f*** are you? Thank you for coming to our fortieth - we'll just keep on going shall we?" Yet another big cheer - a hallmark of the evening. 'Threatened' is just part of a set that covers every genre they've ever dabbled in - from the sublime to in your face punk - as J.J. gives it his all on 'Somat Outanowt.' I've said it before and I'll say it again, J.J. is one of the best bass players you'll ever see - the rhythm section of the band in such synch, it seems effortless. 'Still Life' maybe the more beautiful side, before another another classic J.J.bass riff and they're walking on the beaches, looking at the 'Peaches' to yet another huge cheer.
Warne has acoustic guitar now as they deliver 'Midnight Summer Dream'. The crowd chant in unison "Jet Black, Jet Black, Jet Black…." and he is indeed here to take his place, before they deliver The Stranglers at their most beautiful 'Golden Brown.' We love it - cheers for Warne as he takes to the front on the stage and we sing. We cheer. Again. Pure class.
The broad grins from the band tell you exactly why, after 40 years, they're still doing this. It may be a bitterly cold near spring night outside but in here it's 'Always the Sun' and we sing the chorus loudly. The chanting goes up again…. "Jet Black, Jet Black, Jet Black…." as the band roll into 'Genetix.' Warne introduces Black as he takes his leave and Brum boy and touring drummer Macauly takes his place. Warne: "And for people of a certain age - that be all us really - it's physical time…" And as the beat goes on Warne and J.J. stomp across the stage, linking arms to pirouette before they're into 'Thrown Away.' The band are so tight, Warne so fully synched into the band live that you would never think they'd been others in his place.
The punky 'Nuclear Device' leads to another classic - 'Skin Deep' - which we bop along and sing along before the customary huge cheer. Birds squawk - we're now in.... bang! to 'Valley of the Birds.' And from drums, to beat, guitar, then bass - giddy-up it's 'Nice n' Sleazy.'
Warne: "Dya mind if we have a break - we've just done 10 songs without a break…" We know how you feel, we're standing, dancing, some seated and we feel kinda guilty; if the band can deliver like this after forty years we're not going to complain about any aches and pains we may have. "... and we're getting old! What's that?" Warne asks a audience member - to a confused response "You've had one too many sandwiches my friend…"
Then into 'Walk On By' the band jam away, effortlessly in perfect musical harmony, making it look so easy. On and on and on and on.… A moment to chill, as the waves wash over us and then crank up into 'Freedom is Insane.' Catch your breath, here we go for the crescendo; 'Duchess' which we complete with "God forbid!", then 'Five Minutes' and the the main set completed with 'Hanging Around.'
Wow. After a frenetic 1 hour 45 we all, let alone the band, finally get a break. The encore doesn't let up the pace at all. Warne: "You lucky devils - you enjoying yourselves?" As we power into 'Norfolk Coast', followed by 'Something Better Change', we chant back, before a drum solo and J.J. shouts the line to bring it to a full stop. Final song gets us singing again- 'All Day and All of the Night'. We're loving it. As the band depart: but it's not over, they're not done yet. Quick break and it's 'Tank' complete with a shirtless (and still very fit) J.J. plus a stage invader.
Warne completes the night with a huge grin and "Thank you very much. Goodnight."
Wow.Probably the best I've seen them and that's saying something; The Stranglers are always standout. Over a two hour set - The Stranglers remain one hell of a class act, slick and professional yet still remain uncompromising, at times beautiful whilst at other moments in your face. And they still clearly love what they do. After all these years. They played 31 songs and I can still count a long list of the tracks they didn't play. This is part of a 22 date UK tour - Bristol and Manchester are, quite rightly, sold out. Then 15 dates in Europe and they're back over the summer for festivals - including V in August. Go check them out - you won't be disappointed. Their annual Birmingham date is in my diary already for next year for when the Men in Black return...
Tonight, at times, my thoughts went to a friend; a long term Stranglers fan. He was diagnosed with the big C and over the past few years, no matter how difficult, he'd made the annual trip to see them - and loved every single minute. He didn't make this 40
th
gig - a life cut short way too early. I believe he was here in spirit, with a grin as broad as each band member as The Stranglers delivered their classics in all their glory tonight.
And so to finish this review with words from J.J. Burnel himself:
"On this, the occasion of our Ruby Anniversary, I would like to take this opportunity to stick my fingers up to everyone who wrote us off and dismissed us. However I would like to thank those who saw beyond the words of the critics and drew their own conclusions. He who laughs last, laughs longest AND loudest. This year we will make a lot of noise with our friends…"
Setlist:
Intro - Waltzinblack
London Lady
No More Heroes
Coup de Grace
Was It You?
Threatened
Somat Outanowt
Peasant in the Big Shitty
Still Life
Peaches
Midnight Summer Dream
Golden Brown
Always the Sun
Genetix
Thrown Away
Never Look Back
Nuclear Device
Skin Deep
Time to Die
Lowlands
Valley of the Birds
Nice n' Sleazy
Walk On By
Freedom is Insane
Duchess
Five Minutes
Hanging Around
Encore I:
Norfolk Coast
Something Better Change
All Day and All of the Night
Encore II:
Tank
Ides of March Ft. Eurasianeyes, KirA, Sinestar, DeviantUK and Among the Echoes at The Flapper, Birmingham, UK - 15th March 2014
Gig review and photography by
Ken Harrison
It's Saturday 15th March, and downstairs in
the Flapper
, it's a sell out crowd, with an assembled audience from across the UK (and Sweden too!) for the "Ides of March" event (Beware of Julius Caesar references…) organised by Synthetic City Promotions (i.e. Ian Wall/Johnny Normal) with appearances by 5 electronic artists from around the country.
Eurasianeyes, KirA, Sinestar, DeviantUK and Among the Echoes.
The line up has changed from that originally advertised, with Johnny Normal (one of the organisers, along with Ian Wall of Among the Echoes) having to pull out following illness. KirA have stepped into the breach, and DeviantUK (who were guesting with Johnny Normal) now have a slot in their own right. Also succumbing to the curse of the Ides of March, is the original MC for the evening Phil Marsh aka Flip Martian, Radio Happy DJ (along with Johnny Normal, where many of the bands performing are getting airplay) now replaced by Dave Charles, Harborough FM DJ and champion of all things electro with warm-up DJ for the evening, Rob Harvey, of Phoenix FM
Eurasianeyes
Eurasianeyes is Mel Bell and Paul Russell a synth duo from Sunderland formed in 2012. Although the band have released material, this gig is in fact their first live appearance. Their Facebook page describes them as: "Heavily influenced by the likes of Ultravox, Gary Numan and Depeche' Mode to name a few, Eurasianeyes have developed their own take on what they believe is classic synth music. A mixture of synth arpeggio's, electronic bass lines and strong melodies together with powerful vocals have been key to the development of their debut EP "Silent Cries" and their debut single "Far Off Land".
Following an introduction by Dave Charles, the band start up to plenty of encouraging cheers from the audience, willing them on. The band play a short set of their own material opening with "Afterworld" which has a very "Love will Tear Us Apart" synth part running through and then "Silent Cries" and a cover of PJ Proby's "She Cried" which grinds to a halt part way through due to a glitch… apparently unfazed by this, the band restart and carry on with their set to much merriment all round. Perhaps due to a combination of nerves or the stage lighting and Russell is mopping the sweat from his brow through the latter part of the short set. The band have some good synth tunes and are now starting to explore the live performance side with more gigs in the offing.
KirA
KirA is a male and female synth duo from Somerset, with a style ranging from Ambient to Dance. Described as "…an electronic/synth based duo creating beautifully moody electronica ranging from ambient to dance. Fronted by Kira with her soft, yet seductively alluring vocal style, the act is backed by emotive string arrangements and rich analogue tones. KirA draws on its musical influences... from the likes of Japan and David Bowie to Massive Attack and the Boards of Canada. They marry this range of styles with old and new production techniques to create their unique soundscape."
Kira appears on stage with a projection screen upon which various graphics are projected through the show playing a number of tracks from their current album. She has a soft sweet often breathy singing voice which suits the more ambient style of music played. I think a few of the male members of the audience were captivated by her bright blue eyes as well as the vocals. Check out "Stars" for a good techno vibe. KirA will be appearing at the ElectroVault event in Berkshire on June 7th and has contributed to the forthcoming Bluetown Electronica release "Is it Time Yet ?" due out on April 4th. Their current album "Spark of Curiosity" is available via Bandcamp
Sinestar
Comprising Mark Trueman (Keys and programming), Iain Brownlie (Vox and guitar), Matt Mohangee (Drums), James Skuse (Bass), this Bristol based band formed in 2011 but in a short space of time have garnered quite a following and seem to be the popular choice for a number of the audience. Their website quotes: "…Sinestar's sound fuses 80's synth-led sounds with the soaring vocals and harmonies of modern day Muse, with some dance inspired grooves thrown in for good measure. The band take their influences from many different genres and styles from the past five decades to create a sound which is uniquely and unmistakably their own."
The band have released two EP's "I Am The Rain" in 2012 and "Hope and Prey" last year, with their debut album "Singularis" released at the end of 2013 and play a number of tracks from their album. "Locked from the Inside" and "I am The Rain" were particular highlights with Brownlie's voice clear and powerful on all the tracks played.
DeviantUK
"We've seen the light: Its Black" gives you a pretty good taster for the short, sharp, deep black, shock that is DeviantUK, or more particularly tonight Jay Smith on vocals with partner Cheryl MissDespotic on keyboards for their brief, but captivating 3 song set.
"Since materialising in Manchester in 2004, Jay Smith's Deviant UK has established itself as a force to be reckoned with on the European Dark Alternative scene. The long-awaited debut album 'Barbed Wire Star' was released in September 2006, spawning the anthemic club hits 'Raptured Saints' and 'Access Denied!'. Their unique sound is powerful, distinctive and instantly accessible."
Jay moves around the stage with a wild-eyed maniacal expression, and has a very powerful voice, often "Numanlike" and could easily have blown the roof off the venue. The sound guy did a good job in controlling the sound for this one. Cheryl on keyboards struck an imposing figure even from behind the keyboards at the rear of the stage, with flame red hair catching the eye on the otherwise very dark stage.
Deviant UK will be back at The Flapper later this year for "Digital Darkness" on October 25th. Do Not Miss This Show!
Among the Echoes
The final act for the night are Birmingham based Among The Echoes, "serving electronica and industrial rock music", more electronica on the darker side by: Ian Wall (Vocals), Steve Turrell (Synth's) and Sam Wale (Guitar and Programming).
The band released debut EP 'Freak' in April 2013, followed by 'Midnight' EP in August 2013 , with "Sin" released the following month and are currently working on an album entitled 'Fracture" for release, at some point during August, subject to a 'Kickstarter" campaign to secure funds for its production.
The band have played a number of gigs locally and are establishing themselves as a good live act. They have supported Toyah, and others and are integral to the Synthetic City events started in 2013. They will be supporting 80's band "B-Movie" at The Cross in Moseley on 3rd May, and at Synthetic City-2 on 27th September.
The set is opened up by "Heartbeat" and new track "Fracture" from their forthcoming album as well as Medusa" and "Hate" played later on in the set. This is the first appearance of new guitarist Riddell Thomas, following the recent departure of Phil Lockhart. Riddell and the band play tight and work well together on stage.
"Pure" is a Gary Numan cover, a fan (and band) favourite, which goes down very well. The set is interrupted by a chorus of "Happy Birthday to you" for an embarrassed Mr Wall whose age shall remain unspoken at this point and the band are then are also joined on stage by Kira for a duet with Ian Wall too. The set closes with "Midnight" from the second EP, with great applause from the audience.
The Ides of March at The Flapper, has been an exceptional night of electronica in a small venue with a capacity crowd, who all seem to have enjoyed the variety of sound and styles on the stage tonight. Sound quality was excellent throughout each set, although my only criticism of the night was the limited extent of the lighting, mostly blue and red, which does not make many photographers happy "Oh for a little white light"...
However, whatever your electronic preference, there was something for everyone in the performances tonight The ticket price was £6 which represents tremendous value and a very cheap night out. I would happily see again, any of the bands appearing tonight. If you like your music on the electronic side (or even if you don't) you should check out some of the bands on their various sites and have a listen (or better still) go and see it live. 'Lets's get electrified!"
Among The Echoes Setlist:
Heartbeat
/
Fracture
/
Sin
/
Pure
/
Medusa
/
Flowers
/
Freak
/
Hate
/
Midnight
(See the complete photo set on our
Flick page
)
The English Beat + The Bluebeat Arkestra + Tempting Rosie at 02 Academy 2, Birmingham, UK - 9th March 2014
Gig review and photography by
Ken Harrison
It's a pleasant Sunday night in Birmingham, following a balmy early spring day in the city, and I wade through the massive crowd gathered outside to see All Time Low on the main Academy stage. Tonight though, I'm here to cover
The English Beat
, who are here as part of a short UK tour performing on the Academy's second stage.
The Beat first performed in Birmingham in 1979 gaining instantaneous success as part of the Two-Tone movement alongside Madness, The Specials, The Selecter and Bad Manners et al. The original line up of the band consisted of Dave Wakeling on vocals and guitar, Andy Cox on guitar, David Steele on bass, and Everett Morton on drums with Ranking Roger on Toasting duties and Ska legend Saxa on saxophone.
Over a period of four or so years of recording and touring, The Beat released three albums "I Just Can't Stop It", "Wh'appen" and "Special Beat Service" and hit the road with many heavyweight artists of the time including; David Bowie, The Police, REM, The Clash, Talking Heads, The Pretenders, and of course fellow Two-Toner's, The Specials. A band with a deep social conscience, The Beat lent their name (and music) to a number of causes such as Campaign for Nuclear Disarmament (CND) and as critics of the Conservative government released "Stand Down Margaret" targeting the UK Premier of the time, Margaret Thatcher. The Beat also formed part of the Special AKA, who sang "Free Nelson Mandela", the classic anti-apartheid song.
Following the disbanding of the Beat in 1983, Dave Wakeling and Ranking Roger formed General Public, with Mickey Billingham (keyboards) formerly of Dexy's Midnight Runners, Horace Panter (bass) of The Specials, and legendary Clash guitarist Mick Jones. Other Beat members Andy Cox and David Steele recruited Roland Gift to form Fine Young Cannibals who also went on to have massive success.
General Public released three albums "All The Rage" (a hugely successful album, charting high in the U.K and U.S. and in 1984 gaining the band a Juno award in Canada for "Best New Artist"), "Hand to Mouth" and "Rub It Better" released after a long break in 1995. Subsequently, Dave Wakeling and Ranking Roger went their separate ways with Wakeling continuing to contribute to movie scores (having worked on "Ferris Beuller's Day Off, and She's Having a Baby with John Hughes), artist development, music production and working for Greenpeace.
Currently, Ranking Roger continues to tour as "The Beat" with his son Ranking Junior, whilst Wakeling performs as "The English Beat". Wakeling takes Lead Vocals/Guitar and is joined on stage by current band members, Rhythmm Epkins on Drums/Vocals, Antonee First Class as Toaster, Matt Morrish on Sax/Vocals, Kevin Lum on keyboards/Vocals and Larry Young on Bass/Vocals.
It's an early set tonight, starting off at 7pm we have
The Bluebeat Arkestra
, a six piece band from Birmingham. They describe their music as a "their songs blend deep basslines with soaring melodies; sharp disco rhythms with spacious dub – creating an absorbing sound to move both heart and feet.
The line-up consists of Dave Breeze on Bass, Shaun Hand on Guitar/Keyboards, Chris Inns on Trumpet/ Keyboards, Leonie Rainbird-Tilson on Viola/ Violin, John Sanders on Drums and Hayley Trower on Vocals.
The band play a short set, but is well received by the audience. The stand out tracks for me were "Zero" and "Wired to the Grid" a dark but very catchy track. The band have played a number of festivals including our very own Mostly Jazz…showcased on BBC WM "Introducing" programme, supported Bastille, Pigbag and Little Dragon to name a few along with a New Year's set at The Yardbird to bring in 2014. Keep 'em peeled for their next outing.
Tempting Rosie
appear on stage at 7.45p.m., it's a big ska/reggae/pop/party band with plenty of members..8, but could have sworn there were more crammed onto the tiny stage. "Rosie" formed in school and has grown over time to its current line-up comprising Matt Doyle on Lead Vocals, Jon Brown on Guitar, Ben Torrens on Bass, Sebastian Maynard-Francis on Drums, Ewan Whyte on Trumpet and Backing Vocals, Laurence Taylor on Trumpet, Josh Wilkinson on Trombone and Tijhs Jordan - Rapper/ MC.
"Anyone here from Birmingham?... It's Quality" cue exaggerated Brummie accents like the "Cupcake" adverts to much laughter from the audience. The audience soon got moving to their songs. Standout track for me was "Deadly Roots" a proper piece of ska music! The band will be appearing at The Hare and Hounds in Kings Heath, Birmingham on 17
th
April go and check them out, but take your dancing shoes.
By the time Wakeling and band arrive on stage at 9.00p.m (15 minutes later than advertised), the room is full and ready to ska, having been thoroughly warmed up by the two supports. The set opens with "Ranking Full Stop" and already the crowd are dancing. Moving through the set we get "Hands Off… She's Mine" (which is so infectious, it has been in my head constantly since the show) with Antonee First Class toasting. He's not Ranking Roger, but he's good and he's whipping up the audience as they sing along. "It don't matter if you are a Rude Boy, or Rude Girl, or Skin or Mod, sober or drunk.." as the Toaster gets into full swing.
"Click, Click" is introduced by Wakeling as something to "Do yourself in on a wet night in Balsall Heath" and is followed by "Save it for Later" with the crowd joining in the vocals. The temperature is rising and the room is getting more humid as the band play on. Audience members (age catching up with us perhaps) with sweat beaded foreheads head out into the cooler area outside the toilets for a breather before heading back into the melee.
Special guest, Roddy Radiation (from The Specials) then joins the stage to many cheers from the audience, for a few songs "Concrete Jungle", then a tribute to the late Amy Winehouse and finishing with "Rat Race". Roddy plays and sings well, but his voice is not Terry Hall's so for me it's somewhat different to what I expected. However, the audience don't care (and neither should I) they're lapping up the special guest.
Roddy having left the stage, more Beat tracks follow; "Too Nice to Talk To" "The Two-Tone Song", then "Whine & Grine" takes us into "Stand Down Margaret", Wakeling commenting "She won though didn't she?" then on to "Best Friend". Antonee First Class "Represents" Wakeling to cheers from the crowd before a couple of slowies making for a mid-set breather with extended "Doors of Your Heart" and the audience join in a little "Ska, Ska, Ska…Aha" with the band. Some religious chant sample kicks off "I Confess" then the Smokey song "Tears of a Clown", "Sole Salvation", and the Andy Williams gets covered with "Can't Get Used to Losing You". The Beat did some memorable cover versions of classic songs, (with perhaps more success/popularity than the originals). Roddy Radiation returns to the stage for the final track "Mirror in the Bathroom".
No encores tonight, this is a straight set of an hour and three quarters of classic Beat; a ska, reggae, pop fusion that gets your feet moving and the loud, boisterous crowd have danced their way through it all. The show had a distinctly Birmingham flava, with the two local supports flying the flag for Brummie talent. Ticket prices were a very reasonable £18. The sound quality has been variable through the set, with some vocals and between song chat at times being lost, but this is of no consequence to the crowd, they came to ska!. "You just can't Beat it!"
***
Songs included:
"Ranking Full Stop" ,"Hands Off She's Mine", "Click, Click", "Save it for Later", "Too Nice to Talk To", "Concrete Jungle , "Rat Race" (The Specials), "Stand Down Margaret" , "Best Friend", "Tears of a Clown", "Can't Get Used to Losing You" & "Mirror in the Bathroom"
***
Listening:
I Just Can't Stop It [1980]
Wh'appen [1981]
Special Beat Service [1982]
Mike and the Mechanics + Sadie and the Hotheads at The Symphony Hall, Birmingham, UK - 1st March 2014
Gig review by
Zyllah Moranne-Brown
with photography by
Ken Harrison
The Symphony Hall and surrounding area is a very busy place tonight. Ant and Dec (not in person) are filming a fling thing in Centenary Square, while there's a posh black tie do on in one of the halls. But we're here in the lovely
Symphony Hall
auditorium to see Mike Rutherford's 'side project'
Mike and the Mechanics
.
This little off shoot of Rutherford's hasn't done too badly. Releasing 7 albums and selling more than 10 million records, they be here tonight celebrating 25 years since the release of 'Living Years.' His other band didn't do too bad either, notching up over 130 million record sales, making Genesis one of the biggest selling bands ever...
That doesn't mean to say, it's been easy. The sudden death of one of the original singers, Paul Young, left Paul Carrack as the only vocalist in a band that featured two lead vocalists. So after quite a hiatus, Rutherford had a swap-around and setup a second incarnation recruiting two new singers. So to confirm these days, Mike and The Mechanics are: Mike Rutherford (Genesis), Andrew Roachford (solo performer, known in his own right, especially for 'Cuddly Toy'), Tim Howar (musical stage performer who's recently appeared in the West End rock musical 'Rock of Ages'), Anthony Drennan (guitarist with The Corrs, Genesis, Clannad and many more), keyboardist Luke Juby (Leona Lewis, Delta Goodrem, Olly Murs and as part of the band for both XFactor and Britain's Got Talent) and drummer Gary Wallis (Nik Kershaw, 10CC, Il Divo, Westlife and longest serving member of Mike and The Mechanics with 21 years by Rutherford's side).
Tonight's audience is tad older and more refined, but no less enthusiatic. Before the gig we're chatting to some lovely people from Tamworth and Bristol who tell us Mike and The Mechanics are really good - having seen them many times. So we have a positive prognosis for tonight then.
First up
Sadie and the Hotheads
. Conceived in 2007 when Elizabeth McGovern took guitar lessons from Steve Nelson. He encouraged her to begin to write her own songs and they put together a band of musicians to support the project. Just to clarify, Elizabeth McGovern is better known as an actress, notably as Cora, Countess of Grantham, of Downtown Abbey fame. There a band of seven on stage, McGovern dressed in sparkly silver top and tiny black skirt. The band are an eclectic mix blues meets country with traditional folk mix coming from a left-field stance. She tell's us she happy to be here tonight and are indeed going down well with the audience. "This track may be familiar…" and as McGovern dances a bit like a zombie; it's an alternative folky, slowed down version of The BeeGees 'Staying Alive.' It's a bizarre yet surprisingly good take on the track.
She works with a charity called
World Vision*
, for which she sponsors a child called Justina in Sierra Leone, and she's keen to promote what they do and the band are indeed at merchandising stand with the charity after their set. Sadie and the Hotheads are interesting, featuring harmonised vocals in an alternative folk way. Check them out, when McGovern and co. next pass by.
And so in the interval we get a bit of Hall and Oats (they'll be playing here later in the year), 'Cry Wolf' by A-Ha and a smattering of The Clash - 'Should I Stay Or Should I Go.…'
And just around 8.30pm, the lights go down, intro music starts and on they come, big cheers and wave to Rutherford. "Hello Birmingham..."
First track 'A Beggar on a Beach of Gold' gives us Roachford on keyboards and taking the vocal lead Howar, who has a surprisingly powerful voice and already he's clearly having a blast fronting the band, there's a cheeky impish quality about him. Howar: "Thank you. Anyone for a cup of coffee?" and we indeed go into 'Another Cup of Coffee', this time with Roachford on vocal duties.
The band are clearly already enjoying themselves, Howar sings and grins from ear-to-ear, with cheekily infectious enthusiasm in his delivery; Roachford plays keyboards with huge style and accomplishment and his vocals too soulfully soar. This is already a gig that makes you smile. For 'Get Up', there's is a great camaraderie between the singers and band; the singers just having fun, with one another taking vocal lead from one another and harmoniously duelling.
Rutherford: "Birmingham, it's Saturday and it's great to be here…" There's cheeky banter between the band as Rutherford implies they'll deliver their entire back-catalogue tonight…'Try to Save Me' was written with Roachford who vocally delivers, before Howar takes duties with the lyrically challenging 'Seeing is Believing.' As Rutherford introduces the band, Howar is introduced as delivering 'vocals and visual interpretation', which we get - while Roachford delivers in great style, Howar not only brings his powerful voice, but the over emphasised display, akin to musical stage performances. 'Silent Running (On Dangerous Ground)' is delivered with a great rendition by Roachford taking the lead.
And then to a Roachford track 'This Generation' given in all it's energetic glory, a total clap along - and as the band stop and we continue to clap; Roachford: "Who needs a band? We've got the best clappers in the world here…."
Big cheers as crowd recognise the next track, this time a Genesis classic: 'Turn It On Again.' Wow! Our jaws drop as Howar, who has a tenor-like voice so far, turns vocal chameleon and sounds uncannily like Collins. He hits the mark and then some. It's unlikely you'll ever see Genesis do this (Collins officially retired a few years ago, although is threatening to re-appear, Banks recently killed off any suggestions of reformation) and so it is a pure treat in all its glory.
So to a plug on Mike and The Mechanics retro stuff that's just been released (quite a list, to which a band member retorts they'll probably be a pizza too), before new track off said singles collection, 'When My Feet Don't Touch The Ground' - delivered by Roachford. We'd already been told keyboard player Juby is a talented multi-instrumentalist (as well as providing backing vocal duties) as he has indeed taken up bass guitar and by the following song, 'Everybody Gets a Second Chance', clearly still bored with keyboards - he's on sax .
And as the tracks flow, the two singers, swap and intermix, a vocal joust, before we're given the Roachford classic 'Cuddly Toy' which features not just 5 (times) but 21, as the band go dadadadadadadadadadadadadadadadadadadadada - every band member bang on time, an expert musical delivery.
And now to another Genesis classic - once again with Howar taking on Collins, as we get 'I Can't Dance' and Howar, Rutherford and Drennan start to do the classic band walk (check out the original video) across the stage. Roachford takes us on the vocal journey for the tour titled 'The Living Years', an anthemic prayer and audience arms start to sway from side to side. We're in full on party mood now, as they deliver 'All I Need is a Miracle', Howar giving it his full vocal range… "sing-a-long-a-Birmingham - cos this is the home of Led Zeppelin" as he get's us to repeat "all what, all I need, give it to me baby."
Quick break for an encore, and 'Over My Shoulder' is all acoustic guitars, whilst Howar brings the mike stand to the front of stage to give whistle duties to the bass, sax playing keyboardist Juby. Ridiculously talented bunch this lot are and by god it shows. But there's no ego's on stage tonight - these guys are clearly having great fun, a total blast, and it's totally infectious too - we are very much at their party. Final track 'Word of Mouth', starts with a drum solo - we're all now in full on party mode in the glorious hall, as Howar gives us semaphore arm gestures to copy far to more than just swaying side to side. Howar: 'I love you...you guys can sing…' As this cheeky imp introduces the band for a second time, guitarist Drennan gives us a solo, with amongst other the theme to the Birmingham-based soap 'Crossroads,' Roachford gives us a bit of Stevie Wonder's 'Superstition' on his keyboards, Rutherford receives a huge cheer and delivers us Hendrix's 'Purple Haze'.
Set over, they've had a blast, we're in party mood and in a line the band members bow, clearly on a high from their reception tonight. Rutherford maybe one of the biggest selling artists ever, but as he departs the stage last, he bows down in acknowledgment to the crowd. Respect.
Mike and The Mechanics, a bit like Genesis, weren't exactly my cup of tea. But their music, permeated the airwaves, and it's surprising just how many tracks you know. Rutherford has amassed a hugely talented group for his new Mechanics, the expectation of quality was there; but the truly amazing level of talent, musically and vocally in the cascading soul range of Roachford and powerful soaring vocal ability of Howar, took this gig to another level. Wow! is the word tonight, and we leave with big grins and are totally blown away. For around £30 in the best live venues in town, it was a total treat. If you get the opportunity to see them, grab it with both hands, no miracle needed.
World Vision (every child free from fear) is the world's largest international children's charity, working to bring real hope to millions of children in the world's hardest places. Their local staff work in thousands of communities across the world to free children from fear. They live and work alongside them, their families and communities to help change the world they live in for good.
***
Mike and The Mechanics setlist:
A Beggar on a Beach of Gold
Another Cup of Coffee
Get Up
Try to Save Me
Seeing is Believing
Silent Running (On Dangerous Ground)
Don't
This Generation (Roachford)
Turn It On Again (Genesis)
When My Feet Don't Touch The Ground (New)
Everybody Gets a Second Chance
Nobody's Perfect
Cuddly Toy (Roachford)
I Can't Dance (Genesis)
The Living Years
All I Need is a Miracle
Encore:
Over My Shoulder
Word of Mouth
Heaven 17 at the Town Hall, Birmingham UK - 14th February 2014
Gig review by
Zyllah Moranne-Brown
with photography by
Ken Harrison
So on this Valentine's eve, storms are plummeting the UK but in Brum the weather isn't too bad, although traffic out of town doesn't look the best. But that's okay cos we've been tempted - we're in town and we all be snug and cosy in
Birmingham's Town Hall
for an evening of romance,
Heaven 17
style.
Indeed Heaven 17 have a back story. Inspired by the godfathers of electronica Kraftwerk, two members of the Human League, Martyn Ware and Ian Craig Marsh walked away and formed a band / production company B.E.F. (British Electric Foundation). Initially recording music under the guise of B.E.F., they subsequently recruited photographer Glenn Gregory on vocals and eventually became Heaven 17. Now it is just Gregory and Ware, accompanied by two lasses on vocals and Berenice on supporting keyboards. And no support tonight and we're told they'll be promptly on at 8pm and off after an hour and 10. Early night for us then. It's about half full in the beautiful Town Hall, if it be a tad austere. So it'll be interesting, to see if Heaven 17 can deliver in such a venue, especially that all that is on on stage, against the black- clothed backdrop, are two keyboards and four mike stands.
Cheers from the crowd as Ware, then Gregory in dapper suit, takes to the stage. First up League song 'Circus of Death'. This is Heaven 17's first gig of 2014 (although Ware quips that Gregory still thinks it's 1981 or earlier). The beat delivers us next 'known' track (given that when it was originally released, at a time when most kids listened to Radio 1, DJ Mike Read effectively banned it due to its left wing lyrics.) 'Fascist Groove Thang' comes across great live; Gregory's voice is still strong, deep and sultry. There is no 'set', no exotic lighting or effects - just these guys performing. They are indeed be great live (I've seen them before) but not sure this is the best venue for them especially given as we're seated. But even up here in the dizzying heights of the Circle, people are on their feet and dancing as we're into 'Crushed by the Wheels of Industry.'
Gregory quips that he was learning lyrics on the way here, as they deliver 'Play to Win.' Most the crowd are on their feet now and the atmosphere is indeed beginning to permeate through the venue. "Don't sit down again…." Gregory orders the crowd in a friendly way, as they deliver us 'Geisha Boys and Temple Girls'. And now another early League track, 'Black Hit of Space', as Ware gets to play with his theremin (as he moves his hand between the electronic antennas we get a spooky Dr Who-like effect).
We're promised they're writing a new album which may be with us by the end of the year (but maybe not it's been a fair few years since the last new release). The band explain that its like a creative love fest, without the sex. "It's like being married then.." shouts an audience member.
'Let's All Make A Bomb' is followed by the sultry and smoozy 'Come With Me'; a great rendition that goes down well. Happy Valentines indeed Birmingham. Next track, we feel like we are waiting for aliens to land, and electronica (plus the theremin) gets noticeably spooky, bizarrely this is 'You've Lost That Loving Feeling'; Gregory's vocals are incredibly powerful against the electronic backdrop. He's accompanied by Ware (who's vocal may not quite match the power of his colleague). "He's my Valentine…" - Gregory points to Ware and we all laugh.
And next up a track that 'kills' Gregory every time he performs it live 'We Live So Fast', which indeed cranks up the pace faster and faster... 'I'm Your Money' accompanied by a joke that it was written last week, as they're living in the present and not thirty years ago.
Bowie's 'Boys Keep Swinging' - Gregory's powerful vocals cover one of the legend's tracks, however it lacks the powerful bluesy guitar of the original. Interpreted pretty true to the original, it would have been nice to see the guys play around B.E.F. style Then Ware's and Gregory's favourite Heaven 17 song 'Let Me Go', before the 12 inch mega house-influenced remix, with a bit of 'Love to Love You Baby', that is their classic hit 'Temptation.' It very nearly blows the roof off.
Quick break and they're back, "Let's keep put in the party mood…" as Heaven 17 deliver us 'Penthouse and Pavement'. Next song dedicated to the local club night where they've PA'd - 'Only After Dark.' Clap. Clap Clap. Clap. Listen to the voice of Buddha, we are indeed as we're into the League's 'Being Boiled.'
The set thankfully was longer than anticipated - Heaven 17 gave us 1 hour and 35 of their time. I'm not sure this is the best venue for them - they are more suited to a more intimate, club type venue where we can all get down and party. And indeed they gave us some stand out tracks tonight 'Come With Me', 'You've Lost That Loving Feeling' and 'Temptation' very possibly the stand out. Bit more of a mixed set than I've seen before but still a good punt. They will be out over the summer in the 80s 'Rewind' festivals and, if they get their act together, I would suspect will be back with their new album in tow. Be tempted.
***
Setlist
Circus of Death
We Don't Need This (Fascist Groove Thang)
Crushed by the Wheels of Industry
Play to Win
Geisha Boys and Temple Girls
Dive
Black Hit of Space
Let's All Make A Bomb
Come Love With Me
You've Lost That Loving Feeling
We Live So Fast
I'm Your Money
Boys Keep Swinging
Let Me Go
Temptation
Encore:
Penthouse and Pavement
Only After Dark
Being Boiled
***
Listening:
Heaven 17 - The Luxury Gap (1983)
BEF - 'Music For Stowaways' and 'Music Of Quality And Distinction Vol.1'
Kraftwerk Uncovered - Live at The Town Hall, Birmingham, UK, - 8th February 2014
Gig review by
Zyllah Moranne-Brown
with photography by
Ken Harrison
So a limited crowd tonight, a couple of hundred snugly in the Town Hall avoiding winds and horizontal rain to see a
Kraftwerk
extravaganza. This is another cultural event that the Birmingham's Town Hall / Symphony Hall (THSH) group should be justifiably proud in presenting, celebrating creativity, and exactly because it is not a safe option - it certainly couldn't be classed as mainstream.
Let's be clear about this - this is something completely different - we're here for an experience - similar to the
Joy Division Reworked
, that THSH put on last year. Contemporary orchestra
Icebreaker
are here tonight with their own unique take on the music that was created by the legends of electronica - Kraftwerk. Created by German sound-scape artist and composer J. Peter Schwalm, this intentionally deconstructs Kraftwerk's music and features award-winning visual artists Sophie Clements' and Toby Cornish's creative cinematic works, filmed in the Ruhr, the region in Germany from which Kraftwerk started off life.
So it will be interesting to see how the inspired performance delivers. So in jeans and T's the orchestra take to the stage. Icebreaker are indeed different - not your usual take on an orchestra - instruments include panpipes, accordion, drumkits, guitars in the mix with your traditional orchestral and percussion instruments - plus the additional of two electronic keyboards. The first half hour set is not Kraftwerk, but features Erik Bunger's Variation on a Theme (featuring snippets of KC & the Sunshine Band), Michael Nyman's Think Slow, Act Fast and three track montage from Moss Side Story original written by Barry Adamson (of Magazine and Nick Cave and the Bad Seeds fame). It is a unique way of looking at things, electronica done by live instruments and people - and it does take some getting used to. It is indeed the alternative to the alternative. There isn't any visuals here - just the orchestra on stage - so it's very much close your eyes and take in the music.
Barry Adamson's reworking includes tracks 'Chocolate Milkshake' and 'Under Wraps' - and was apparently written for a fictitious film, written about the seedier side of life and drug culture in Moss Side, Manchester. The music has a bluesy feel - I'm not sure I'm feeling in Moss Side - more like 60s / 70s New York or London and I'm waiting for Michael Caine to make an appearance. First set over and I'm pondering about what this is all about.
Half hour break and we're into set number 2 - Kraftwerk. The origin's of this piece of work goes back to 2009, after Icebreaker took on Brian Eno's Apollo for London's Science Museum. So the music starts up and the mono visuals are played on screen as we go into
'Heimcomputer '(from Computer World 1981). It is a bizarre take as we get Kraftwerk deconstructed with real instruments especially as confusingly there electronic music too.
'Megaherz/mitternacht' (from Kraftwerk 1970 / Autobahn 1974) the visuals take us to arthouse, grainy, mono and sepia toned footage of the exterior of houses, a time warp -they seem 70s and architecturally simple. Next performance, 'multitanz' is inspired by the track Tanzmusik (from Ralf & Florian 1973). Sans footage this time, musically Icebreaker are very good.
And now accompanied by visuals of triangles, squares and circles, 'Modul 6' (inspired by the track Radio-Activity from Radio-Activity 1975) factories spewing smoke in sepia tones. With German words its almost a modern Metropolis on screen - metal structures, concrete structures and symmetrical flats.
'Morgenspaziergang' (from Autobahn 1974) becomes the polar-opposite we have canals and water and greenery - all in mono footage; accompanied by lilting flutes and pan pipes, clarinet accompanies by violins. Mellow and quote beautiful.
And then to 'Spiegelsaal' (from Trans-Europe Express 1977) - as floating mono squares zooms across the screens. And windows. This track too is beautifully delivered - the pan pipes replacing that dum dum dum keyboard sound. Images show communist inspired Germany - images are 70s-like - that 'iconic' feel run down, functional, Bauhaus created living.
And now the finale - 'Autobahn' - images of looking down at the central white lines and tarmac of the road, an autobahn indeed. And a 60s garage. And as the drumbeat kicks in for a crescendo...and we're going along the road. And now were on the motorway, and as the track rises - the autobahn in full flow.
Well tonight was a different experience. I remain a tad confused and I'm not sure just who this was delivered for in terms of audience - however, the performance by Icebreaker was great and exceptionally well delivered. Kraftwerk took a leftfield approach, sampling sounds, using electronica to develop sounds in their own unique way. It was the polar opposite of what was delivered tonight - so in a twist, their replacement for live instruments is now being delivered by - live instruments. For me I'm not sure if it worked, unlike the Joy Division Reworked which was indeed leftfield of leftfield, I guess I was slightly disappointed that Icebreaker didn't go further - it seemed a little safe, given that Kraftwerk have always been, and continue to, push artistic and creative boundaries.
Tonight's performance has been supported by
Arts Council England, Science Museum London, Goeth Institut, Edge Hill University and Third Earl Music.
Fun Lovin' Criminals + Klasside at The Wulfrun Hall, Wolverhampton, UK - 19th January 2014
Gig review by
Zyllah Moranne-Brown
with photography by
Ken Harrison
So on a January eve the boys that make up the
Fun Lovin' Criminals
are back. They've kinda not been away - just lower profile as a band. The boys from New York City are in Wolverhampton City tonight, with their laid back, humorous and tongue-in-cheek approach to life.
So exactly who are FLC. They'll be vocalist and guitarist Huey Morgan, Brian 'Fast' Leiser on all sorts of instruments and Frank Benbini on drums, percussion and vocals. Formed 21 years ago, it was their 1996 debut album 'Come Find Yourself' that found us smoozing to 'The Fun Lovin' Criminal', King of New York' and snacking on 'Scoobie Snacks.' Their album spent a year in the UK charts, but failed to make any impact in their native US. '98s '100% Columbian' was grittier and included 'Love Unlimited' a tribute to the legendary Barry White. Albums keep coming and they've continued to release and play live, which band members have got involved with other things. Morgan is a regular on BBC radio (notably BBC6 Music and Radio 2), whilst the other members have done side projects.
So tonight should be a fun gig and we're looking forward to it.
Support comes from Midlands band
Klasside.
According to their website they formed in 2011 and combine elements of rock, funk, rap and folk into a melodic, modern sound.
They have an EP out - if you like 'em - message 'em on Facebook and they'll send you a copy for free. This six piece including acoustic guitar player, come across quite surprising not as heavy as their own individual person tastes - which certainly cover the indie rock genre - tracks involve lots of "yeeeaaaays". They're pretty tight. Last track up is their take on House of Pain's 'Jump Around' an ecletic mix of the original backing track and them playing over it in their own unique style. They're consistently touring around the Midlands - they'll be back at the Slade Rooms on 16 Feb - more information - check out their website:
www.klasside.co.uk
FLC's tour hasn't had all the rig-ma-roll of many tours; the date was just announced and the Wulfrun is full with an truly eclectic mix of fans. And as we waiting tracks such as 'Hit the Road Jack' are remixed with a smooth Columbian vibe that gets a feet a-tapping.
Just before 9 - the lights go down and on they come. "How ya doing Wolverhampton…. Yay baby…" as suited and booted in Blues Brothers style they're bouncing round the stage rapping in true Run DMC style. "Wolverhampton, how you been - it's been a while - gonna say I can't hear you… but I can. Really good to be here." Huey is SMMMMMMOOOOTTHHH baby, chatty, engaging and funny, this is no retro tour; the boys are here to charm - and genuinely to party.
Now we get the bluesy fuck that is 'King of New York' - for a three piece they are hugely professional. "Wolves in the house…. Bringing the love in all forms…" Frank's mom is in the house tonight, we are assumed that they won't curse too much out of respect.
The tracks they play are an eclectic mix, as they morph from rap, to bluesy Columbian style with a bit of cheeky gangsta, to full on rock - Huey being applauded at times for his axemanship. For all their smoothness there's the alternative view of their New York blues - 'Southside' is heavy, even nears a screaming repetitive chorus, and a remixed grind.Huey's in conversation with a female in the audience "… well I never… sweet thing, girl…" as he raises a glass to the audience.
The promoter gave them a nice bottle of tequila (more like rocket fuel were told), so the boys are happy. As we get into the intro:
"Everyone be cool, this is a robbery! If any of you f*****g pricks move and I'll execute every motherf*****g one of you.."
We're into 'Scoobie Snacks' and we dance and sing away - track goes down well with the crowd, to big cheers. 'Were the Bums Go' finds us in full on traditional punk territory - "wooooaahhh" go the crowd. And between the smooth, the rock, the punk and the rap - we get skiffle as we're into the punky tinged '10
th
Street.'
Huey is the words and axesmith, but don't let Fast and Frank be outdone, Fast at one point is playing keyboards and trombone at the same time, while Frank takes on guitar and drums. We're enjoying the gig, they're enjoying it - what more could you ask for. Encore and we get the Barry White's with 'Love Unlimited' and "yeeeeeehhhhhaaaaarrr" - The Fun Lovin' Criminal.
And as they take their leave, to rapturous applause "… the shows over, you know what I mean?" Huey can't resist shaking hands, saying thanks and thoroughly enjoying it.
Tonight we got 'Fun' in bucketloads, 'Lovin'' - hell yeah baby, 'Criminals' oh definitely in a very cheeky way, each charismatic band member has a big grin and wicked sparkle in the eye. Can't deny that it was 'Scoobie Snacks' and 'The Fun Lovin' Criminal' that were standouts - but this is a gig you left with a gig grin and infectious tunes running through your head too, that you just couldn't shake off. Let's hope they're back soon. Go and see, go and play. It'd be criminal not to.
Kim Wilde's Christmas Party featuring Nik Kershaw at the O2 Academy, Birmingham, UK - 19th December 2013
Gig Review by
Zyllah Moranne-Brown
with Photography by
Ken Harrison
It's Christmmmmmassssss! (in a Noddy Holder like scream!) And tonight we're invited to a party with an 80's festive vibe,
Kim Wilde's Christmas Party
to be precise with support from former snood wearer
Nik Kershaw.
Ticket sales sadly aren't the best tonight - if you are lucky there's 500 people in the main Academy tonight. But that hasn't stopped some punters wearing Christmas hats and reindeer antlers and hopefully that won't stop the party either.
Starting off at 8pm we have
Nik Kershaw
. His star shone pretty brightly in the early 80's - his first two albums selling well, singles spending in excess of an accumulative 60 weeks in the UK charts in 1984 and he got to appear at Live Aid at Wembley in '85. Commercial success may have waned since them but he's continually recorded and regularly plays live. And at 8pm he appears on stage, minus the snood these days! "Good evening… are you looking forward to Christmas? I've borrowed Kim's band. If you know some of these join in - if you don't don't 'cos that'll be rubbish."
First up a cracking rendition of 'Wide Boy' - before the drums start up and the tune comes in and we're into 'The Riddle'. And we all sing along…
"Near a tree by a river there's a hole in the ground, where the old man of Aran goes around and around, in his mind is a beacon, in the veil of the knight, for a strange kind of fashion, there's a wrong and a right, but he'll never, never fight over you..."
For some bizarre reason I can quote these lyrics off pat. This may be a small crowd, but we don't care; everyone cheers. And then we're into 'The One and Only.' Chesney eat your heart out (this be a Number 1 hit Kershaw wrote it for him). We sing along, Kershaw gets a great response. He needs to clear space in his garage (album plug here), so a track from his latest album 'The Sky's the Limit' before we get 'Wouldn't It Be Good.' We're happy and we're dancing and we're singing. Kershaw still has great talent and vocals - he's friendly and engaging, the party has started. And we clock that the bass player in Kim's band is Nick Beggs formerly of KajaGooGoo.
We're loving this little set; it may be Christmas but right here, right now it's summer as we join in to 'Won't Let the Sun Go Down on Me.' We grin and sing and Kershaw gets us singing the line alone, conducting the audience. Short and immensely fun set to get us in the party mood.
Kim Wilde
holds the record of being the most charted female solo artist of the 80's with 17 top 40 hits. And they just love her in Germany and Switzerland. With 80s a huge nostalgia, she's gained recent record contracts with major labels and this year issued another album - it being Christmas, smattered with festive tracks, it's called 'Wilde's Winter Wonderland.'
With just a 15 minute internal, Santa blares out hohoho! And Wilde takes to the stage belting out first track 'Trust a Stranger'. She too gets a great response. Next up 'View from a Bridge'. Again gets a good response; these are the hits and she's belting them out one after one. Next up 'Chequered Love'.
"Fantastic to be here..." as she's tells us what's going to happen in this evening's entertainment. She's well chatty, bantering with the audience and is clearly excited to be here. As she goes for it on 'Water on Glass'. As do the band, who are truly professional and class. Begg's too is giving it some on his bass, the band contain a family affair - brother Nicky, who has written her hits over the past thirty years is on guitar and niece Scarlett is on backing vocals.
She hasn't done any Christmas shopping yet - it's overrated. And so to cover version 'If I Can't Have You.' She's good at getting the audience participating and we're all clearly having a good time, people are boogying, dancing away. She says she's got a lot to smile about these days, she's so happy to be here after all these years. And then to a classic: 'Cambodia'. Which we clap, clap, clap. Big cheers, before she sings the last line with Scarlett as the track rolls on. This is 80's. So we get 12" remix.
The band have "buggered off" leaving Wilde with the two family members. Someone shouts, "I love you!" "Are you an English person?" she asks? He's Welsh. "I love you too..." She refers to her brother "...being a really good person to her drunk with on the tube…" (Check out the link on
YouTube
as her and her brother serenaded commuters…. this entertaining video has had over 2 million views). First track of this segment is 'Four Letter Word.' Wilde is chatty, yakking away with the punters; apparently she's getting forgetful in her old age - she doesn't know why? She wants it to snow, so she can make a snowman. Queue song: 'Hey Mr. Snowman.' A few tracks off her new album, 'New Life' has a ditty that rolls and rolls and is overlaid with vocals; with rising tunes the new tracks roll around the venue. "This is the last of the Christmassy song for a while…I recorded it with daddy…" who is 60's legend Marty Wilde, and who also is still performing today, after 50 years in the business. He's not here tonight but the other family members take on his duties. With a Japanese feel it's 'White Winter Hymnai'. Apparently we will be returning to Christmas later "in a very different way."
She declares she's an 80's girl and she loves singing 80's song. And so her take on Erasure's 'A Little Respect.' The band belt it out. Wilde and her band are very professional "... Thank you for coming out… thanks from an old girl… This one is for you." She does yak, as they say she has the gift of the gab. And here is 'You Came.' And the set starts to crank to up again to 'Keep Me Hanging On.'
Quick break and back on akin with bunny ears and white fluffy coat, as this is Christmas! Kershaw is back too (on guitar not singing); he really is a tiny person. Wilde acknowledges local legends and goes for a Holder in her own unique style. Scream everybody: 'It's Christmasssssssssss....' And now for a bit of Wizard 'I Wish it could be Christmas Everyday.' It's literally snowing in the Academy. We're all feeling festive; Wilde places festive reindeer antlers on Kershaw's head. This is her drunken tube song and the one she sang it with the late great Mel Smith for Comic Relief; 'Rockin Around the Christmas Tree.' Kershaw stands in for Smith in this one, except he's singing. The entire band have reindeer antlers on. And we get Santas rocking out on the screens behind.
"Thank you. Goodnight. Adieu."
And for one final encore which starts up with electronic beat. Crowd clap. The not so Christmassy 'Kids in America'. "Thanks so much - have a safe journey home and have a Happy Christmas!"
Well this was billed as a festive party. Nik Kershaw started us off by putting us in the mood and we grinned and danced and sung. Wilde and her band gave us a party - make us smile, feel festive and have a good time. This was a 'smiley' gig. Happy Christmas to one and all indeed.
Nik Kershaw Setlist:
Wide Boy
The Riddle
The One and Only
The Sky's the Limit
Wouldn't it be Good
I Won't Let the Sun Go Down on Me
Kim Wilde Setlist:
Trust a Stranger
View from a Bridge
Chequered Love
Water on Glass
The Second Time
If I Can't Have You
Stone
Love in the Natural Way
Cambodia
Acoustic set:
Four Letter Word
Love Blonde
Wonderful Life
Hey Mr Snowman
New Life
Hope
White Winter Hymnai
A Little Respect (Erasure Cover)
You Came
You Keep Me Hangin' On
Christmas Encore:
Merry Christmas Everybody (Slade Cover)
I Wish it Could be Christmas Everyday (Wizard Cover)
Rockin' Around the Christmas Tree (with Nik Kershaw)
Encore II:
Kids in America